The Importance of Having Your Child's Shoes Fitted Correctly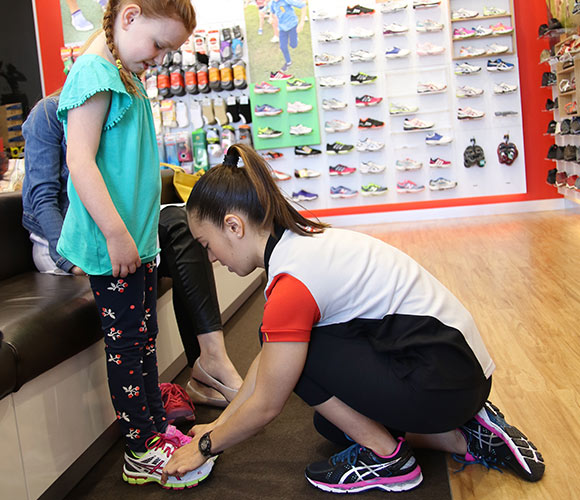 Sponsored post
How many times, as an adult, have you looked at children and wished you could bottle their energy? Whilst many of us grown-ups are watching our activity trackers, and aiming to clock up at least 10,000 steps a day – school kids can take up to 16,000 steps per day just doing their thing. That's equivalent to about 5km per day.
Considering just how active they are – it's easy to see why comfortable fitting shoes is a must. But, ensuring that your child's shoes have been correctly-fitted can also prevent more serious long-term issues. Many problems with posture, walking, and even back-pain can be associated with ill-fitting or poor quality shoes worn during childhood!
So? How do you ensure that your child is wearing suitable footwear for the shape and size of their feet?
Mums Lounge blogger Emma Marks, and her 7 year old daughter Chelsea, recently visited their local The Athlete's Foot store to learn more about the importance of fit, and experience FITZI®, the revolutionary fitting process for themselves.

The Athlete's Foot makes fitting footwear quick and easy (and let's face it, shopping with young children isn't generally on many parents list of favourite pastimes!) FITZI­­® – the revolutionary fitting technology uses state of the art technology to assess your child's walking style and pressure points at the same time – allowing the in-store 'Fit Technician' to get a clear idea of their foot type and the best shoe for their feet.
"The FITZI® fitting platform is fantastic! It not only made the shoe fitting process quick and easy (which is a major bonus), Chelsea also got to watch the replay of herself walking on the iPad mini. The whole process from walking into the store, having her feet measured, and finding the best pair of runners for her took around 10 minutes.
I can be confident in the fact that her footwear is supportive and comfortable, and the ASICS that she chose are high quality and won't be outworn, before they are outgrown.
Besides FITZI, and the fantastic customer service, I am really impressed to learn that we can return to the store at anytime in the future and check whether the runners are still fitting correctly and providing adequate support. I think that is a great resource for parents, and excellent ongoing customer support."
ASICS is at the forefront of the world performance sports market as undisputedly the leading running shoe brand for enthusiasts and professional athletes alike. Whether at professional sporting events, the Olympics or an everyday run around a park, ASICS is the runner's choice, providing comfort, support and a superior ride. Beyond the running arena, ASICS has made further strides in development. The revolutionary ASICS Football range incorporates injury prevention technologies, a first in this sports. ASICS is unmatched for technical superiority and rigorous quality. These standards have put the company in good stead since 1949 and will remain hallmarks of the brand as it innovates and develops well into the 21st century. Shop the ASICS kids range online at The Athlete's Foot or find a store near you.