The Search for Australia's National Lego Building Champion and Lego Giveaway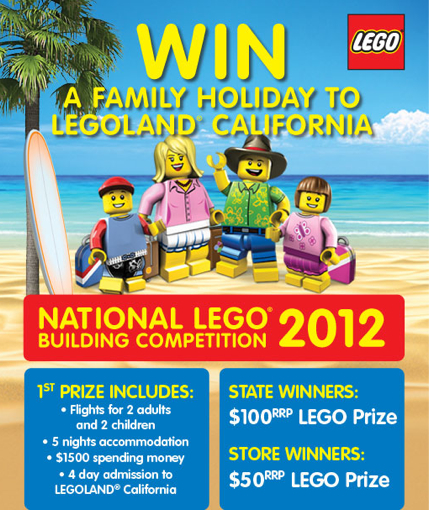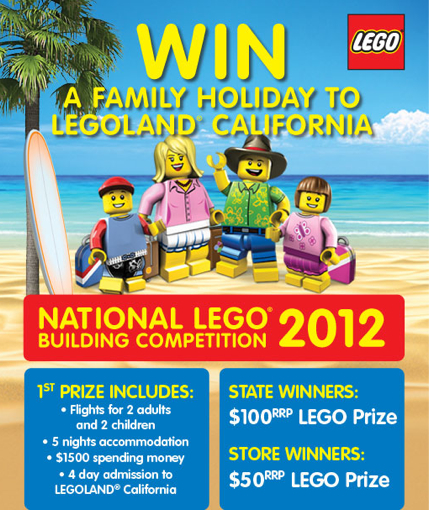 This year the humble Lego brick celebrates it 50th anniversary of being in Australia. Indeed, many of us will have fond childhood memories of hours spent constructing and creating indoors on rainy days with a bucket full of Lego.
Many of us now enjoy peaceful hours while our children construct and create with their Lego collections. (Okay, so maybe 'peaceful' and 'hours' weren't quite the right words, but you know what I mean, right?)
But now there is a better reason to encourage your child to get building than the need to have a hot cup of coffee undisturbed.
Lego, in conjuction with Toyworld stores, is searching for the nation's best Lego builder for the National Lego Building Competition. Australian children have the opportunity to use their skills and creativity to construct the Lego model of their dreams for their chance to win the grand prize of a family trip to Legoland in California!
To enter:
Children are required to build their ultimate Lego creations (using only Lego products) and take two identical colour printed photos of their creation. Children must then visit a participating Toyworld store to obtain the official entry form to complete and attach one of the colour printed photos, and place it in the entry box. The second colour printed photo should be presented to a Toyworld staff member to display alongside all other entrant's creations.
Entries are open until 30th April and will be on display in-store for the duration of the competition.
Visit www.toyworld.com.au or a participating Toyworld store for more details.
10 top tips for LEGO building
Ryan McNaught, LEGO Certified Professional has offered the following top ten tips to help children get started on their entries. Please feel free to use these.
1. Don't just build one thing, build lots of different things then choose your favourite one. Often it's the other ideas and creations you make that are even better than your original idea, so build lots and pick your favourite!
2.
Get organised! Have your LEGO bricks all sorted out in a way thamakes building easy, have your bricks sorted by colour and type, i.e. have all your minifigures and their utensils together.
3.
Make things that you really like, if you really love space ships, then build a space ship, or if you are into making cities then build the best police station. Models are always better when you really love what you're building.
4.
Include things that move. Have hidden trap doors, sections that open and things that spin to make the model playable.
5. Every great model tells a story, for example; here is the King who is trying to defend his castle from the bad guy Prince who wants to take all of his cows! The more interesting the story the more interesting the model.
6. Take inspiration for your models from all around you, from the world we live in, TV shows and the books you have read. Building something different and unique is definitely the way to go.
7. Work with other people, get together with your friends and family and build your models at the same time. This way you will get inspiration and ideas that will help you make an even better creation.
8. Build a strong model. If you have to move your models around, make sure they are robust and tough, you don't want your precious creation falling to pieces when you go to move it.
9. Don't be afraid to start again, if you just finished building something and you aren't happy with it, tear it down and build it again. All the great LEGO models around the world are made from many, many versions.
10. Get colourful. Use different colours that you normally wouldn't. Use colours in unusual ways, put a red stripe down the side of your grey space ship, it will make it super-fast and look super cool!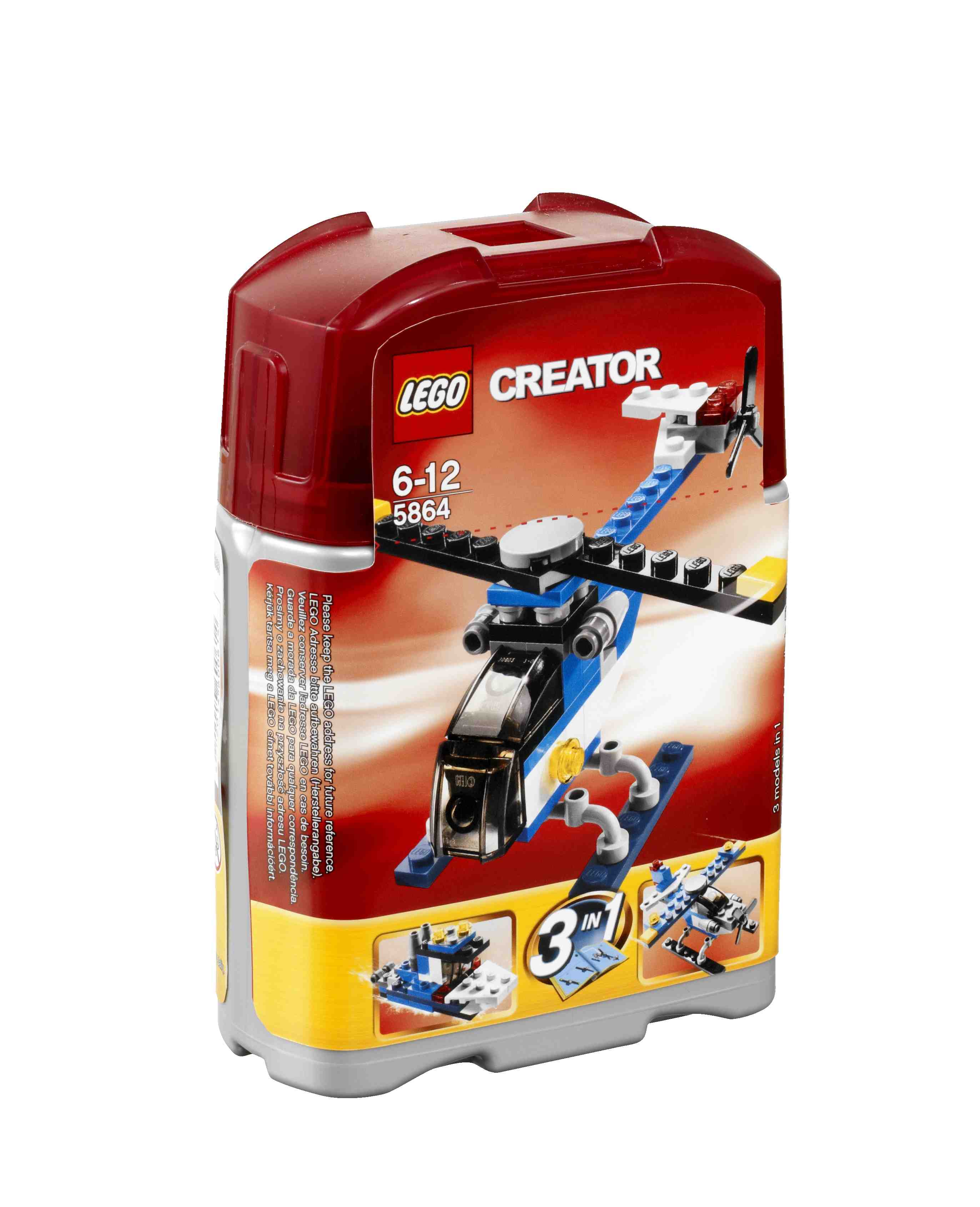 Mum's Lounge has 10 Lego Creator helicopter's to giveaway.
To enter, simply follow the instructions on the widget, and good luck!