The Vanish Gold 30 Second Challenge – How Does it Hold Up Against Beetroot Stains?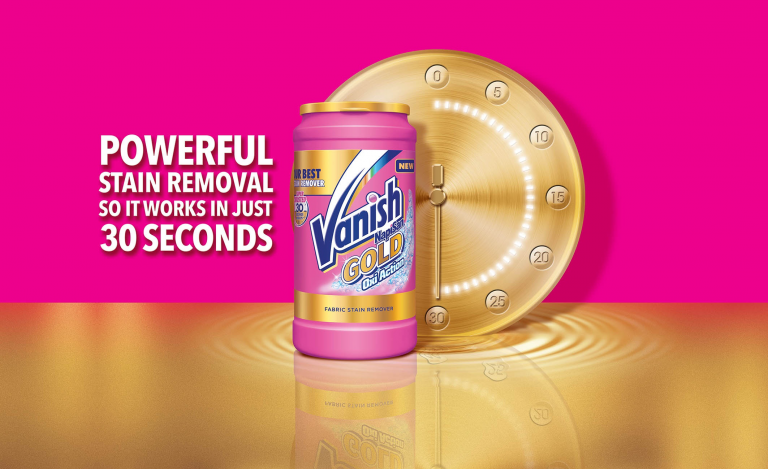 Sponsored post
Living in a house with three boys means our washing basket is ALWAYS piled high with clothes covered in dirt, grease and stains. As quickly as I try to treat stains and get them washed, more often than not the stains remain and the clothes are relegated to the soon to be overflowing 'play clothes' drawer. So you can imagine I was more than a little skeptical when asked to participate in the Vanish Gold 30 second stain challenge – after all, how could one product remove clothing stains in just 30 seconds when others can't even when left to soak overnight?!
I invited my two toddlers to help me out with the Vanish Gold 30 second stain challenge, after all they are the experts at staining clothing! They were more than a little dubious when I asked them to make a mess and pour the beetroot juice onto the fabric, but quickly came around to the idea – surprise, surprise!
Once our fabric was stained, we poured a spoonful of the Vanish Gold powder, which we had mixed with a little warm water, over the stain and set our timer for 30 seconds. As soon as we added the Vanish, we immediately noticed the little bubbles which began to fade the stain straight away. When our timer beeped, we could see that most of the beetroot juice had been removed and after we washed the fabric in a bowl of water the stain had completely gone!
We were all very impressed by not only how well Vanish Gold was able to remove the stain, but also how little time it took to work. Needless to say, Vanish Gold is going to become a regular item on our supermarket shopping list!
Giveaway
We could all use a little extra help in the laundry department, right? That's why we are giving you the opportunity to win this Simpson 7kg Front Loading Machine valued at $568
To enter simply complete the entry form below. Good luck!
a Rafflecopter giveaway