Top Ten ENJO Christmas Gifts (Plus GIVEAWAY)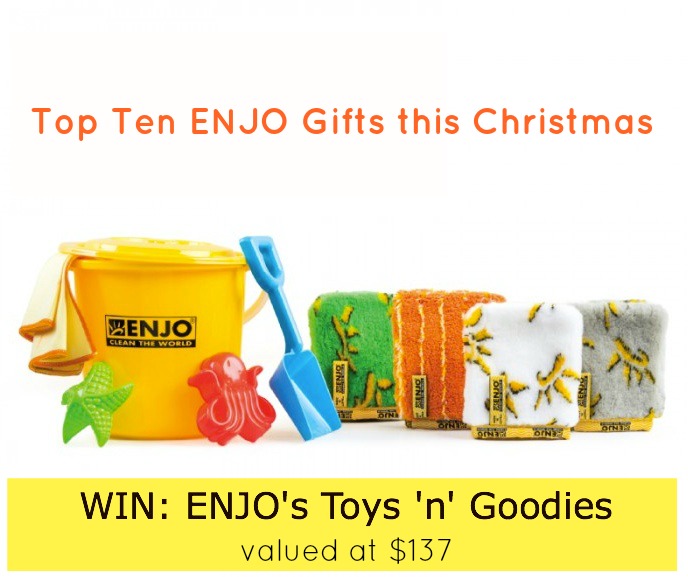 ENJO products are a clever chemical free cleaning system that saves what's precious to you – time, money, health, water and the environment.
Enjoy more quality time with your loved ones, (with less of the hard work) this Christmas with these fantastic Christmas specials. Offers available 1 November – 31 December or while stocks last.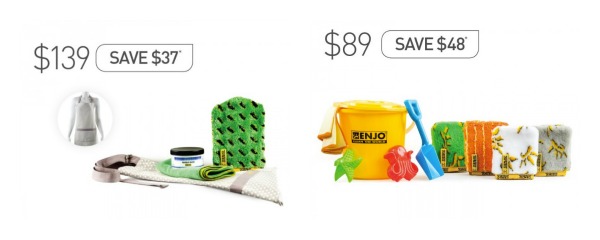 All the Trimmings Special
A big Chrissie cook-up can leave your oven in a sticky situation. Let ENJO's super-tough fibres get to work on stubborn grease and baked-on grime with just a little water.
All The Trimmings Special Includes: 
1 x Oven Glove 
1 x Kitchen Miracle 
1 x Marble Paste 
1 x ENJO Apron
Toys 'n' Goodies Special
Tiny tots will have eyes all aglow when they get their mitts on these ENJO Gloves and sand toys. Suddenly, helping Mum and Dad clean will be just as much fun as creating fabulous mess.
Toys 'n' Goodies Special Includes: 
1 x Kids Dust Glove 
1 x Kids Indoor Miracle 
1 x Kids Car Glove 
1 x Kids Kitchen Glove 
1 x Kids Bathroom Glove 
1 x Kids ENJO Bucket 
1 x Kids Sand Toys Set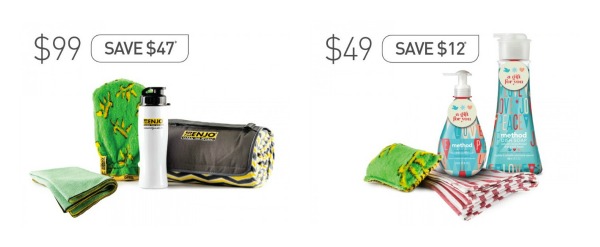 Festive Alfresco Special
For those who love Christmas by the pool or in the great outdoors, this bundle keeps the barbie looking and cooking its best, and kits you out with the essentials for a lazy picnic lunch.
Festive Alfresco Special Includes:
1 x Barbecue Glove
1 x Barbecue Miracle 
1 x Stainless Steel Drink Bottle 
1 x ENJO Picnic Rug


Chrissie Dishy Special
ENJO's new Kitchen Sponge and absorbent bamboo t-towel do all the hard work for you, while method brings the naturally-derived festive fragrance of after dinner mints to your hands and dishes.
Chrissie Dishy Special Includes: 
1 x method GEL HAND WASH sugared mint 
1 x method DISH SOAP sugared mint 
1 x Bamboo T-Towel (choice of red, grey or yellow) 
1 x Kitchen Sponge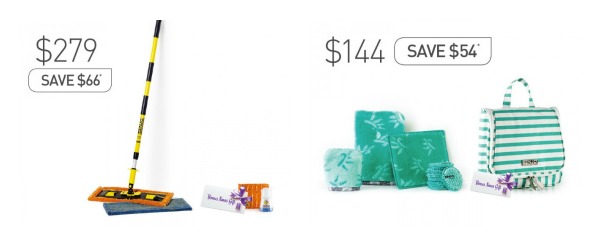 Floor Pack with Bonus Gift
Lightweight and ergonomic, the ENJO Floorcleaner saves your back, time and energy. And with no chemical-infused bucket required, it helps save the planet too.
Floor Pack includes:
1 x Floorcleaner (Pole and Head)
2 x Floor Fibres 1 x ENJO Trigger Spray Bottle

BONUS GIFT: 
1 x Dust Mini 
1 x method Laundry Detergent Fresh Air 8 Load
Beauty Pack with Bonus Gift
Enjoy deliciously silky skin with ENJO's body care essentials.
Beauty Pack Includes:
1 x Body Glove
1 x Body Mini 
1 x Face Glove 
1 x Daily Face Off (Set of 7) 

BONUS GIFT:
 1 x ENJO Toiletries Bag Mint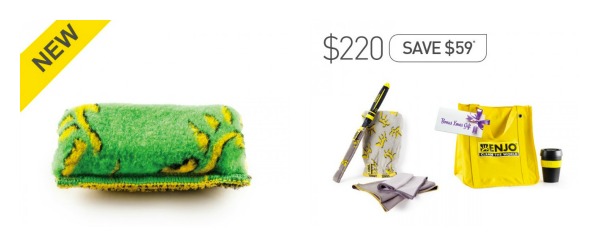 NEW Kitchen Sponge
This little guy has mastered all the jobs regular sponges, cloths and scourers do badly. The kitchen sponge gently removes tough grease and food residues from pots, pans, ovens, grills, stove tops and dishes, without the need for chemicals, landfill and a tonne of elbow grease.
Car Pack with Bonus Gift
The clever car cleaning solution that saves water, money, time and our environment.
 Car Pack includes: 
1 x Car Glove 
1 x Car Miracle 
1 x Car Interior Miracle 
1 x Car Flexi Complete 25cm 
1 x Trigger Spray Bottle 

BONUS GIFT: 
1 x ENJO Shopping Bag 
1 x ENJO Keep Cup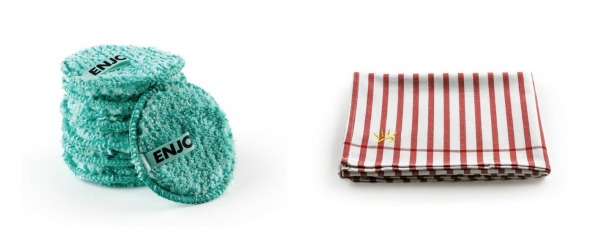 Daily Face Off
A mini must-have for the most sensitive of places on faces, the Daily Face Off gently cleanses and removes make-up and mascara, leaving your skin perfectly prepped for creams, masks or fresh applications.
Bamboo T-Towel
Softer, greener and more absorbent than its cotton counterparts, the Bamboo T-Towel fibre dries dishes, cutlery, glasses, cookware and more.
ENJO Australia are giving Mums lounge readers the chance to win their gorgeous Toys 'n' Goodies Pack valued at $137.
To enter simply follow the instructions on the rafflecopter widget below.  Good luck!