What Parents Are Saying about the New Britax Kid Guard PRO™ Booster Seat for Children 4 – 10 Years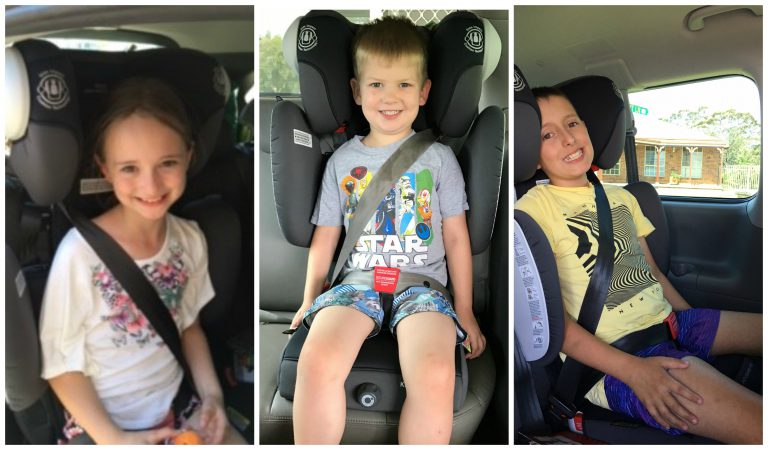 What Parents Are Saying about the New Britax Kid Guard PRO™ Booster Seat for Children 4 – 10 Years
Sponsored post
Last month, Britax launched their newest booster seat, the Kid Guard PRO™. We have already looked in detail at all the fantastic and innovative safety features the Kid Guard PRO™ has to offer. If you are currently in the market for a new booster seat or will be soon, and are in the midst of doing your research on which seat to buy, we highly recommend you read the article in full here or watch Mums Lounge's Dad vlogger Alex's video review.
Kid Guard PRO™ is an expandable booster seat with 9 height adjustments for the RRP of $399. It transitions with Littlies to I'm a Big Kid Now! 
We were really excited to be able to offer 12 parents from the Mums Lounge community the opportunity to trial the Britax Safe-n-Sound Kid Guard PRO™ seat with their child, and share their honest feedback with the rest of us. The reviewers who were chosen have children ranging from 4 – 10 years of age, (so we can get a real sense of how the product fares with children of various size, weight and age), and two of the parents have a child with additional needs who require a little extra support to keep them safe in the car too. So between them, we are confident that they'll provide a comprehensive overview of the pros and cons of this booster seat, to enable you to make an informed choice and/or purchase.
What Our Reviewers Thought of The Kid Guard PRO™ Booster Seat
After a few weeks of trialling the Kid Guard PRO™ booster seat our reviewers were keen to tell about their experience and share the features that they liked most about

At the end of the review period we discovered that all our reviewers were confident in the safety of the seat and felt that it gave them added peace of mind when travelling with their child. Everyone reported finding the seat easy to fit into the family vehicle, and the SecureGuard™ Anti-Submarining Device was also found to be very easy to secure when strapping their child into their seat.
The fact that the Kid Guard PRO™ grows is adjustable to accommodate a growing child from the age of approx. 4-10 years of age was also a feature that had unanimous appeal amongst our reviewers, not only for the obvious financial benefit but because they could adjust the seat to ensure maximum safety for their child at each stage of growth.
What was a little worrisome though was that 41% of our reviewers had not heard of the term 'submarining' and were not aware of the potential risk of their child submarining in the event of an accident, or the injuries it could cause.
If 5 of our 12 reviewers were previously unaware of submarining, we figure, that there may be many more of you in the same position, who have no idea that you should look for a booster seat with an Anti-Submarining Device like the SecureGuard™ (which is exclusive to Britax Safe-n-Sound), and that is definitely a message worth sharing!
After undertaking our own extensive research, we are confident that after comparing this seat with others currently available on the market, you'll be extremely impressed with the Kid Guard PRO™ and the additional safety, value for money, comfort and style it offers.
For more safety information or additional information on the baby seats, boosters and travel systems available visit Britax.com.au
For more in-depth information on the pros and cons of the Britax Kid Guard PRO™ booster seat you can read the reviews in their entirety below.
Reviewer: Katherine, trialled with her 4 year old
My first impressions of the Kid Guard PRO™ were positive. The colour is neutral, meaning I am able to use the seat for many of my children. The style is quite unique, with the bottom being slim in comparison to the top. This is a very light booster seat in comparison to previous seats I have used. I was also impressed with the bottom being able to be folded up, therefore making it easy to transport when needed. The seat felt flexible and not as sturdy as I was expecting, though I later discovered this was the cushioning effect of the seat. The fabric is comfortable and easy to clean.
The seat was very easy to install. The instructions were easy to follow, and the seat was installed within 5 minutes, including ensuring the height was correct for my son.
The bottom of the seat is very slim, however I found the top of the seat wide. I would struggle to fit 3 seats across a row of my car with this booster in place.
I have heard of 'submarining' in the past, however my previous seat did not include an anti-submarining device.
The moveable headrest and sash guide means the seat belt is able to sit comfortably in the correct position on my son's shoulder. My son sat comfortably in the cushioned arms and head rest. The added feature of the extendable base helped my son's legs to sit in the correct position, rather than pointing out in front, though the seat did not have a lip to stop his legs falling to the side of the seat. The lap section of the seat belt also sat in the correct section of my son's body to increase comfort and minimise injury during a crash.
Having a product that grows with my children is very important. Firstly, this cuts down unnecessary costs of replacing seats as my child grows. Secondly, I know the adjustable seat increases safety as my child grows, as the seat belt and base are in the correct position for their height and weight.
The cushioned arms and head rest were an obvious safety benefit. Having the seat belt and base in the correct position for my son was comforting and increased my confidence in the seat. I found my sons leg was prone to slide off the side of the slim base though, and down onto the seat beside him. I also found my son could twist the base extender himself while seated in the Kid Guard PRO™, decreasing the effectiveness of the base safety.
My favourite feature of the Kid Guard PRO™ is the moveable seat and head rest position. Knowing the seat is providing maximum safety for my child is paramount. I also liked the fact my son was able to easily put his own seat belt on, including using the SecureGuard™ (this was always double checked by an adult).
My least favourite feature of the Kid Guard PRO™ is the slim base, because my son's leg was prone to fall off the base and onto the seat beside him, which meant he was not as safe as needed. I also did not like the positioning of the base extender, as it was within reach of my son while in the Kid Guard PRO™.
I want my family and friends children to be as safe in a car as I want my own children. Therefore I would encourage family and friends to purchase the Kid Guard PRO™. The additional safety features over the seats I have been using so far, outweigh the negatives of this seat.
Reviewer: Renee, trialled with her 4 year old
We've always used Britax car seats and boosters at every stage of our child's growth as I believe they are the safest car seats available in Australia.
I loved the slimness of the Kid Guard PRO™ – it looks really sleek. Even though the base is quite narrow, the wings and head rest look like they provide lots of protection which I loved – the head and torso are what you really want secured in an accident. The fabric feels really soft and breathable. The seat felt lightweight, yet sturdy without feeling like a brick. My daughter liked the seat so much that she used it as a chair in our lounge room for a day or so before we installed it in the car!
It was very simple to install, the instructions were clear and comprehensive. No issues at all, and the seat felt secure once installed into the car.
One thing I really noticed about the slim line design of the Kid Guard PRO™ was how much easier it is to get to the seat belt buckle. The Safe-n-Sound Maxi is a lot wider and I really struggle sometimes to buckle the seat belt in – I have to dig around to find the buckle because it sits sort of underneath the wings of the car seat. No such issues though with the Kid Guard PRO™! As it is a lot slimmer than our other car/booster seats, we were actually able to fit it in the middle seat next to our younger daughter's reverse-facing Meridian. This has been our older daughter's wish since her sister was born, however it hasn't been possible because her other car/booster seats have been too wide and either didn't fit, or fit but leant over to the side so much that I didn't feel it was safe for her to be sitting in the middle. This seat would be perfect as a middle seat when 3 seats were required (something we may look at in the future if we expand our family from 4 to 5). It fit nicely in our car (Ford Mondeo).
To be honest I'd never even thought about submarining, although I did recently see a news article where a child had been "almost cut in half" in a car accident when she had the shoulder strap behind her back, and was therefore only held in the car seat by the lap strap of the seatbelt. Our other booster seat also has the 4th contact point but I honestly never thought much of it, we just used it without thinking.
My daughter told me that it was really comfortable and she liked it – I can't think of a better endorsement than that! She did say though that she wishes it had a cup holder like her other booster seat (the Safe-n-Sound Hi-Liner SG).
You always want to ensure that any seat your child sits in fits them properly – too big and they aren't secure enough in the seat, and too small and the seat doesn't provide enough protection. A seat that adjusts and grows with the child ensures that the fit (and therefore protection in an accident) is always perfect, without having to fork out hundreds of dollars every year or 2 for a new seat.
For a booster seat it offers a great amount of protection, particularly with the adjustable side wings. I also like the extra head protection, it seems to offer a lot more protection than any other booster seat out there. I do feel that the slim line seat doesn't feel quite as safe/protected as other seats, as the base is quite narrow and the side wings don't venture down as far as our other booster seat – the seat feels quite open around the waist.
The thing I liked least about the seat was the openness of the seat base. It's great for installing the booster directly next to another car seat, but it doesn't feel as protective as other booster seats around the waist/abdominal area.
I would be very likely to recommend the Kid Guard PRO™ to family and friends. It is secure, comfortable, stylish, the latest innovations in booster seat safety, great for fitting into smaller cars, adjustable for height, width and leg length, with very high level of protection around the head, shoulders, torso and abdominal area.
Reviewer: Kerrie, trialled with her 4 year old
My first impressions of the Kid Guard PRO™ were: fantastic dark classic colours, no gawdy pictures or symbols, very classic looking, light to pick up, and solid looking – particularly the shoulder surrounds. It felt solid but was surprisingly light weight.
The instruction manual was complicated but it was fairly basic to install once we actually took it to the car. The only complicated part was the red sections where the seatbelt slides through – unclear if seatbelt remains there or needs to be disconnected after each use.
I thought the slimline design was BRILLIANT!  My 4 y o is a very solid, very tall boy. I was initially worried a seat classified as 'slim' would mean he wouldn't fit. But he fits perfectly well, with room to grow. The backseat feels much more spacious for him and his collection of toys, kindy bags, sports bags, books etc. that all seem to accompany us these days on even the shortest car trip.
The seat we had borrowed from friends while researching the next seat to buy had the anti-submarining feature. Although – oddly –  didn't connect to the car with a rear strap, nor have the seatbelt slots at the shoulders – two features of the Kid Guard PRO™ that are standouts.
He has much more room to move his legs as the bottom is a far better design while still providing excellent security around his shoulders and head.
Car seats are big investments – financially and also in time to research the safest options. I want to buy a seat that I know will last well for a good few years at least.
It feels like a very solid seat. Excellent safety features with the seatbelt straps. I definitely like that even though it's a seat for older children, it still needs to be attached with the rear strap to the car.
The things I liked most about the seat were the side guards. The fact it has a rear strap. The ease of moving it from one car to another without issue. That it is lightweight and the color and design.
The thing I liked least was the complicated manual that made installing it appear much harder than it actually was.
I would easily recommend this seat for all of the reasons above. I am EXTREMELY HAPPY with the seat for my son, it's wide for him to be comfortable, yet narrow to make the rear seat feel very spacious, it allows his wriggling legs to freely move about, it's a lovely classic design and it's easy to move between cars – a complete win on all fronts!
Reviewer: Belinda, trialled with her 4 year old
It is very compact, light and easy to get out of box. The colour is nice too and once we put it in the car we were impressed by how sturdy it was.
The slimline design made it very easy to put into the car and it doesn't take up much backseat room at all.
We didn't dislike anything about the Kid Guard PRO™. We are very happy with it.
Brooke, trialled with her 4 year old
Fantastic looking, very slim seat. Looks safe.
Fits great especially with 3 across the seat.
The safety feature I like most is the Side Impact Cushion Technology – which maximises children's head protection in the event of a side impact collision.
Reviewer: Meike, trialled with her 4,6 and 7 year olds
On opening the box, the seat appeared very sturdy, it was heavier than the hi liner booster we have. The style and fabric looked smoother and sleeker and the colour is great – nice contrasting grey/black panels, but will blend in to most cars and not be too obvious.
The seat was very easy to install. The instruction and sash guides make it fairly foolproof to fit and the red colour sections make each part easy to find.
I had the seat positioned behind the driver. I have a rear facing seat behind the passenger and currently no seat in the middle position. The base is quite slim, but the wings do make it wider in the mid-section. With someone sitting in the middle, I did find it encroached on their arm/ shoulder space a little. I realise this is relative to the car type. I drive a Holden Captiva, and although not extremely wide, I have been able to fit a combination of 3 car seats across the back before. I did not need 3 in during the test period, but I feel it would have been difficult as the wings project outwards and would be touching the seat beside it.
All three children that sat in the seat said the seat was comfortable and said the fabric felt smooth and soft. The only comment from them was that the base was a little hard and could have more padding.
To me it is very important that products grow with my children. Affordability and value for money is important (especially with 4 children) and a car seat that will last 6 years represents that value. It is difficult and time consuming to find and replace a seat often, so avoiding that is a great thing.
The safety features on the Kid Guard PRO™ are second to none. All of the features combine and compliment each other and come together as a wonderfully safe and secure product.
I like that is so adjustable – that it can be used for a 4 year old and adjusted within a matter of seconds to fit a much bigger child.
Unlike the hi liner, the Kid Guard PRO™ offers no storage i.e. no mesh side pocket or cup holder, for the child sitting in the seat. There are not always cup holders in the car within a reachable distance for children strapped into a car seat, so this would have been something useful to include (providing safety isn't compromised).
The other thing is the ages/ measurements given as guidelines i.e. 4-10 or up to 135cm. My 7yo measures standing at 139cm but her shoulders are under the markers, making it safe to sit in the seat. Her sitting height is 73 cm. My 6yo sits at 72cm and stands at 130cm, and the 4yo sits at 65cm and stands at 113cm. They are all 'tall for their age' and all fit in the seat, but it would be a stretch to expect them to fit in there at 10 yo.
The 7yo has almost the same sitting height as the 6yo but is 9cm taller (and it's all in the legs).
Therefore, it may be more useful to offer a sitting height guide rather than a standing as leg length is quite variable, but not as relevant when sitting in a car seat.
The Kid Guard PRO™ is easy to use and adjust, looks great and its safety features are second to none. It would be my first choice when it comes to buying or recommending a booster seat.
Reviewer: Kate, trialled with her 5 year old
My first impression was the feel on the fabric, its firm but very foamy. I made a comment to friends that I would love it if my own seat looked that comfortable!
Everything is neatly set up. I did find it hard to push down the grey button to get slack on the strap to hook in HOWEVER in saying that I would be concerned if it pulled through with a slight touch.
For many years I have had to make sure when I purchase a car seat the design is slim. I have a Forestor and the seats are moulded, 2x wide car seats do not fit and makes it impossible to carry a third passenger.
It fits better than the Infasecure Exceed Plush booster  we have as it is a bit bulkier in the seat area.
For the first child it's not so important to have baby items that grow with your child as you know the items can be handed down to your next. But I'm on my 3rd and final child, I really would prefer not to continually purchase car seats just because she has grown. Both previous purchases have been based on how long I will be able to use them, it's important to me.
Once again, comparing it to what I own I am very confident with the Britax seat. The side wings are much larger and my other booster does not have the middle anti-submarining device.
I have to say safety first, I'm a single mother so I do all of the driving. Secondly is the comfort, I'm very surprised by how nice the fabric is and how much cushion it has for a booster style seat.
Well it's been 3 days of driving with it and I have not found anything I dislike yet. If I was going to be picky I would say the absence of cup holders – but at the same time the cup holders on our other seat are terrible and compromise the slim build of the seat. That's honestly all I can think of.
Its far more comfortable that my other child's booster and the booster in their dads car. It's very difficult on long trips if your child is uncomfortable. It's very difficult when you have older children allowed to sit on the normal car seat to expect your children to sit in a seat where it feels like sitting on hard plastic. I have been very nervous about putting my daughter in a bigger seat, she's smaller than my other kids. So I have been avoiding it, but her straps are far too tight. I'm very happy with the Britax Kid Guard PRO™, I don't feel concerned at all.
Georgie, trailled with her 5 year old 
I loved the style and size. The colours and fabric were nice too. It was quite light but looked sturdy.
I liked the slimline design, it's much better to fit another child in the middle.
It takes a bit to get used to moving to the sash belt scenario but this one feels very safe.
I love this model and will recommend it to all my friends. I searched for a booster for a long time and wasn't sure which way to go. This one ticks all the boxes and I will be getting another one for my younger child.
Reviewer: Bronwyn, trialled with her 6 year old
I was impressed on first sight as the seat looked stylish and was very lightweight.  The colour and fabric were both ideal especially with a child who makes a mess sometimes.
The instructions on adjusting both the head and the side guards were both clear and easy to follow just by looking at the seat. It was also very easy and simple to make the adjustments.
The slimline design is great especially when you have to have the front seats right back for tall people.  The other seats we have been using are a lot more bulky and stick out from the front of the seat.  My child's legs and feet were facing into the back of the seat which was not a good thing.  With this seat, this is not a problem as it fits perfectly onto the seat of the car and my child's feet are able to face towards the floor of the car and not the seats in front.
I love the SecureGuard as my child could not be put in a standard seatbelt because of lack of restraint between his legs. In a standard seatbelt he would constantly slide straight out of the seat and onto the floor. This seat has made it possible to not have to have the 5-point harness on him in the car.
My child is non-verbal so could not tell me whether the seat was comfortable but his body language showed that he was very comfortable in it and even fell asleep whilst travelling. The side guards being able to be adjusted to snugly fit around them is a big bonus as he doesn't have the extra space to flop around in the seat.
Having a product that I can use for many years is of extreme importance to me because having a child with a disability and low muscle tone he needs to be in a secure seat for a lot longer than a typical child. The fact that the height of the head rest, the depth of the seat and the side guards are all adjustable means that we will not need to be updating for quite a few years.
I am very comfortable with my child using this seat in the car as I believe the safety aspects of it are very high. I would not risk my child's safety for anything so the fact that I am comfortable with him using it is enough for me.
I was very impressed with all the features of the seat.  The three adjustable sections and the ease at adjusting them were very impressive as was the slimline look of the seat.  The bigger bulkier seats can be very difficult to fit into the smaller cars, thus cramming the child in the area.
The only change I would possibly do would be to have a small ledge on the sides of the actual seat section.  It is probably fine for a typical child but for one with low muscle tone a bit more support around that area would be a bonus.
Overall, I was very impressed by the seat and will definitely recommend it to my family and friends when asked for advise on seats. Due to being part of a bigger network of families who also have children with disabilities, we are always looking for equipment for our children that covers all their specific requirements and something that can grow with them and have the support they need. It is not something that is easily found at a cost that is affordable to most families without getting funding. I truly believe this seat will be great for the majority of the families I know and will definitely recommend it to them.
Reviewer: Amanda, trialled with her 3 children aged 9, 6 and 4 years 
On opening it looked super comfortable and safe. Such a soft and luxurious fabric that looks easy to clean. Felt very sturdy, not heavy and not too light.
The shoulder markings are fantastic and such a useful tool. The red markings to use as a guide for the lap sash on the bottom of the seat are helpful.
The slim line design is fantastic. I was worried my child would feel closed in around the head area but found they weren't bothered.
The only thing is if you need the side wings out it makes the seat wider overall.
I was informed of submarining when purchasing my Safe-n-Sound Hi Liner and this 4th contact point was the deciding factor between it and other brands. It should be a mandatory feature on all available brands.
Whilst the safety of your child in the car always outweighs cost it can be annoying to have to purchase a new seat after 12-18 months just because of growth. The seats are usually of such a high standard that they still look and feel new after this period of use and if your child's sibling is not ready for that size you have to store it. When it comes time to use it again it feels like it is out of date. It is understandable that these seats cost so much but maybe they should be subsidised in some way by the government. There are many people who would not be able to afford these
fantastic high quality seats. No matter what your financial background everyone should have access to the same quality, safety and reliability.
I am very confident in this products safety particularly because of the side impact head feature and the 4th point of contact.
It is the safest and best quality seat I have seen on the market however would not recommend for a 4 year old child.
The seat does say that is suits a 4 year old. I feel that a 4 year old needs to be in an inbuilt harness. I know the recommendation is that a 4 year old can use a lap sash belt with booster but this seems archaic.  A 4 year old child can't sit still. They move, they throw tantrums, they throw their arms this way and that. They can wriggle their body easily out of an across the body sash. They need to be restrained in a way that restricts their movement and keeps them safe. The government needs to change the standards and make seats to suit the larger 4 year olds with an inbuilt harness.
I don't feel confident putting my 4 year old in this seat yet.
Reviewer: Amber, trialled with her 7 year old 
I thought it looked incredibly sturdy, really nice fabric and quality, the colours are standard which I prefer, rather than bright colours. I also felt that it would be big enough for my growing 7 year old.
We installed the seat in under 10 minutes.
The anti-submarining SecureGuard device is definitely a major selling point for this seat. My daughter is 7 and can do the whole thing herself. so it is not more time consuming for me, now that my child is older, and offers me peace of mind in terms of her safety.
The seat is comfortable and she doesn't complain but we had another more padded seat she liked better. She is very slim though and so notices less padding.
The side impact head protection is also terrific.
Reviewer: Cassandra, trialled with her 9 year old 
I found the Kid Guard PRO™ to be very well made and the design is very sleek. The fabric is amazing and the seat was very comfortable to sit in according to my 9yo son. It is very sturdy and was not too heavy to carry around. I liked how the base locked in making in compact to store when not in use.
The Kid Guard PRO™ was very easy to install. It took me about 5mins.
I love the slim design. It fits really well into the third row of my IMAX (extra points have been added). The slim design means I will be able to install another seat next to it and my son will still easily be able to do up his seat belt.
As soon as my son sat in it he commented on how comfortable it was. Never complained once about the seat on a recent 2hr trip.
I like to do my research in regards to car seats and child safety so I have previously read about the anti-submarining clip and why it's used.
It's very well designed and the added features of the built in sash guide, SICT and anti-submarining clip will ensure my son has high level of protection should we ever be in an accident.
I love its safety features and how it's adjustable both in width and height to suit a growing child. It's also very comfortable which is important as means my son who has sensory issues has no issues sitting in it.
So far I haven't found anything I dislike about it.
I would recommend this seat as it's very easy to use and install. It has great safety features and looks very sleek and modern in design.
Kid Guard PRO™ launched in December 2016 and is available at all baby stores near you. Find your closest store here.
For more safety information or additional information on the baby seats, boosters and travel systems available visit Britax.com.au 
#ThinkOfWhoYouAreSaving
#GuardYourChamp
#BritaxBigKid
#CarSeatsAreNotJustForBabies