Cheesy Bolognaise and Vegetable Pasta Bake Recipe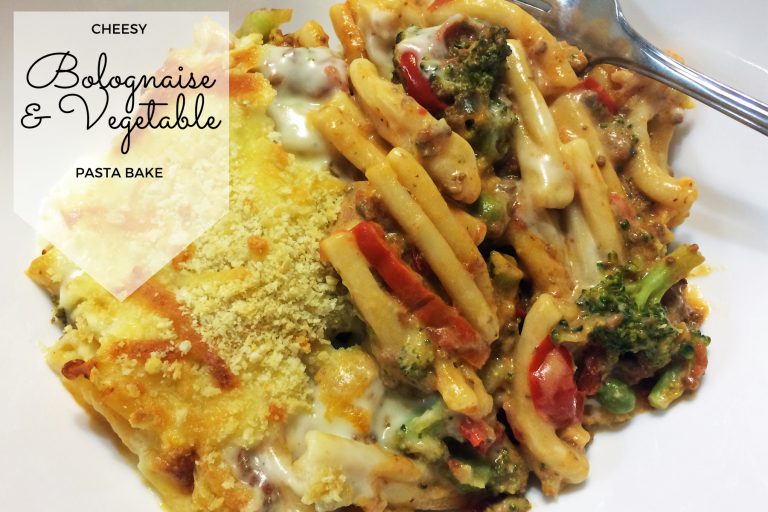 Cheesy Bolognaise and Vegetable Pasta Bake Recipe
This recipe uses up some leftover bolognaise sauce in the best way possible – creating a whole new meal packed with vegetables and flavour, all brought together with a homemade cheesy sauce.
Here is what you'll need to make this cheesy bolognaise and vegetable pasta bake.
Firstly, you'll need some leftover bolognaise sauce. I usually make it up in bulk, using one or two kilograms of mince and my slow cooker. Here's my family recipe. If you don't have any leftovers, you could easily make some up with a jar of your favourite bolognaise sauce and some mince.
You'll also need a packet of dried pasta, one head of broccoli, some frozen peas, a jar of char-grilled capsicum strips, some panko breadcrumbs, grated tasty cheese, grated mozzarella cheese (ignore the bocconcini, I forgot I had a packet of mozzarella and used that instead), and finally, some things to make the bechamel sauce – milk, butter and flour. Also fresh basil, but I lost my basil somewhere between picking it off the shelf and arranging the ingredients on my counter. Don't you hate when that happens?
Cook the pasta as per packet directions and add the green veggies to the saucepan with three minutes of cooking time left. Meanwhile, make the cheesy bechamel sauce. That's most of the work already done!
Drain the pasta and veggies, then add the bolognaise sauce, basil and drained capsicum to the saucepan and mix well. Pour in half of the bechamel sauce and stir to combine, then pour the whole lot into a big lasagne-sized baking dish.
Top with the rest of your bechamel sauce, panko breadcrumbs and grated tasty and mozzarella cheeses.
Then bake for 30 to 40 minutes or until the top is golden and the mixture is heated through.
Allow to stand for ten minutes or so and then serve!
It really is a yummy way to reinvent your leftovers and give everyone a boost of veggies. I hope you enjoy it as much as we did!
Cheesy Bolognaise and Vegetable Pasta Bake
Ingredients
500g dried pasta
1 head broccoli, cut into florets
3/4 cup of frozen peas
300g jar of roasted capsicum strips
3 cups leftover bolognaise sauce
1/2 cup fresh basil leaves, plus extra to serve
1/4 cup panko breadcrumbs
2/3 cup grated tasty cheese
1/2 cup grated mozzarella
Cheesy Bechamel Sauce
50g butter
1/3 cup plain flour
3 cups milk
1/3 cup grated tasty cheese
Instructions
Preheat oven to 190 degrees. Cook pasta in a large saucepan of salted water as per packet directions, adding broccoli and peas in the last 3 minutes of cooking time.
Meanwhile, make cheesy béchamel sauce. Melt butter in a saucepan and add the flour, stirring. Slowly add the milk and bring to a gentle simmer until thickened. Remove from heat and stir through cheese. Season with salt and pepper.
Drain pasta mixture and return to the large saucepan. Add capsicum, bolognaise and basil. Toss to combine. Add half of the béchamel sauce and mix well. Spoon mixture into a 10 cup capacity baking dish and spoon the remaining béchamel over the top.
Toss breadcrumbs, tasty cheese and mozzarella in a bow and sprinkle over sauce. Bake for 30 to 40 minutes or until the top is golden and the mixture is heated through. Stand for ten minutes and serve topped with extra basil leaves.
https://mumslounge.com.au/lifestyle/food/cheesy-bolognaise-vegetable-pasta-bake-recipe/