Chicken and Broccoli Stir Fry Recipe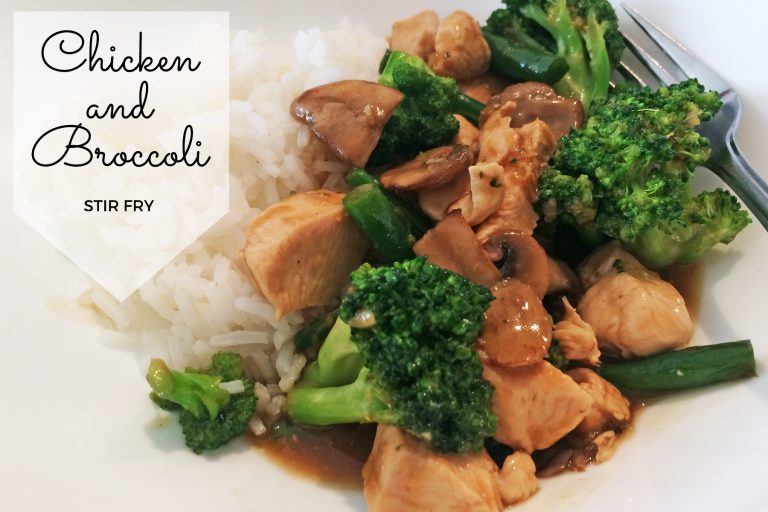 Chicken and Broccoli Stir Fry Recipe
Top up your family's daily veggie intake with this delicious chicken and broccoli stir fry!
Tender broccoli, green beans and mushrooms with juicy chicken pieces in a savoury oyster and sesame sauce – oh yes please!
This meal was super easy to throw together and only took about half an hour. The kids loved it too, so we'll be making this super dish again and again.
Here's what you'll need to get it on your table.
Two chicken breast fillets, one head of broccoli, some green beans and mushrooms, plus fresh ginger, garlic, chicken stock, sesame oil, oyster sauce, soy sauce, peanut oil, corn flour and sugar.
I have a confession to make. I've never actually cooked with fresh ginger before. How beautiful it is!! I'll definitely be using fresh ginger again.
Chop your veggies and add them to the pan with the garlic and ginger. Then remove and cook the chicken. Meanwhile, mix the sauces together in a jug and make up a cornflour slurry. Then add everything back to the pan and pour the sauce mix and the cornflour in and give everything a good stir as it thickens.
Serve immediately over rice and dinner is sorted! YUM!!
Chicken and Broccoli Stir Fry
Ingredients
2 boneless chicken breast fillets, diced
2 tbsp teaspoon peanut oil
2 cups small broccoli florets
1 cup sliced mushrooms
1 cup green beans, halved
2 tsp minced fresh ginger
1 tsp minced garlic
1/4 cup oyster sauce
1/4 cup chicken stock
1 tsp sugar
2 tsp sesame oil
1 tsp soy sauce
1 tsp cornflour
salt and pepper to taste
Rice, to serve
Instructions
Heat 1 teaspoon of oil in a fry pan or wok over medium heat. Add the vegetables and cook for 4 minutes or until vegetables are tender. Add the ginger and garlic to the pan and cook for 30 seconds, then remove to a plate.
Adjust heat to high and add the remaining tablespoon of oil. Season the chicken with salt and pepper and add them to the pan. Cook for 3-4 minutes on each side until golden brown and cooked through.
Return the vegetables to the pan and cook for 2 more minutes or until the vegetables are warmed through.
Whisk together the oyster sauce, chicken stock, sugar, sesame oil and soy sauce. In a small bowl mix the cornflour with a tablespoon of cold water.
Pour the sauce mixture over the chicken and vegetables; cook for 30 seconds. Add the cornflour and bring to a boil; cook for 1 more minute or until sauce has just started to thicken. Serve immediately with rice.
https://mumslounge.com.au/lifestyle/food/chicken-broccoli-stir-fry-recipe/