Win 1 of 3 Aware Sensitive Prize Packs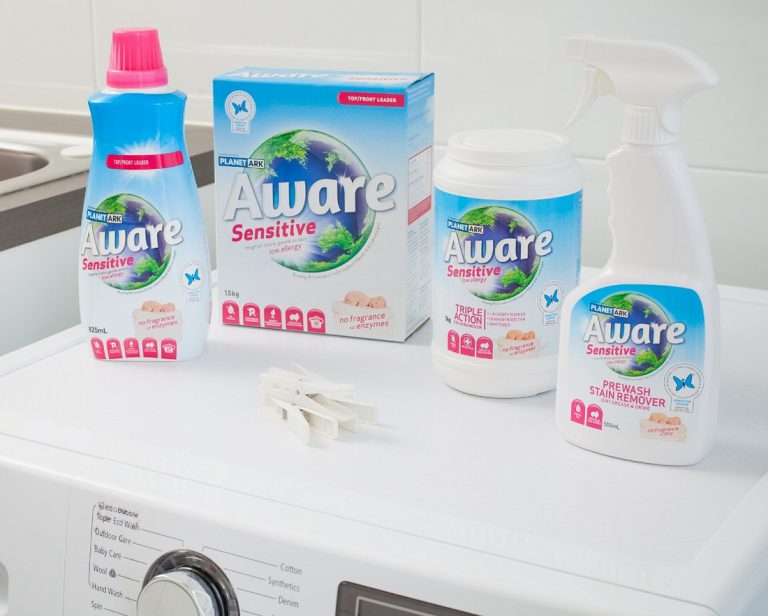 Avoiding fragrances, perfumes, dyes, optical brighteners and enzymes, the Australian owned and made Aware Sensitive range is specially formulated without harsh chemicals and ingredients that irritate skin and cause breathing problems, making them the perfect choice for young families. We also don't use palm oil-derived ingredients or phosphate in our formulas, unlike many other brands available in supermarkets.
As a result all Aware Sensitive products are endorsed by Planet Ark and approved by the Asthma Council of Australia's 'Sensitive Choice' program.
This means they've been independently checked to ensure they are a better choice for the environment and your family's health. You'll find all of these products in leading supermarkets and independents.
Reviews
I wanted to try Aware as an alternative to my normal washing powder to see if it made a difference to my son who at 6 months old suffers from Eczema.
I noticed a huge difference in my son's skin pretty much straight away, very little irritation and no 'flare up's at all!
As the washing performance was also up to the same standard as my previous choice of washing powders, I now use the Aware product for the entire family's laundry.
Sheree, 34, NSW, mother of 2.
Since changing to aware sensitive laundry power, neither myself or my
children have had any dermatitis, or allergic reactions from our clothes. It is gentle on their sensitive skin yet is able to effectively clean children's dirty stains and my husbands dirty work clothes. I will only be buying aware sensitive laundry power from now on. Best change I could have made.
Bek, 23, QLD, mother of 2.
My four year old son has been diagnosed with atopic eczthma and using the products doesn't appear to have affected his skin any more than what is normal for him. I found the washing performance of the products just as good as the brands I have been using if fit slightly better (I have just emigrated from the UK and haven't yet settled on a brand).
Sara, 37, QLD, mother of 1.
I absolutely love this product. The Aware sensitive products had been
everything I've been looking for with regards to washing detergent. As I am a very concerned mother of 2 young kids I what to ensure that they are protected from many things in life including chemicals or items that could damage their adorable soft skin. The product is easy to use. Packaging is user friendly and most of all I've see a decrease of spots on my sons legs.
I've already bought more Aware sensitive and even mentioned it at my weekly playgroup catch up! Thanks Aware for helping me protect my children.
Yasmin, 30, NSW, mother of 2.
I liked that the product was great for sensitive skin and had no perfumes contained within it. And it seemed to use less product than regular soap powder. Mine and the kids clothes smelt fresh and clean and had no lingering odour after using.
The only down side was making sure it was dissolved prior to putting in machine when washing with cold water.
Michelle, 37, NSW, mother of 3.
What an amazing product! Finally found a product that doesn't cause rashes on my sons skin, but also takes the "stink" out of my husbands heavily soiled work clothes. The icing on the cake is knowing that there are no nasties going into our clothes and onto our skin. Safe and it works great. Would recommend to ANYONE!!!!!
Leanne, 26, NSW, mother of 2.
I noticed my sons skin condition didn't flare up as usual.
Washing performance was good not so great on tough stains though.
Overall I though the product fulfilled what it said it would do it was gentle on sensitive skin, my sons skin definitely looked less flared after using aware.
Shanny, 29, VIC, mother of 1.
I am very satisfied with the results of this product. My 1 year old's
food-covered clothes came out clean each time, without needing to be soaked. Most importantly it didn't irritate my son's sensitive skin/eczema. I felt that I didn't need to do an extra rinse cycle, which I usually do with other brands. I loved that the clothes came out smelling fresh, but with no perfume or soap smell. I would definitely recommend this product!
Melinda, 28, NSW, mother of 1.
Being a mum of two chlidren with eczema and sensitive skin, I believe this kind of product is not only beneficial but also essential in keeping my children's flare ups at bay. It is part of a regimen that we follow in our household. This product is also very effective in cleaning our clothes. I am very satisfied with it and I'm more likely to continue using it. Thank you for the opportunity to discover it.
Vera, 33, NSW, mother of 2.
The Giveaway
We are delighted to give away 3 prize packs to lucky readers. The prize packs valued at $34.50 each include:
* 1 x Laundry Powder
* 1 x Laundry Liquid
* 1 x Triple Action Stain Remover
* 1 x Prewash Stain Remover
* 1 x New Shower Cleaner
* 1 x New Multi-Surface Cleaner
To enter, simply follow the instructions on the rafflecopter widget below. Good luck!