WIN $100 Gift Card to Spend on Toys at Big W!
In one weeks time, my son Foghorn will be turning four. Surprisingly (for me), I have booked the play centre, sent out the party invitations and I have even ordered the cake. No last minute panicing for me…not this year!
But, the only thing that wasn't sorted and which was giving me a little bit of trouble was possibly THE most important thing – the present! What on earth are we going to buy him this year?
I decided to ask him what he wants. If I am going to have to traipse around a toy shop with three small children, I do not want to be wandering aimlessly. I want a clear and defined plan of action and I want to get out of there before any nagging, whining or tantrums start. (Yeah, good luck with that one!)
But, unfortunately, in this instance Foghorn was not really too much help.
"A new DVD for our new car," he grinned still day-dreaming about being able to watch the TV in the car when we (eventually) get our new car.
"I'm sure we can stretch the budget a little further than a DVD," I told him still locked in my own daydream – or rather nightmare – imagining the horrors of toy shopping with three children.
And that is when I had my brain wave. My BIG brain Wave.
I'd take him to a TOY SHOP online. I didn't even have to leave the house and he could still browse all the cyber-shelves to pick his present…or at least give a few to choose from. So just as I would if we were at the shopping centre, I headed straight to Big W's online toy section, and told him he had $100 to spend.
So…in just 20 minutes we managed to narrow it down to a 6 item wish list. No tears, no tantrums and no need to make a premature bolt for the door marked exit. Hallelujah!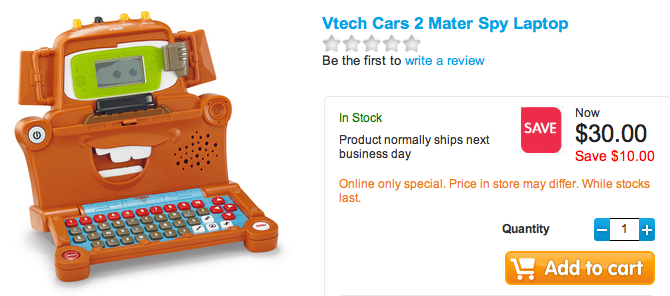 A 'pooter' like Mummy's

Trust the son of a surfer to be mad on anything Shark-related

Now this looks like fun! I wonder if I'd fit?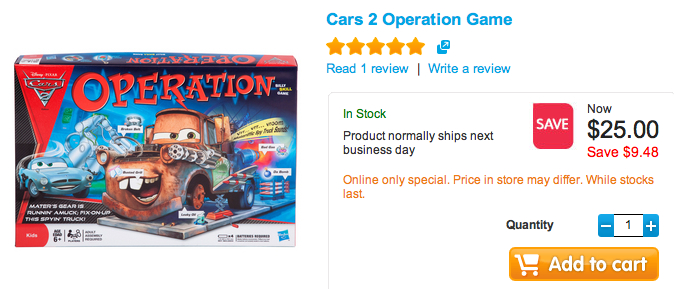 I loved the original Operation game as a child. Foghorn is having this whether he likes it or not!

Yeah…what can I say? He's 4. He's not real good at maths yet!
So all I have to do now is make my selections tonight when he is snuggled up in bed and the postman will bring them to my door! Oh yeah, and did I mention they have free delivery on orders over $50? Ka-ching!
Now that is how you shop for toys!
We have a $100 gift card to spend at Big W up for grabs.
To enter simply follow the instructions on the Widget and good luck!
Disclosure: This is a sponsored post. All opinions expressed are my own.