Win a Yoga/Pilates/Fitness Prize Pack from Optomo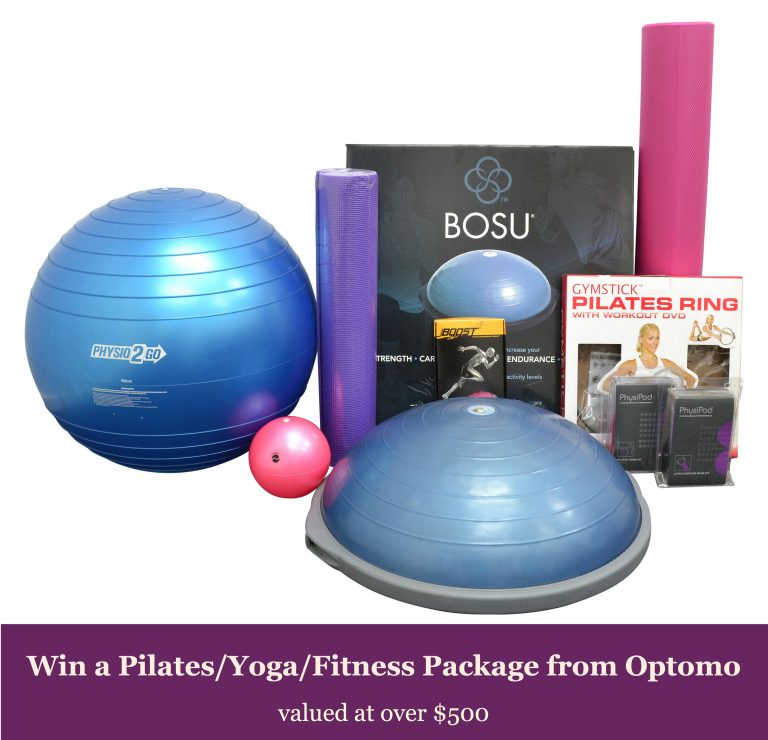 When it comes to exercising, ranking high on my list of over-used excuses, are 1. the gym is too far away, 2. the gym is too expensive, 3. I just don't have enough time.  But exercising at home needn't break the bank, and squeezing in a 30 minute exercise routine into the day is not only doable, it'll also have a significant and positive effect on your fitness, energy levels and mood.
Optomo is an Australian company that supplies first aid equipment, health, fitness, sports medicine and rehabilitation products. They offer a wide range of products not traditionally found in chemists or sports stores.  You'll find everything from first aid, braces and supports, sports medicine, pain relief and therapy and health and fitness products in their easy to navigate, user-friendly online store.
Providing fast delivery and priding themselves on great customer service, Optomo makes shopping for health, fitness and wellbeing products easy and enjoyable.
Optomo are giving Mums Lounge readers the chance to win this awesome fitness package valued at over $500, so you can get into shape and embrace a healthier, happier you in the comfort of your own home.
The Prize:
 BOSU Balance Trainer
The BOSU Balance Trainer allows the user to combine all the elements of fitness: cardiovascular, toning, and flexibility in unique and highly effective combinations.Includes BOSU Total Trainer with foot pump plus the BOSU 4 DVD workout series.
Gymstick Pilates Ring
The Gymstick Pilates Ring with DVD is a flexible ring completely encased in a non-slip protective coating that helps tone and strengthen the key core areas and creates and maintains good posture.
Yoga Mat
The yoga mat offers a padded all purpose surface and insulation for floor exercises suitable for pilates and yoga activities.
Chi Ball
The Chi Ball is a soft and spongy 15cm inflatable ball that has been infused with an aromatherapy fragrance which corresponds to its colour.
Gym Ball 65cm
The Gym Ball is a great tool which can aid in increasing muscle strength, flexibility and balance.
Pilates Home Kit
The PhysiPod Pilates Kit is a compact, versatile, easy to use and functional training kit for peripheral and core strength muscle training.
Latex Band Exercise Kit
The PhysiPod latex exercise band kit is designed to assist in the rehabilitation of injured or weak muscles and is helpful in training core stability, range of motion and improving posture and coordination.
Foam Roller Long Round
Foam Rollers are used to improve balance and stability in general fitness and rehabilitation.
Boost Compression Socks
Boost Compression Socks are designed for training and recovery to reach optimal performance levels.
For your chance to win this yoga/pilates/fitness prize package from Optomo simply complete the entry form below.  Good luck!