WIN a Syndalia Designer Nappy Bag Worth $389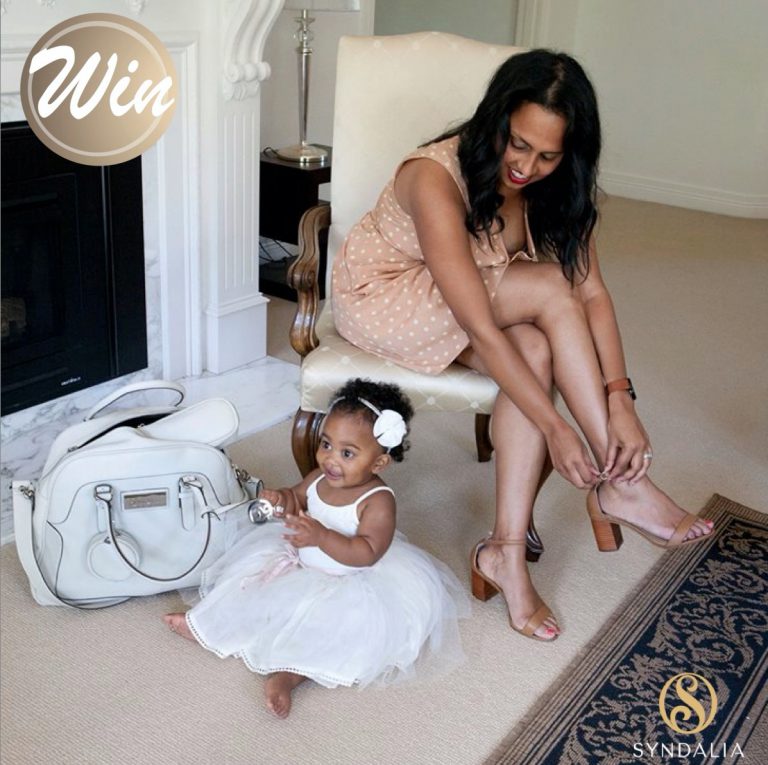 WIN a Syndalia Designer Nappy Bag Worth $389
It wasn't until my third pregnancy that I discovered the world of gorgeous designer nappy bags and I have since developed quite a taste for them. I find myself gazing longingly when a beautiful nappy bag catches my eye on a passing stroller and can't resist the temptation to stop them to ask where they bought it from. This affection for beautiful nappy bags has led me to discover some of the most gorgeous bags and I am always excited to share one of my favorite new finds.
My most recent 'Nappy Bag Affair' has been with the simply divine Syndalia Designer Nappy Bag. The Syndalia Nappy Bag comes in a beautiful selection of colours and looks like a gorgeous designer handbag on the outside that works incredibly well with every outfit…from glamming up Mummy Pj's to dressing up in a more classy and elegant attire or even accompanying a sophisticated office look. On the inside it's a well thought out spacious place to organise everything a Mum needs.
When I first received the Syndalia Designer Nappy Bag my first thoughts were 'ooh this will look so nice with my new dress' not the kind of response a Mum might imagine herself giving to a 'Nappy Bag' but this Mum is learning that being a Mum CAN mean being stylish at the same time as practical! The Syndalia Nappy Bag is relatively clean and simple in appearance with a classy feel and elegant touches. Apart from the very convenient little removable pouch on the outside, perfect for keeping a pacifier handy – or the car keys in my case, there is nothing that screams 'nappy bag' about it at all…in fact quite the opposite, as it certainly lends itself well to being a simply beautiful bag for any occasion.
On the inside the Syndalia Nappy Bag is a well thought out organised place to lovingly store everything a Mum needs and comes with some gorgeous matching accessories to ensure that everything has been thought of, such as a bottle holder with a thermal interior, pacifier holder, change mat and a wet bag. Inside the Syndalia Nappy Bag there is a surprisingly large amount of space which was plenty for storing changes of clothes and everything I need when out and about with my twins. There are multiple pockets for tucking things away but also keeping things handy, like nappies, wipes, milk/drink bottles, those favorite cuddly toys or snuggly blanket essential for sleepy little ones, purse and even somewhere to store your phone so that you can find it with ease…like when you need to capture that important moment when your little one does one of their 'firsts' and you need to grab your phone to take a quick snap to remember it forever by and there is nothing worse than rummaging the bottom of your bag for so long that you have missed the moment altogether.
The Syndalia Designer Nappy Bag is both a beautiful, modern and elegant designer accessory to compliment any Mums wardrobe and the perfect functional baby bag for days out with little ones keeping everything a Mum needs organised and to hand.
I often see people posting in groups asking for advice on the best baby shower gifts and, coming from a Mum of four, this is a gift I would have loved to receive at my baby shower. Every Mum deserves to feel glamorous when stepping outside with their new baby and the Sydalia Nappy bag has been lovingly created by a Mum of two to do just that. So if you are looking for the perfect gift for any Mum, whether that's a first time Mum or 4th time Mum, then this would definitely be my recommendation.
Disclosure: The author was gifted this product for the purpose of giving an honest review. All thoughts and opinions
Written by Julie Williams
Giveaway
Thanks to Syndalia we are offering our fans the chance to WIN a beautiful Syndalia Designer Nappy Bag worth $389! Simply enter below and good luck.