One-Pan Buttermilk Ranch Chicken Recipe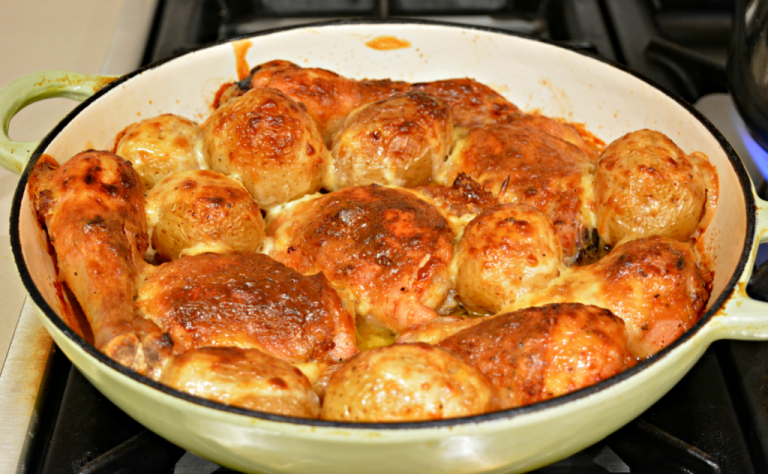 One-Pan Buttermilk Ranch Chicken Recipe
So it would seem that you guys are HUGE fans of one-pan dishes. And particularly one-pan chicken dishes. Well I am happy to announce that this one fits the bill brilliantly.  This particular recipe is a combination of a few recipes I saw; one of which used a store-bought buttermilk ranch dressing (sadly unavailable in MY supermarket at least), and the other which had chicken tenders with buttermilk ranch dipping sauce. Thus I combined the method of the first recipe with the dressing from the second and voila.
I used skin-on chicken thighs and drumsticks for this as they go uber crispy and can handle the time in the oven required to achieve the crispiness of both the chicken AND the potatoes – yep, there's potatoes in there too. It is golden and it's crunchy and it was literally out of this world. My husband raved about this multiple times whilst consuming it and called shot-gun on the leftovers.
Chicken Spice Rub
1 tsp garlic powder
1 tsp onion powder
cracked black pepper
1 tsp sea salt
2 tbsp olive oilmidwee4 chicken thighs, skin-on
4 drumsticks, skin-on
8 chat potatoes, skin-on
Buttermilk Ranch Sauce
1/2 cup good quality mayonnaise
1/4 cup buttermilk
1 tsp lemon juice
1/4 tsp pepper
sea salt
Tabasco sauce (optional)
Method
Mix the mayonnaise, buttermilk and lemon juice together. Season to taste and add the tabasco sauce if using (I probably used about 1/2 tsp).
Pre-heat oven to 160C/140C fan-forced/325F. Spray the inside of a large oven-proof dish with cooking oil. You will need a dish big enough to fit all the chicken pieces and potatoes in a single layer so you may even need to use two dishes.
In a large bowl, combine the chicken spice rub ingredients together then thoroughly coat the chicken pieces with it and lay them on a single layer in the oven dish. Bake for 45 minutes.
Add the potatoes to the baking dish, pressing firmly down into the juices that have accumulated. Bake for another 30 minutes.
Remove dish from oven and spoon over half the Buttermilk Ranch Sauce to generously coat the chicken and potatoes. Return to oven for 30 minutes. Increase the heat to 180C/160C fan-forced/375F and spoon over the rest of the sauce and continue to bake for 20-30 minutes or until golden and crisp.
Total baking time = 2 hours and 15 minutes.