Yo Gabba Gabba LIVE! Ticket Giveaway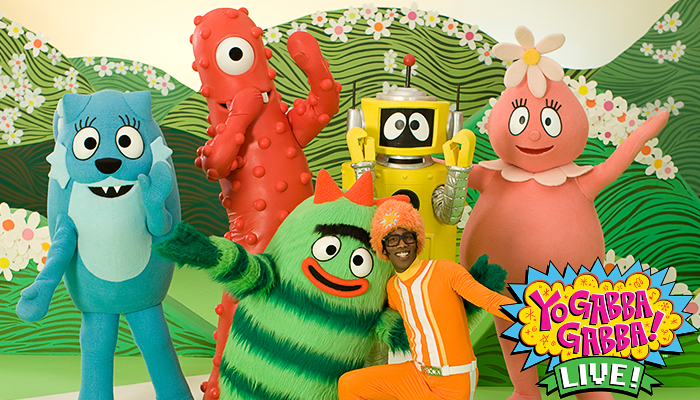 Sponsored post
Tell me – who doesn't love a good boogie session with their little people?
Regardless of how much sleep I've had (or more how much sleep I haven't had), whether there are dishes in the sink, or laundry to be done, I try to make time with my children a priority.
My children love music.  None of us (as yet) appear to be musically gifted but that doesn't stop us from enjoying it, sharing it, and having fun with it.
Yo Gabba gabba has long since been a favourite in our house.  Whilst other musical-driven shows seem to have lost their shine as they left the 2 – 4 year old age bracket, Yo Gabba Gabba's 'rockin' songs have stood the test of time.
What could be better than listening to music together? I'll tell you shall I?  Laughing hysterically – acting completely silly and not giving a hoot, that's what!  Having rock-out sessions with the kids is the perfect mood balancer after cleaning the bathroom, or peeling the veggies for dinner – and the best thing is you don't care how silly you look with your own kids.  Anything goes right?  If you dance with your babies and little people too, you'll understand the feel-good factor I'm talking about!
Besides, I love the positive life-lessons that the Yo Gabba Yabba characters share with my little people, like use your manners, be your best, and share with your friends, to name but a few.
The great news for fellow Yo Gabba Gabba fans is that DJ Lance Rock (direct from the USA) and the gang will perform YO GABBA GABBA! LIVE! in Sydney, Melbourne and Brisbane, and for the first time ever in Adelaide, Perth and Hobart.
DJ Lance Rock and the cast of colourful characters take some of the all-time favourites like "I Like To Dance" and "Party In My Tummy," and mix them up with some awesome new songs.  YO GABBA GABBA! LIVE! will be familiar to many of the fans who have witnessed it before, and now fans in other parts of Australia will get to jump, shake and shimmy the sillies out too!
Tickets selling fast. Visit www.yogabbagabbalive.com.au  and get yours today!
Giveaway
Mums Lounge have 4 x Gold tickets (worth $250) to giveaway to one lucky family.  The winner can choose their venue from Sydney, Melbourne, Brisbane, Adelaide, Perth and Hobart!  To enter, simply complete the entry form below.  Good luck!
Disclosure: This post is sponsored.  However, all thoughts and opinions expressed here are my own.