Need a Simple Way to Save on the Everyday Items You Buy Online? Ker-ching Program Review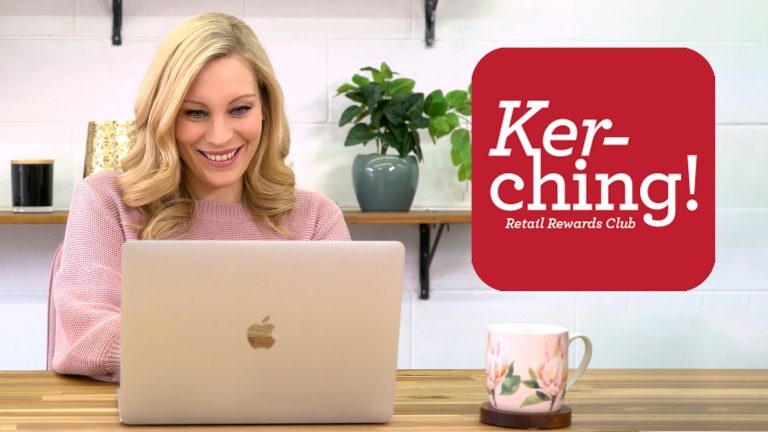 Need a Simple Way to Save on the Everyday Items You Buy Online? Ker-ching Program Review
Sponsored post
The current Coronavirus crisis has taken a huge financial toll on many Australian families. As we move ever closer to the festive period many Aussie parents will be under financial strain, so we've been looking into simple ways we can all save money on the everyday items. One of the simplest, and best ways to save money we've come across is by using Ker-ching! – a free to use service that not only searches the best prices for you, it also lets you earn additional cash on your purchases.
This is not a gimmick. The Ker-ching website is FREE to use and truly gives online shoppers the opportunity to make some incredible savings in the form of cashback, every time you shop with a Ker-ching partner. Cash rewards earned from shopping with Ker-ching can be transferred into your bank account or used to purchase gift cards. Regardless of how often or seldom you shop online, it's worth using the Ker-ching! website to make your purchases. They have all of your favourite brands, and your hard-earned cash is better off in your pocket, right?
How Much Can You Save with Ker-ching?
Over $50 million has been paid out in cashback payments in Australia alone.
Using Ker-ching is really simple, and you can shop with Ker-ching! on desktop or on a device via the Kerching app. So, whether you are at home, or out and about, you can earn extra cash when you shop.
To start getting paid to shop you'll need to sign up and create an account. It's absolutely free, so you have nothing to lose and everything to gain. If you still need a little convincing, we suggest you make a list of stores you usually shop at e.g. Woolworths, Dan Murphy's, ASOS, Cotton On, eBay etc, and then check out the savings each store offers. You'll be spending the same amount as you normally do, only you'll receive back a portion of it in cashback payments! This is a great way to save extra money for Christmas or a family holiday.
Another fun function that the Ker-ching website offers is the Ker-ching! calculator. All you need to do is enter your estimated average monthly spend on categories such as 'fashion & accessories' 'food and drink,' 'health and beauty,' etc. The calculator will show much you could potentially earn in cashback if you use the program regularly.
How Ker-ching! Works
To get started, sign into your Ker-ching! account. This will ensure that any purchases you make are tracked back to you. Next search for your favourite store or select a category on the Ker-ching! website to show a list of retailers and their cashback percentage or offer. Once you've decided which retailer you'd like to shop with click 'go to store' to be taken directly to their website. Now, you just shop as you usually would.
Please note: Interrupting your shopping session by closing the window, performing searches on other sites, clicking pop ups, turning off cookies, visiting your social networking home page and other side-tracks should be avoided as they may mean that the recording process is disrupted and you may not receive your cashback.
Similarly, return to Ker-ching! after each transaction if you plan to continue shopping, and click back through to the next store you wish to shop at via Ker-ching! so that the transaction can be tracked.
The Ker-ching Functions We Love
Ker-ching! Komparison!
Ker-ching Komparison is very different to any other price comparison website in Australia because they add cashback to all of your searches.
The Ker-ching! Komparison page allows you two different ways to find what you are looking for.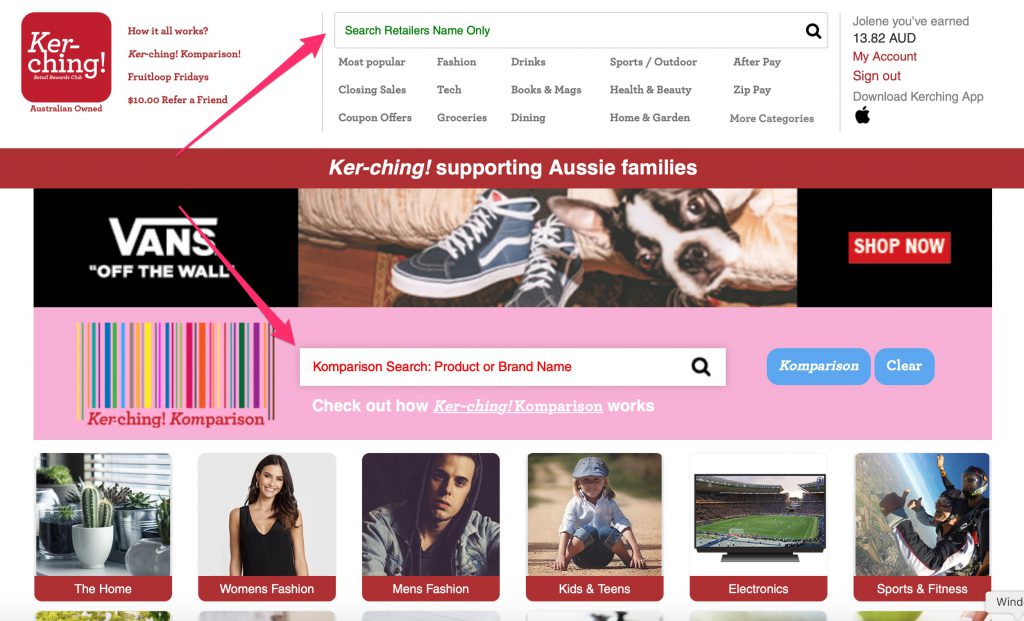 The top search bar allows you to shop for specific retailers, and the second search bar lets you shop for specific products and brands – this is my personal favourite.
Let's say, I'm looking for a new pair of tan sandals for summer, I type 'tan sandals' into the second search bar, and up pop 250 options from a range of different sellers.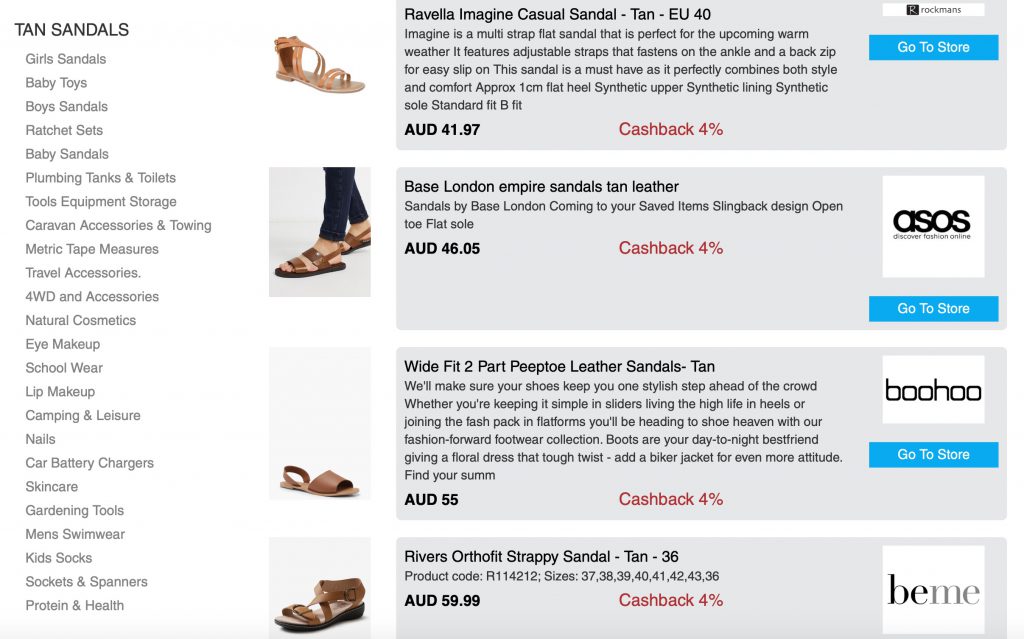 I can see at a glance the shoe colour, style and price, which retailer and the percentage of cashback they offer. It is a fantastic time-saving and money-saving way to shop!
The Ker-ching! App Barcode Scanner
If you spend more time online shopping on your mobile than you do a desktop computer, you'll love the Ker-ching app. Basically it works exactly the same way as I've described above, but with the added bonus of a revolutionary feature called the barcode scanner.
Barcodes of course are helpful for finding out all sorts of information such as manufacturer, name, description, price, photos and customer reviews. Ker-ching! enables it's members to also use the barcode to find which stores have the item at a cheaper price and which one's will give you the largest cashback reward.
To use it simply scan the product in-store for an instant glance at competitor prices. This allows you to weigh up whether to purchase the item then and there, or make bigger savings by ordering it online via Ker-ching!
Fruitloop Fridays
If you're a sucker for a bargain, like us, you'll love Fruitloop Fridays. Every Friday Ker-ching! will be offering the best deals in Australia – the details are released at 9am. They negotiate the best prices with their partners to ensure that you get some insanely good deals. Times of sales vary but normally start at 10am and are repeated again at 6pm. Shoppers are advised to get in quick though, as sales stock is limited and the deals are at such crazy prices, they invariably do not last long!

Refer a Friend to Receive $10
If you love the Ker-ching! shopping experience – which we know you will – tell your friends about it so they can start saving too.
Step 1 – Share your code with friends via email, Facebook or more.
Step 2 – your friend signs up. They receive $5 and another $5 upon making a first purchase.
Step 3 – You earn $10, when your friend spends more than $20 on an approved purchase through the Ker-ching! program.