How to Be a Hip Mama – Dressing During Pregnancy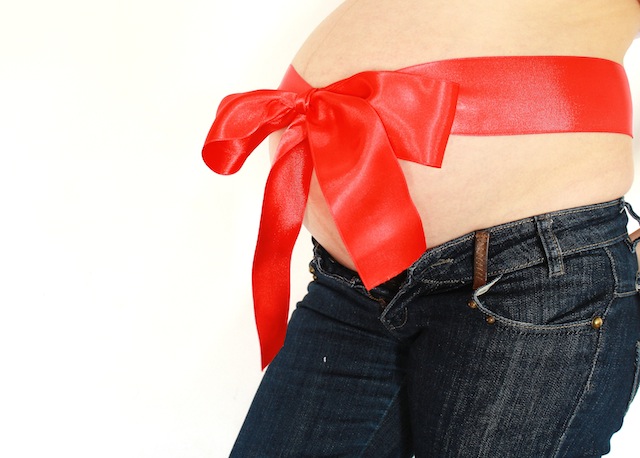 Tent dresses? Tracksuit pants? Elastic waistbands? Sure you are over the moon about the new addition to your family but does that mean you need to lose your style status? Louise Ling investigates the plethora of advice out there about maternity clothes and offers you a style savvy guide to maternity wear, perfect for the exciting and expanding months ahead:
The Good:
Don't buy a whole wardrobe full. Good maternity clothes can be costly so instead just buy a few key pieces and essentials.
Superb advice. By re-examining your existing wardrobe and with just a few good purchases, you can looking good for a long time. Once renegaded to the back of your closet, let maxi dresses, wrap dresses and anything with an empire waist come out and be front in the limelight.
Accept all offers of clothing. Neighbours, family and friends are usually only too happy to pass on their maternity clothes.
Start smiling now and accept all offers. It's no good wasting your precious dosh on clothes you won't be wearing for very long.
Check thrift shops or secondhand stores. Maternity clothes rarely wear out during the short time you wear them.
Too true. Remember patience is a virtue and with dedicated visits, over time you can put together quite a nice little wardrobe.
The Bad:
Borrow from your partner. Wouldn't one of his white shirts look great with your new jeans?
Nup and I'll tell you why. My partner is a man and has masculine shoulders where as I'm a women with womanly shoulders whom prefers not to dress up as a circus tent.
Buy non-maternity clothes, just in bigger sizes.
When has this strategy ever worked before? Now you are sporting a bump, adding bulk is just not going to help you my friend.
Use a rubber band, pass it through the buttonhole and then wrap it around the button.
Bad advice. Do you know what it feels like to walk around with your fly undone or like to occasionally flash your undies, then be my guest. I never had any success with this technique and only shocked my co-workers.
The Ugly:
Take advantage of your cleavage. Flaunt this fortuitous occasion and wear scoop-neck, low cut T-shirts.
Ladies, please don't.
Hip Mamma Guide:
High quality Swedish designed fabulous maternity wear that can be worn before and after bub. Trust the Swedes to come up with innovative design that provides easy access for nursing, yet doesn't diminish your style! Also available Boob Baby, super cute outfits for your newest family member.
Direct from the Sunshine Coast, Dangerous Curves offers a wide variety of maternity clothes that say 'foxy' rather than 'frump'.
Great selection of pre and post bub stylish ensembles. Particularly great selection of maternity pants that aren't too grandma. The range of pajamas are also great for those nights when you need comfort, but still hope not to shock your partner too much.
Brainchild of Aussie Carla O'Brien, these fun maternity tops feature a fortune cookie message such as 'sleepless nights are in my near future' plus your own set of lucky numbers. They arrive in a cute chinese take-away box and make for an unique and perfect gift!
Author Louise Ling is a freelance writer who has written for arts and travel publications across Australia and Europe, contributing articles for broadsheet national newspapers like The Weekend Australian as well as specialist writing for music magazines and academic journals. Follow her adventures as a new mum in Sweden: www.loulouloves.me