Review: Say Hello to Your New Favourite Australian Owned Activewear Brand – TwoTags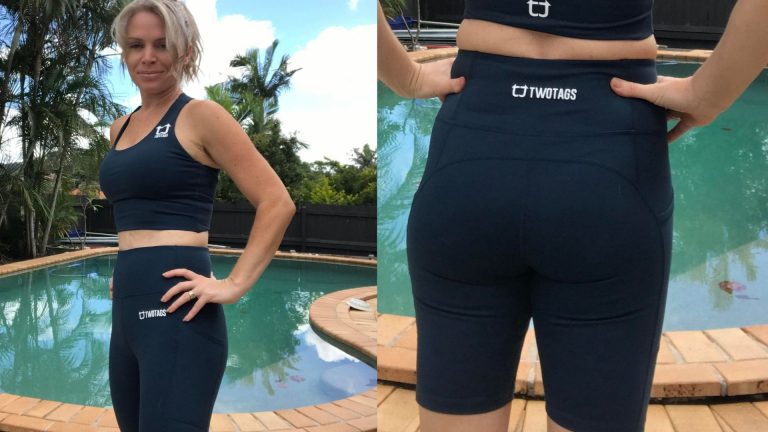 Review: Say Hello to Your New Favourite Australian Owned Activewear Brand – TwoTags
At this stage in my life, it's probably accurate to say that I spend more time wearing, and more money buying activewear, than any other wardrobe staple. Having discovered the almost miracle effect that working out has on helping to manage anxiety six years ago, I now try to exercise in some capacity daily as part of my own self-care routine. As a result, over the years I have amassed quite a collection of sports bras and tights from different brands, so on those grounds I feel qualified to judge the difference between activewear that's good, and activewear that has that something a little bit special. It's not all about turning up to class in a cute matchy-matchy set. For me activewear has to be functional, and tick a few very specific boxes to make it to the 'godly tier' of activewear!
Recently I was gifted an activewear set from the Perth based brand TwoTags for the purpose of providing an honest review. I was already familiar with the brand having purchased a sports bra from them myself earlier this year. It's my favourite bra for doing high intensity training like Metafit or HIIT Step where I have to jump around a lot, as it's really comfortable and supportive, so I was really keen to have the opportunity to try something else from the collection to see if it was equally as impressive.
If you aren't yet acquainted with the TwoTags brand, let me preface this review by saying I love one of the central premises behind the brand – which is that awesome quality activewear doesn't need to break the bank!
'At TwoTags we believe that there is no need to spend a ridiculous amount of money on gym wear. So we bring you quality, stylish and colourful clothes at much more affordable price than our fellow competitors.'
On this point I agree, they really do deliver!
Secondly, as I've already mentioned, TwoTags is an Australian owned brand, based in Perth, and you know how much we love to support homegrown business. It was founded by Max and Rachel in 2017, when it operated out of a single bedroom. Since then, it has grown into one of the fastest growing and more recognised activewear brands in Australia…and for good reason!
TwoTags really is proof that you don't have to drop $100+ on a pair of tights or a sports bra  in order to get a quality product.
I was gifted the Supportive Vibe X Sports Bra in Ocean Blue, with the Sweetheart Highwaisted Biker Shorts to match. The colour is gorgeous (I'm afraid my photo's may not do it justice) and they are so comfortable on. For reference, I'm a size 10 and wearing a medium in both – so this brand runs true to size, which is always good! And as an added bonus, they look and feel like the kind of activewear I usually pay twice the price for! Winning!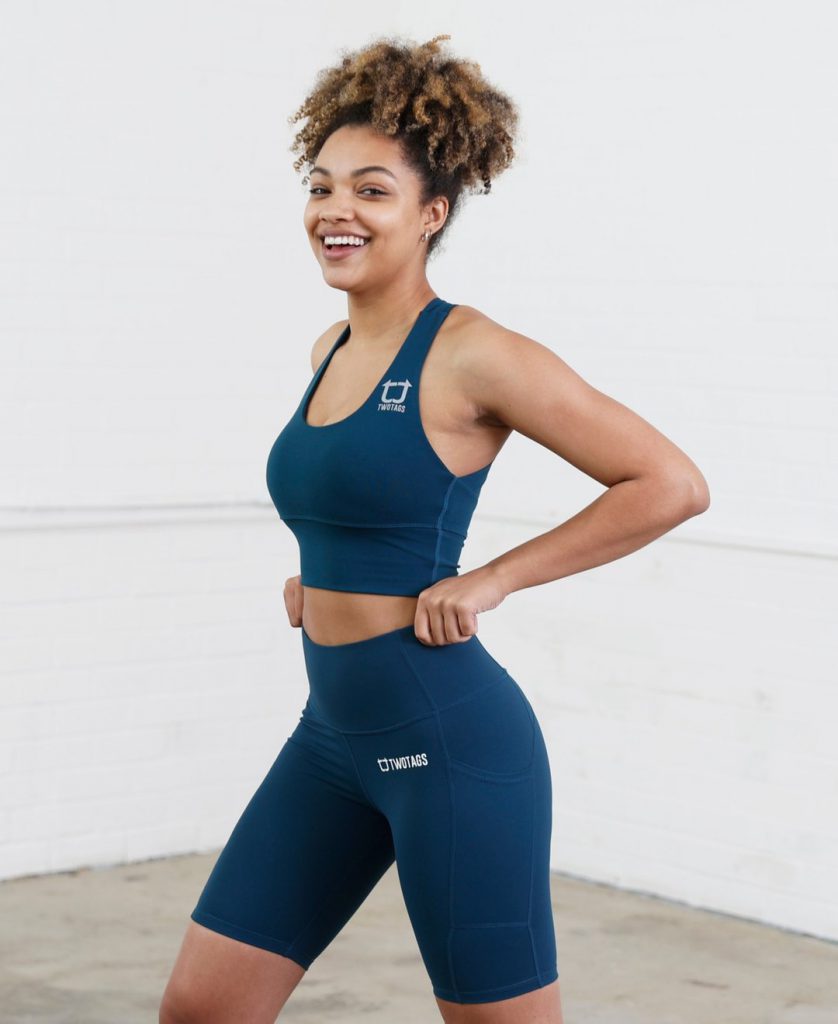 The Supportive Vibe X Sports Bra
I'll start by saying, whilst I would normally wear a singlet over my sports bra while working out, this cute sports bra is long enough to pass as a cropped tank, so it's perfect for those of us who are a little shy about flashing too much flesh (especially when paired with TwoTags highwaisted tights or shorts).
It features removable padding, and comes in a fast sweat-wicking fabric that helps to keep you feeling cool and dry. The four-way stretch fabric is fantastic, as not only does it provide great support (no feeling like you're boobs are going to fall out when you're doing a burpee or a downward dog), it also allows you freedom of movement in your workout.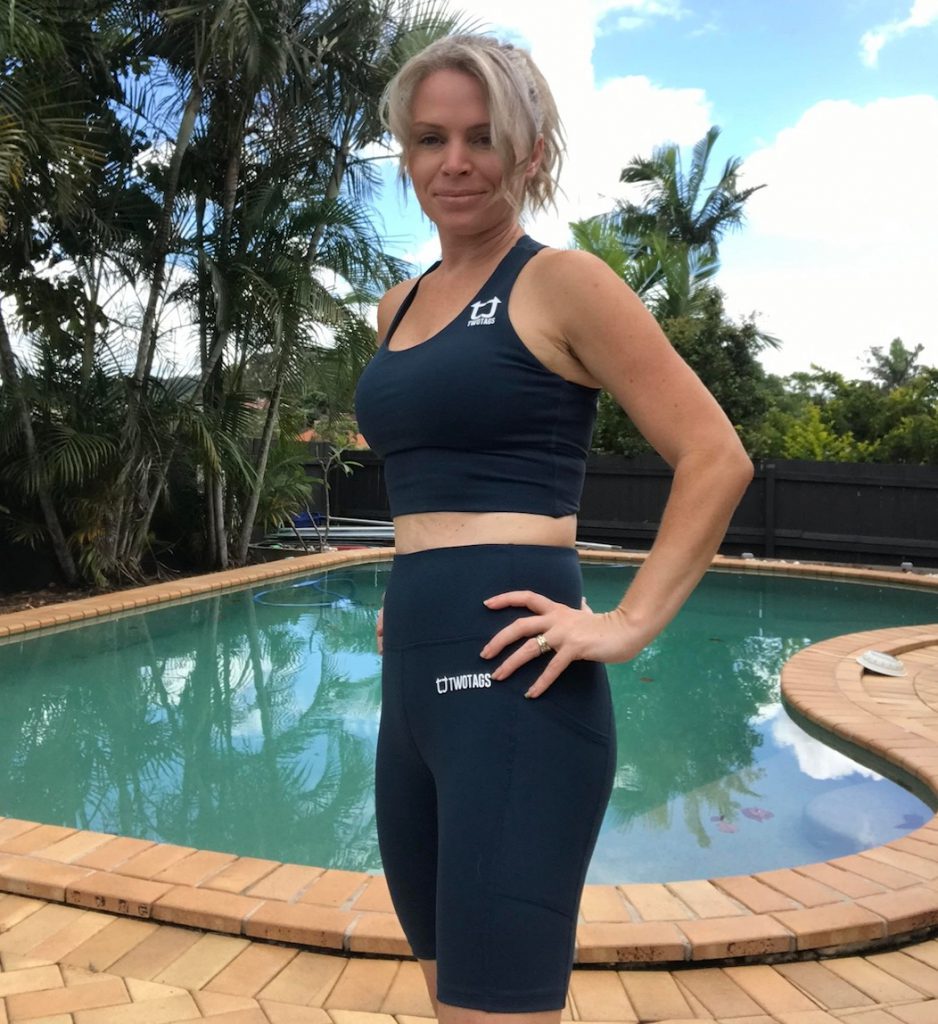 The Sweetheart Highwaisted Biker Shorts
The Sweetheart Highwaisted Biker Shorts are so named due to the flattering heart-shaped details around the booty, and (you guessed it) the highwaisted tummy control they provide. The supportive elastic waistband slims through the mid-section whilst also staying put. If you've ever worked out in a pair of tights or shorts that roll down your tummy when you're moving about, causing you to have to adjust them all the time, you'll know how annoying and distracting it can be. No matter whether I'm performing explosive exercises, weight training or practicing a yoga salutation, these shorts stay exactly where they should! Love them!
Equally important as being anti-roll, is that your activewear is squat-proof. The last thing anyone wants when they squat down is for the material on their lower half to stretch, become opaque and flash the poor person behind them in the class their undies. Especially if you got dressed in the dark and reached for your least-flattering granny undies that morning! Ha! So, squat-proof tights are a MUST as far as I'm concerned, and in that area TwoTags have you covered…LITERALLY! Phew!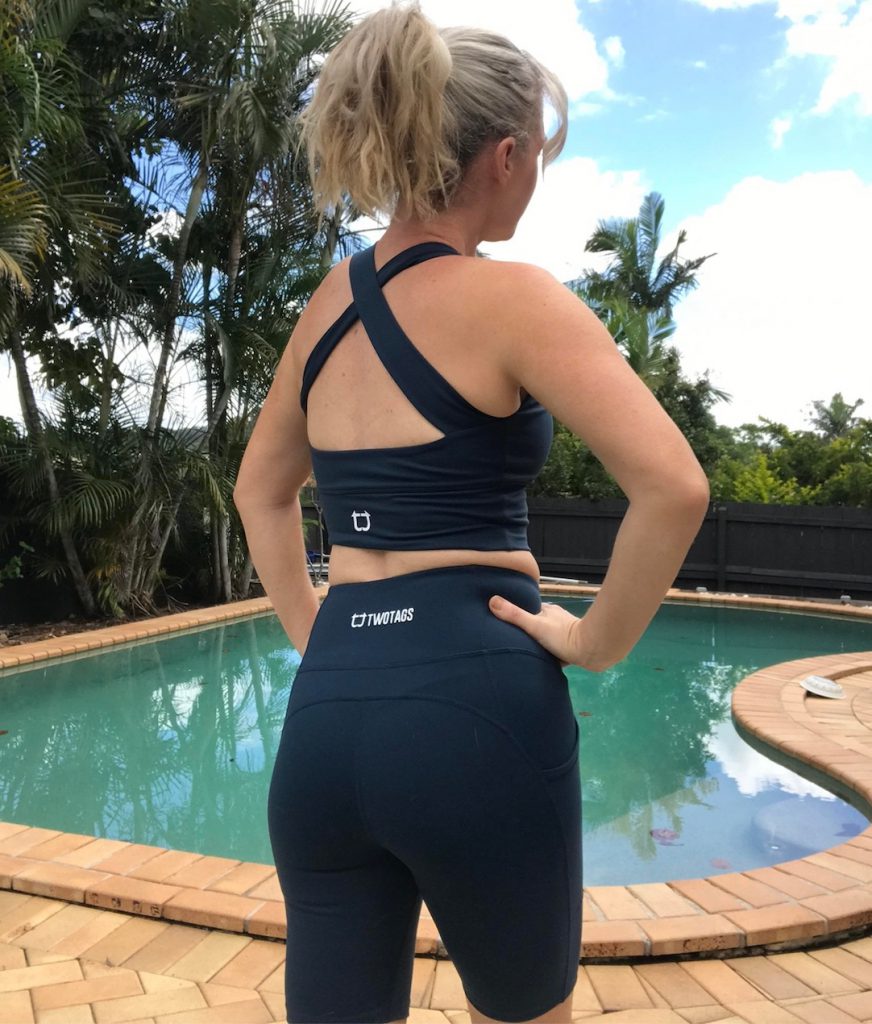 If you prefer your workout tights to have pockets (which I definitely do), this is another reason to jump on the TwoTags train. In fact, all of their tights and bike shorts come with a one-size-fits-all-phones pocket on each side. What more could you ask from your activewear?
Conclusion
TwoTags activewear are made out of high quality, squat proof materials and look and feel amazing on – without also having the extortionate price tag to match. Their award-winning high waisted tights are one of the best in the industry, and tick all the boxes for comfort and functionality. They come in a range of lovely colours too, so whether you prefer to stick to dark activewear, or bring some colour to your gym session, you'll find something in their collection to suit your taste. I know I'll be adding a few more TwoTags sets to my collection as a special little motivator to start 2022 the way I mean to go on.
Use code: AFFTWOTAGS10 when you spend over $100 to receive 10% off your order. Discount code valid until March 31st 2022
TwoTags offer free shipping on orders over $50, and express shipping on orders over $100, and allow you to order now and pay later with Afterpay.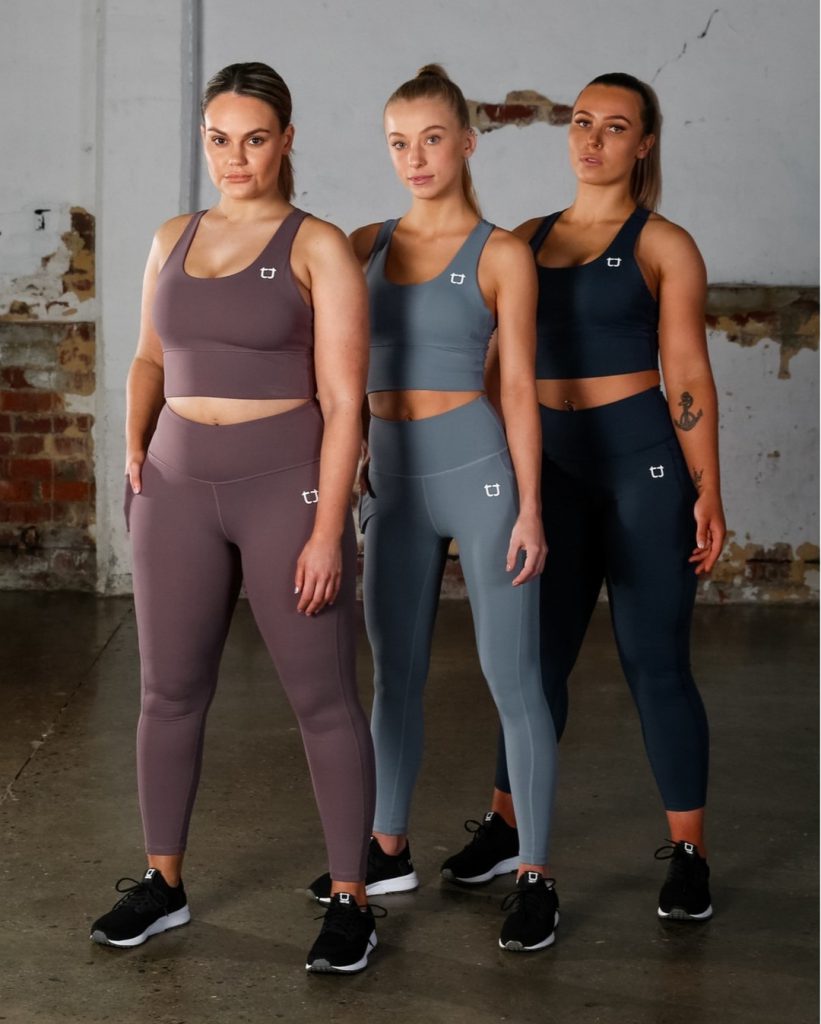 Disclosure: This article contains affiliate links. This means that should you make a purchase, we may receive a small commission at no extra cost to you. All thoughts and opinions expressed in this review are my own.