Baby Onboard: Hitting the Hunter Valley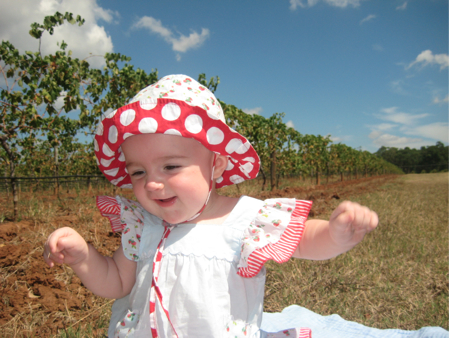 It was time. We both felt it. It had been longer than we could remember. Our glasses were running on empty, so to speak. It was time for an escape. A wine country escape! But with our 8 month now a fixed family member, would it be Hunter Valley happiness or Hunter Valley highway to hell?
Just a short 2 hour trip north of Sydney, the Hunter Valley is one of Australia's acclaimed wine regions and with its gorgeous landscapes, open fireplaces and straw coloured Semillon, we felt it was just the place to warm things up.
But were we crazy? Would our weekend of romance turn into a weekend of woe? Just what type of welcome would we receive as we trundled up to picturesque cellar doors with our 4WD pram and burgeoning change bag? Would our longed for and award winning Peppered Mandagery Creek Venison with english spinach and baby beetroots be left sitting cold as we made an emergency exist with screaming baby in hand? Would our delightful and easy going baby suddenly turn into Chucky the minute the corked came off a delicious bottle of Pepper Tree Shiraz?
Setting our standards and expectations as low as possible was a good place to start. Early on we gave up any grand allusions of dining at fancy pants restaurants and instead set our sights on mid-level venues that had a distinct lack of stairs and plenty of space for a pram in the corner. We packed all necessary equipment for baby so there would be no late night dashes to the non-existent 7/11 store and stuffed her change bag with new and entertaining toys. We filled the car with petrol and were off!
Turns out the Mecure Resort Hunter Valley Gardens was the perfect choice for us. With family friendly amenities and service minded staff, we felt welcomed, happy and relaxed (tipsy). With a day spa, cocktail bar and luscious gardens to commando crawl through, every family member was catered for.
Tree-lined country roads with sweeping vistas of sun-kissed vines provide a commanding and romantic landscape. And at the end of one particular road lies Robyn Drayton Winery, perhaps one of the most picturesque of all of the Hunter. With the majestic Brokenback mountain ranges as its stunning backdrop, Timbercutters Lodge is an entirely enchanting cellar door that offers tip top Shiraz and a large veranda that is perfect for a lazy afternoon sipping on their White Port served chilled with just a hint of lime.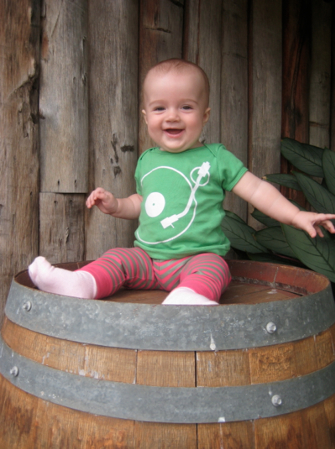 We were pleasantly surprised that having the baby in tow with us was not too much of an issue and thankfully, most of the larger wineries had a small play area/toy box so that everyone was kept entertained. Another glass? Oh yes please.
Essential wine terms for new parents:
Balanced: Denotes harmonious balance of wine elements or how you'll be described upon your return.
Complex bouquet: The fragrance that develops in fine aged wines or the latest thrilling installment in your baby's nappy.
Corked: A wine that is flawed due to a damaged cork or what your friends will think of you when you tell them you're taking your baby with you to wine country.
Elegant: A spectacular, well balanced wine or a spectacular, well balanced dress you've been dying to wear.
Long or short finish: the taste that remains in the mouth after sipping, or the length of stay at any given restaurant based on behaviour of said baby.
Precocious: Brokenwood Graveyard Shiraz 2007 or your 2 year old.
Rich: A full-bodied, deep and complex wine or what you won't be upon your return.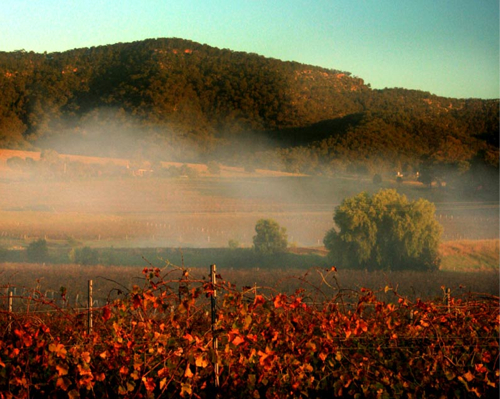 Highly recommended:
www.mercurehuntervalley.com.au
Family friendly accommodation at a reasonable price. Their country breakfast is the perfect precursor to a day of tasting. Highly recommended: A dip in the pool at sunset with a glass of chilled white.
Sophisticated yet relaxed dining that combines fantastic local produce with outstanding service. The perfect lunch spot.
Perhaps the best and most picturesque cellar door in the valley. Highly recommended: 2007 Taylor Reserve Petit Verdot AUD30.00. 2008 Classic Hunter Verdelho Liqueur – White Port (750ml) AUD45.00
Rose covered charming cellar door with generous handcrafted wines that are delightful. Highly recommended: 'Tallavera' Shiraz AUD 45.00
Author Louise Ling is a freelance writer who has written for arts and travel publications across Australia and Europe, contributing articles for broadsheet national newspapers like The Weekend Australian as well as specialist writing for music magazines and academic journals. Follow her adventures as a new mum in Sweden. www.loulouloves.me