Five Best Family-Friendly Places in South Africa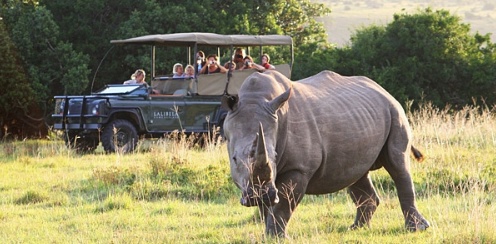 Five Best Family-Friendly Places in South Africa
The summer holidays are just around the corner, time to book that big trip overseas you've been promising yourselves! Consider taking the family to South Africa, there's so much the kids will love, and the weather is perfect. It's a large country but it has a well-developed tourist infrastructure and families are welcomed with open arms. And there are daily flights from Sydney and Perth to Johannesburg. Nadine Mellor, Editor of i-escape 's fabulous Kids Collection – – of family-friendly places to stay worldwide, suggests Five Best Hideaways in the Rainbow Nation. There's something here for families of every size, and for all budgets.
1. Kurland, near Plettenberg Bay, Garden Route
The Founder of i-escape reckons this to be the best small hotel for families she's ever stayed in. This is because of the thought they've put into welcoming families to stay: there's the creche and kids' club in peak season which has great activities, fun loft rooms specially designed for kids, a daily changing kids menu, meals served in the children's conservatory, a kids pool and excellent playroom, and Shetland pony rides for 1-6 year olds. On property are boating, cycling and tennis; nearby are gorgeous sandy beaches, perfect for picnicking, and wildlife sanctuaries. And kids under 5 stay for free!
No first trip to South Africa would be complete without including this vibrant city with its breathtaking coastal setting. Iconic Table Mountain forms its signature centrepiece, and these great value serviced cottages (sleeping 2-6) are found on its southern slopes, along with a lush garden with large pool, staggering views and clement temperatures in summer. You get well-equipped kitchens, nicely designed interiors, climbing frame and swings, and baby and toddler amenities such as high chair, bedding, toys and plastic crockery and cutlery. Babysitting can be arranged, and there are plenty of child-friendly eateries nearby. The beach is a short drive down the road, and there's whale-watching in season.
3. Grootbos, near Hermanus, Garden Route
Adventurous families wanting coastal wilderness will love this place set on a private nature reserve consisting of native fynbos vegetation, and consisting of discreetly placed private suites with decks with a pool and restaurant at each lodge. The retreat has a playground, some farmyard animals, wonderful nature trails and guided walks on offer, the beaches are long and sandy, and there's horse riding, jeep safaris and treasure hunts to try. Daily refreshments for younger guests are provided, as well as a special kids menu. And babysitting can be sorted if parents want to take off on an adventure of their own.
Wine-tasting is a must-do activity in South Africa, and the Franschhoek-Paarl-Stellenbosch triangle is considered the gourmet centre of the country. This very affordable, family-run traditional Cape Dutch homestead is perfectly placed to explore this spectacular rolling countryside and partake of its rich bounty, and suits families down to the ground. There are five toddler-friendly bedrooms, a cottage with kitchenette, a pool, swings and sandpit, a menagerie of animals and playroom, plus ample toys and books and friendly owners. Visit a crocodile farm or a cheetah sanctuary, and childcare is on offer day or night, handy for sampling the local restaurants and wineries.

A safari, the ultimate excitement for kids, will probably be the most important part of your South African experience. Don't head there straight off the plane, make sure that you've acclimatised to some extent, otherwise the kids may fall asleep the early morning game drives! We really rate this private game reserve for its 5 different ecosystems, range of wildlife including the Big 5, and pleasingly it's in a malaria-free part of the country and easily accessible. Lalibela offers a terrific day programme for kids including animal yoga, creative activities such as making plaster casts of spoor, kids meals, bedtime stories about Africa, and their own ranger to take them on child-friendly game drives. All the while parents can enjoy adult game drives, romantic meals and sundowners in peace. Superb.
Thanks to Nadine, Editor of i-escape's Kids Collection, for this post