Long Haul Flight Must-Haves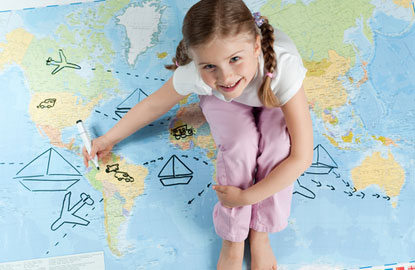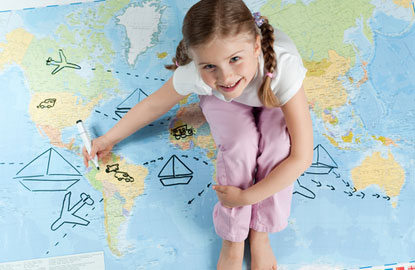 Going on a long flight with kids can be a wonderful adventure. It can also be stressful and exhausting. To make it easier, it's a good idea to prepare yourself and your kids ahead of time by talking about what will happen on your trip, both at the airport and on board the plane. It also helps to bring some useful items with you in your hand luggage.
Here are five items I always put in my carry-on:
1. Antibacterial wipes
When we travel I always bring a tub of antibacterial wipes and a small bottle of hand sanitiser. The reason is simple: airplanes are dirty. Lots of people are crammed together in a small, enclosed space breathing recycled air and using tiny bathrooms. I clean my own hands and the kids' hands before every meal, after every bathroom visit and a few times in between. Sometimes I use the wipes to clean off the plane's tray-tables too. It has definitely helped reduce how often we get sick with cold, flus and stomach problems after flying.
2. Litterless juice-boxes
I find these reusable drink containers indispensable when flying with my kids. It can be very challenging for a child to drink without spilling from a regular cup on a plane. The child may be sitting awkwardly in their seat, it's cramped and the plane may be moving. As soon as my kids are served their juice or water on board, I pour it into the juice-box and let them drink it that way. As a bonus, the flip-down straw makes it possible to store the drink for later if they can't finish it all right away.
3. Child-sized headphones
The personal entertainment screens that are now available on most long-haul flights can be a real lifesaver when you're travelling with kids. However, I've found that my kids usually don't like the headphones provided on board: they just don't fit a child's head very well and often won't stay on comfortably. Instead, I've bought a set of cheap, child-sized headphones for each child. That way they are able to enjoy the on-board entertainment, and I'm occasionally able to eat my meal in peace.
4. Favourite snacks
Hungry kids can be hard to deal with on a flight, or anywhere else. Of course, food and snacks are usually available on board, but if your children are picky eaters (mine are, though one is getting better these days), it is a very good idea to bring along some snacks you know they'll like. Easy to eat, easy to pack, non-messy snacks like crackers, pretzels, bagels, raisins, dry cereal, carrot sticks, and granola bars are some ideas. Just avoid anything too gooey, sticky or chocolate covered. I like to pack our snacks into reusable snack containers. My personal favorite is the "Lock & Lock" containers, because they're easy for the kids to open and close unassisted.
5. A child decongestant
Flying while congested can be excruciatingly painful. I've only done it once, and I never, ever want to do it again. Hopefully your kids will not need a decongestant during your flight, but if they suffer from sinus pressure and ear pressure, you will be better off if you brought something to provide relief. Talk to your doctor or pharmacist, and bring along an age-appropriate medication, whether it's a spray, liquid or tablets. If needed, administer it about an hour before take-off and landing to give it time to work.
Plus Kids Travel Ph: 1300 PLUSKIDS M: 0400 771 223 E: 

[email protected]

 www.pluskidstravel.com.au