10 Easy Craft Ideas for Father's Day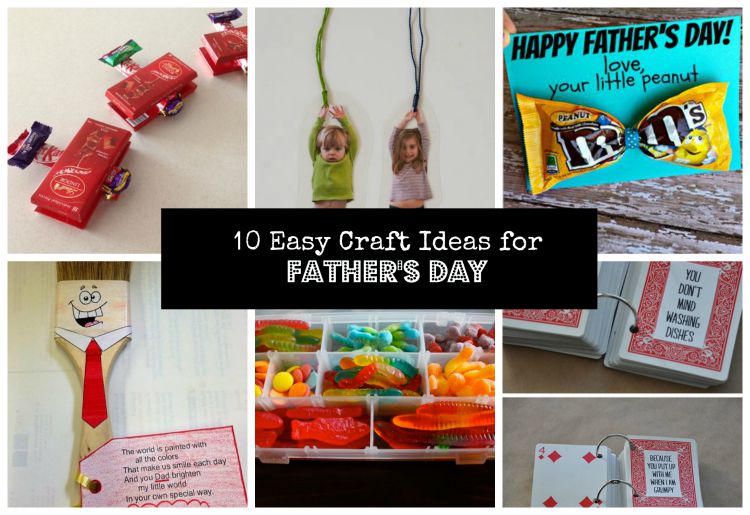 It's hard to believe that Father's Day is only 2 weeks away! Us mums tend to be a bit more organized when it comes time to celebrate the dad in our children's lives. Even if you aren't organized, you will be after your read this post. I've found 10 EASY craft ideas for Father's Day that you can do with the kids. Not only are they simple, they are cost effective too!
1. Photo Puzzle Box. Choose a favourite photo of your kids and follow the instructions on how to adhere the photo and cut the blocks to create this cool puzzle. Dad can have this at his desk at work to remind him his children complete the family puzzle.
2. Personalised Paint brush. Get your kids to tell their dad how much they love him by telling him how much he brightens their world. Dad will definitely get a smile out of this gift.
3. If Dad likes to read, he will LOVE these photo bookmarks of his kids.
4. Use a deck of cards to get your kids to tell Dad 52 things they love about him.
5. These chocolate planes are easy to compile together. You can make a few and give them to granddads as well.
6. Socks and Jocks are the go-to present for Dad on Father's Day. Why not roll the socks into a bouquet like this as something different?
7. Fill a tackle box with lollies that look like lures. Dad can then use the tackle box once all the lollies have been consumed.
8. Turn brown paper bags into goodie bags filled with treats for Dad.
9. I love cards that double up as gifts. This is a cute and economic way to give dad a gift on Father's Day.
10. Last but not least, if you have three kids, this photo frame idea is gorgeous. Simply take individual photos of your kids holding a sign then place it in a frame like so. This is the gift that keeps on giving. It's great for single dads or dads that fly out for work and spend a bulk amount of time away from the family.
Are you organized for Father's Day this year? Which craft will you be doing with your kids?