Hilarious Viral Video Superhero BatDad Will Make You Want to Be a Better Parent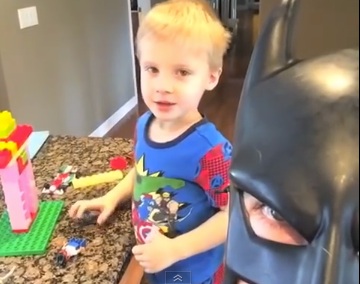 31 year old Blake Wilson, a father of four from Georgia, USA, has become a viral internet sensation after sharing his hilarious, parenting tips masked as his alter-ego 'BatDad.'
The secret to BatDad's success is undoubtedly, his superhero ability to poke fun at the domestic trials and tribulations that parents experience on a daily basis with their children.  If you are sick of nagging your children to use their manners, flush the toilet, stop kicking your seat when you are driving, (and all of those other request we tend to repeat day in day out), BatDad's domestic battle against bad-manners will have you laughing out loud.
It's little wonder parents can't get enough of BatDad's hilarious antics.  The ability to poke fun at and find humour in situations that can often be quite challenging and even stressful, makes BatDad both relatable and inspiring.  I know it puts the little everyday stressers into perspective for me, and makes me want to sweat the small stuff less, and be a much more fun parent.
WARNING: Do not watch the following video whilst drinking hot beverages – unless you'd prefer to spray said hot beverage involuntarily from your nostrils!  Seriously – this is hilarious people!

What do you think of BatDad? 
Want to see more from BatDad Blake?  You can follow him on his BatDad Official Facebook page, and subscribe to his BatDad Official Youtube channel and follow him on Twitter – @BatDadBlake