18 Books to Add to Your Must-Read List This Summer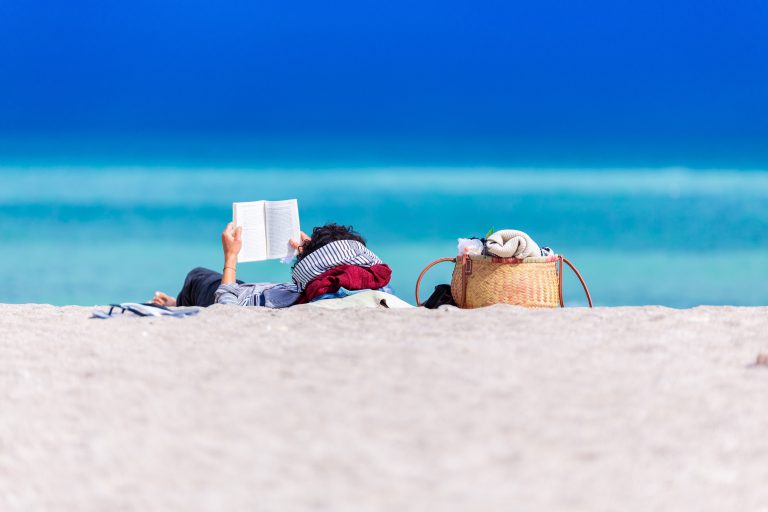 18 Books to Add to Your Must-Read List This Summer
"Books are the perfect entertainment: no commercials, no batteries, hours of enjoyment for each dollar spent. What I wonder is why everybody doesn't carry a book around for those inevitable dead spots in life." ― Stephen King
Whether you are sitting beside a pool, having a picnic by the lake or sunning yourself on the beach, the one thing you should never leave home without (besides sunscreen), in the warmer months, is a good book!
We've put together a list of books to add to your must-read list this Summer.
We promise, you won't be disappointed!
Boy Swallows Universe, Trent Dalton $10
Brisbane, 1983: A lost father, a mute brother, a mum in jail, a heroin dealer for a stepfather and a notorious crim for a babysitter. It's not as if Eli's life isn't complicated enough already. He's just trying to follow his heart, learning what it takes to be a good man, but life just keeps throwing obstacles in the way – not least of which is Tytus Broz, legendary Brisbane drug dealer.
The Things We Cannot Say, Kelly Rimmer $16
2019: Life changed beyond recognition for Alice when her son, Eddie, was born with autism spectrum disorder. She must do everything to support him, but at what cost to her family? When her cherished grandmother is hospitalised, a hidden box of mementoes reveals a tattered photo of a young man, a tiny leather shoe and a letter. Her grandmother begs Alice to return to Poland to see what became of those she held dearest.
The Tattooist of Auschwitz, Heather Morris $16
Based on a true story, The Tattooist of Auschwitz is about two Slovakian Jews who survived Auschwitz and eventually made their home in Australia. In that terrible place, Lale Sokolov was given the job of tattooing the prisoners marked for survival – and he used the tiny freedom of movement that this position awarded him to help keep others alive. His story – and the story of the woman he loved – will make you weep, but you will also find it uplifting. It shows the very best of humanity in the very worst of circumstances. Heart-wrenching and illuminating, this is a book you will not soon forget.
My name is August. I won't describe what I look like. Whatever you're thinking, it's probably worse.'
Auggie wants to be an ordinary ten-year-old. He does ordinary things – eating ice cream, playing on his Xbox. He feels ordinary – inside. But ordinary kids don't make other ordinary kids run away screaming in playgrounds. Ordinary kids aren't stared at wherever they go.
Born with a terrible facial abnormality, Auggie has been home-schooled by his parents his whole life. Now, for the first time, he's being sent to a real school – and he's dreading it. All he wants is to be accepted – but can he convince his new classmates that he's just like them, underneath it all?
WONDER is a funny, frank, astonishingly moving debut to read in one sitting, pass on to others, and remember long after the final page.
N.B: It's technically a kids book, but we couldn't put it down. Perfect for reading alone or with your children. Warning: It will make your face leak.
Bridge of Clay, Markus Zusak $12
The Dunbar boys bring each other up in a house run by their own rules. A family of ramshackle tragedy – their mother is dead, their father has fled – they love and fight, and learn to reckon with the adult world.
It is Clay, the quiet one, who will build a bridge; for his family, for his past, for his sins. He builds a bridge to transcend humanness. To survive.
A miracle and nothing less.
Get the Girls Out, Lucy Bloom $24
Stirring, straight-talking, incredibly inspiring, funny and full-on – Lucy Bloom is one of a kind, and so is her memoir.
Lucy's openhearted interest in the world has taken her from jillarooing on a cattle farm to maternity hospitals in Ethiopia, from marshalling a cross-country carnival in northern Uganda to CEO briefings in the back of a tuk-tuk in Cambodia. Hers has been a life of fighting for the underdog only to find out that, sometimes, the underdog is actually her. Taking all dramatic life-turns, side-steps and face-plants in her stride, Lucy has rebuilt her life every time, with love and adventure at its heart, plus a side order of mischief.
Rollicking, rude, brimful with joy, and written with a take-no-prisoners, bare-all honesty, this book is a call to arms – a book to make you laugh out loud, nod your head in recognition, re-charge your life and let loose.
'My deepest wish is that reading this book makes you want to do cool stuff, make plans, launch that business, pack your bags, shave your head, ride that horse, date that hottie, apply for that job, chuck that party – and, most of all, get your girls out, whatever that means for you.'
'This memoir is so full of life and its ups and downs, you will start reading it again as soon as you finish. We are all richer for knowing Lucy.' Wendy Whiteley OAM
'Lucy tells powerful stories of human tenacity and love; she inspires all with her insight into the human spirit.' Bernard Salt AM
The Woman in the Window, A. J. Finn $9
Anna's lifeline to the real world is her window, where she sits, watching her neighbours. When the Russells move in, Anna is instantly drawn to them. A picture-perfect family, they are an echo of the life that was once hers.
But one evening, a scream rips across the silence, and Anna witnesses something horrifying. Now she must uncover the truth about what really happened. But if she does, will anyone believe her? And can she even trust herself?
Five Feet Apart, Rachael Lippincott, with Mikki Daughtry and Tobias Iaconis $12
Can you love someone you can never touch? Stella Grant likes to be in control-even though her totally out of control lungs have sent her in and out of the hospital most of her life. At this point, what Stella needs to control most is keeping herself away from anyone or anything that might pass along an infection and jeopardize the possibility of a lung transplant. Six feet apart. No exceptions. The only thing Will Newman wants to be in control of is getting out of this hospital. He couldn't care less about his treatments, or a fancy new clinical drug trial. Soon, he'll turn eighteen and then he'll be able to unplug all these machines and actually go see the world, not just its hospitals. Will's exactly what Stella needs to stay away from. If he so much as breathes on Stella she could lose her spot on the transplant list. Either one of them could die. The only way to stay alive is to stay apart. But suddenly six feet doesn't feel like safety. It feels like punishment. What if they could steal back just a little bit of the space their broken lungs have stolen from them? Would five feet apart really be so dangerous if it stops their hearts from breaking too?
Messy, Wonderful Us, Catherine Isaac $16
Allie has lived a careful, focused existence. But now she has unexpectedly taken leave from her job as an academic research scientist to fly to a place she only recently heard about in a letter. Her father, Joe, doesn't know the reason for her trip, and Allie can't bring herself to tell him that she's flying to Italy to unpick the truth about what her mother did all those years ago.
Beside her is her best friend since schooldays, Ed. He has just shocked everyone with a sudden separation from his wife, Julia. Allie hopes that a break will help him open up.
But the secrets that emerge as the sun beats down on Lake Garda and Liguria don't merely concern her family's tangled past. And the two friends are forced to confront questions about their own life-long relationship that are impossible to resolve.
Who really killed the Hadler family?
Luke Hadler turns a gun on his wife and child, then himself. The farming community of Kiewarra is facing life and death choices daily. If one of their own broke under the strain, well…
When Federal Police investigator Aaron Falk returns to Kiewarra for the funerals, he is loath to confront the people who rejected him twenty years earlier. But when his investigative skills are called on, the facts of the Hadler case start to make him doubt this murder-suicide charge.
And as Falk probes deeper into the killings, old wounds are reopened. For Falk and his childhood friend Luke shared a secret… A secret Falk thought long-buried… A secret which Luke's death starts to bring to the surface…
What Alice Forgot, Liane Moriarty $9
When Alice Love surfaces from a beautiful dream to find she's been injured in a gym, she knows that something is very wrong – she hates exercise. Alice's first concern is her baby, she's pregnant with her first child, and she's desperate to see her husband, Nick, who she knows will be worried about her.
But Alice isn't pregnant. And Nick isn't worried. Alice is the mother of three children and her hostile husband is in the process of divorcing her. Alice has lost ten years of her life.
Alice's sister Elisabeth, who seems uncharacteristically cold, drives her home from the hospital. And home is totally unrecognisable, as is the rest of her life. Who is this Gina that everyone is carefully trying not to mention? Why does her mother look like she's wearing fancy dress? And what's all this talk about a giant lemon meringue pie?
In the days that follow, small bubbles of the past rise to the surface, and Alice is forced to confront uncomfortable truths. It turns out forgetting might be the most memorable thing that's ever happened to her.
The Testament, Margaret Atwood, $24
THE WAIT IS OVER
'And so I step up, into the darkness within; or else the light.'
When the van door slammed on Offred's future at the end of The Handmaid's Tale, readers had no way of telling what lay ahead for her – freedom, prison or death.
With The Testaments,the wait is over.
Margaret Atwood's sequel picks up the story 15 years after Offred stepped into the unknown, with the explosive testaments of three female narrators from Gilead.
In this electrifying sequel to The Handmaid s Tale, Margaret Atwood answers the question that has tantalised readers for decades: What happened to Offred?
The Shepherd's Hut, Tim Winton $14
A rifle-shot of a novel crisp, fast, shocking The Shepherd s Hut is an urgent masterpiece about solitude, unlikely friendship, and the raw business of survival.
In one terrible moment Jaxie Clackton's life is stripped to little more than what he can carry and how he can keep himself alive. There s just one person left in the world who understands him and what he still dares to hope for. But to reach her he'll have to cross the vast saltlands on a trek that only a dreamer or a fugitive would attempt.
Big Little Lies, Liane Moriarty, $9
Madeline is a force to be reckoned with: witty, noisy and passionate. She remembers everything and forgives no one.
Celeste is the kind of beautiful woman who makes the world stop and stare. But perfection is often an illusion.
Jane is a single mum with a mysterious past who carries a sadness beyond her years.
These three women, all with children starting at the same school, are about to tell the little lies that can turn lethal.
The Time Traveller's Wife, Audrey Niffenegger $12
This is the extraordinary love story of Clare and Henry who met when Clare was six and Henry was thirty-six, and were married when Clare was twenty-two and Henry thirty.
Impossible but true, because Henry suffers from a rare condition where his genetic clock periodically resets and he finds himself pulled suddenly into his past or future. In the face of this force they can neither prevent nor control, Henry and Clare's struggle to lead normal lives is both intensely moving and entirely unforgettable.
Those People, Louise Candlish $16
Prepare to be gripped; Those People is nail-bitingly tense from the first page to the last. Louise Candlish shows us the dark side of suburbia – and of ourselves' Erin Kelly 'Sharp satire and a plot that builds to a roiling boil with a couple of oh-so-clever final twists in close succession: Louise Candlish is one very clever writer' Sarah Vaughan 'Twists aplenty, and such wonderful observation – I loved it' Clare Mackintosh 'An addictive, twisty page-turner about the neighbours from hell that will give you nightmares about the suburban dream' Alice Feeney.
The Rosie Effect, Graeme Simsion $16
Don Tillman and Rosie Jarman are back in Australia after a decade in New York, and they're about to face their most important challenge.
Their son, Hudson, is struggling at school: he's socially awkward and not fitting in. Don's spent a lifetime trying to fit in-so who better to teach Hudson the skills he needs?
The Hudson Project will require the help of friends old and new, force Don to decide how much to guide Hudson and how much to let him be himself, and raise some significant questions about his own identity.
Meanwhile, there are multiple distractions to deal with: the Genetics Lecture Outrage, Rosie's troubles at work, estrangement from his best friend Gene…
And opening the world's best cocktail bar.
Hilarious and thought-provoking, with a brilliant cast of characters, The Rosie Result is the triumphant final instalment of the much-loved and internationally bestselling Rosie trilogy.
The Bad Mothers Club, Keris Stainton $16
Since moving to the Liverpudlian seaside after her husband's career change, Emma Chance's life consists of the following: long walks on the beach (with the dog), early nights (with the kids) and Netflix (no chill).
Bored and lonely, when Emma is cordially invited to the exclusive cool school-mums' book club, hosted by Head of PTA and footballer's wife, Jools Jackson, she thinks her luck may finally be about to change. She soon realises she may have made a grave mistake when she realises it's all about books, and less about wine and gossip – but it's always better to stick things out, isn't it?
Disclaimer: This article contains eBay affiliate links. This means that if you make a purchase, we may receive a small commission, at no extra cost to you.