Audrina Partridge Shares A Photo Of Herself Breastfeeding Her Daughter While Wedding Dress Shopping!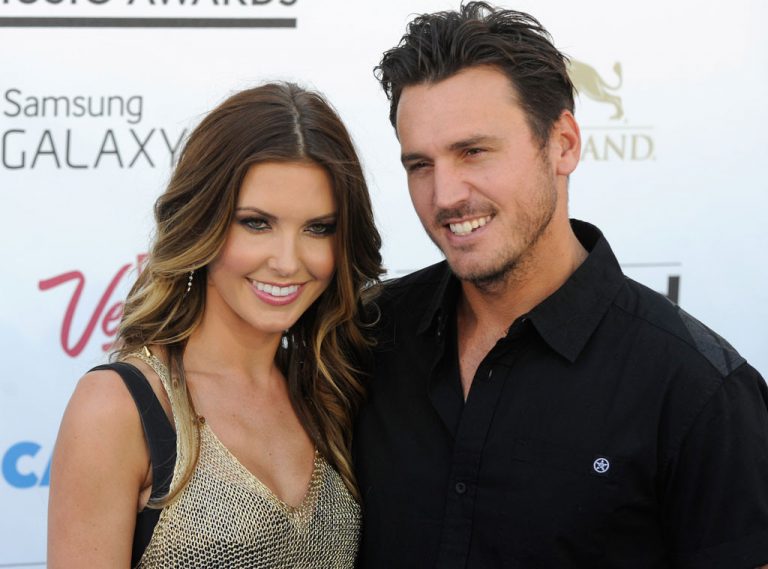 Audrina Partridge from reality show The Hills, has certainly had a super busy year. She got engaged AND had a baby!
Now with a wedding to plan, 31 year old Audrina has learned the art of multitasking as she takes her six week-old daughter Kirra with her to look for the prefect dress!
The reality star shared a picture on Instagram of herself breastfeeding Kirra with a lace cream gown draped over her knees.
'Nursing Kirra while trying to find the perfect wedding dress,' she captioned the picture. #professionalmultitasker #itscrunchtime.'
Audrina's BMX-pro fiance Corey Bohan (below) proposed last November and the pair are in the process of planning an intimate wedding of 130 guests.

Audrina has also spoken about her daughter's name Kirra Max, saying it has a very special meaning for both of them. The couple welcomed their daughter on June 24, naming her after a surfing spot in Australia.
'One thing I learned about baby naming is you have to say the names out loud! I have loved the name Kirra for a while now, and when I read my top 3 names to Corey, he loved it, too!
Kirra is also the name of an amazing surf spot in Australia, so it has double meaning! For those of you who have asked about her middle name, Max — we named her after my grandpa, Max, who unfortunately passed away about a month ago.
She was due on his birthday, and he couldn't wait to meet her. He would have been so proud… I love and miss him so much,' she said.
Photos: Instagram