Amazing Epson Back to School Giveaway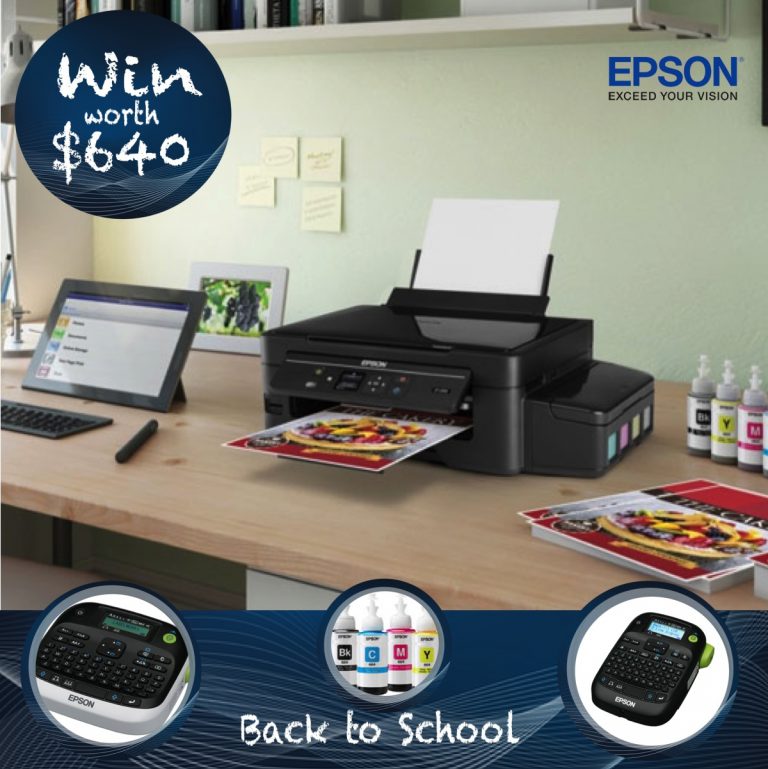 Amazing Epson Back to School Giveaway
We have found some amazing products that will make life as a school mum a whole lot easier.
When it comes to printers my biggest frustration has always been how expensive the ink cartridges are and how frequently they need replacing, so when I discovered that Epson had brought out a new printer with revolutionary, integrated high-capacity ink tank system, I was a little more excited that I ever thought I would be over a printer.
The Epson EcoTank Expression ET-2550 is a fantastic printer that is easy to set up and get started in no time at all. The EcoTank is simply filled on the side of the printer from bottles of ink and therefore there is NO fiddling around replacing cartridges and printing can continue seamlessly.
Not only does this amazing printer come with 2 years of ink included, which Epson state to be able to print up to 4,000 pages in black and 6,500 pages in colour, the ink bottles are extremely affordable only costing around $16.99 a bottle to replace and lasting another 2 years before needing replacing again. This is a huge saving on ink cartridges and makes the initial investment well worth it.
The Epson EcoTank Expression ET-2550 has already proven a great tool in our home that everyone has been benefiting from. Thanks to the wireless printing capability we can print from almost any device in our home, which is perfect for printing out School supply lists, rewards charts and much more from the desktop computer, presentations from my husbands laptop and even my favourite images of the kids straight from my IPhone.
Despite having an EcoTank, the Epson EcoTank Expression ET-2550 does not compromise in quality. The printing quality is fantastic and is perfect for both standard printing and printing my favourite instagram images on glossy print paper, so that I can treasure them around my home. Not only is the print quality great but the scan quality is also flawless meaning that we can copy and or upload any image including all of those precious drawings or letters from the kids will never be lost…this gave me a great way to create a special end of year book for the kids teacher, full of all the beautiful drawings and messages from the whole class.
I only have a small desk in the corner of our home, so having such a compact printer with all of the functions I need for my home office is certainly a very welcome bonus.
The Epson EcoTank Expression ET-2550 is the perfect choice for any home office, offering seamless high quality economical printing, copying and scanning.  This printer is compact, easy to use and cost effective to top up and can be used by multiple devices around the home, making it a massive thumbs up from us.
When it comes to getting organized for School, I am label crazy, particularly after the kids misplaced so many items in their first year.  I am all over it now, so, if it goes to School, it gets labeled.  Nothing slips through the net, which could be an arduous process if we weren't able to make it a little fun.
The Epson LabelWorks LW 300 hasn't just been a worthwhile tool assisting me in getting everything ready for School, it has been a whole lot of fun and the kids have been loving getting in on the action too. There are such a wide and great selection of fonts, borders, styles, symbols and a whole multitude of tape sizes and colours to choose from that the kids and I have been in creative overdrive.
We have labeled up pretty much everything in no time at all, School supplies, hats, uniforms, drink bottles, lunch boxes, and thanks to the Epson LabelWorks LW 300 being so easy to use I have had no shortage of eager helpers wanting to design their own labels.  The labels were even easy enough for the kids to peel themselves thanks to the split back design. The creativity didn't end there…  with so many coloured labels and ribbons to choose from the kids and I started to create cute little messages for each other, which have been perfect for sneaking little 'I love you' and 'Have a great day' notes into their lunchboxes and I have had a few appear next to my bed… so cute!

Not only is the Epson LabelWorks LW 300 the perfect tool to combine organization with creativity it also saves you time by allowing you to save us to 30 self created labels for future use while also saving waste due to its smaller lead margin compared to other brands.
I found the Epson LabelWorks LW 300 to be one of the most user friendly label printers I have come across. It is the perfect size to fit comfortably in my hands while knocking up my labels and is also quiet enough for us to use repeatedly without disturbing the rest of the house.  This label printer is easy to use, perfectly practical and a lot of fun, so we love it!
The Epson LabelWorks LW-400 is everything the LW-300 is but so much more. With the extra storage, up to 50 created files, and additional capacity to create wider labels, up to 18mm wide, it certainly lends itself to being used for a much wider array or purposes and so my home office has been getting a bit of an organisational upgrade.
I love the larger backlit screen on the Epson LabelWorks LW-400, which makes styling and creating labels a whole lot easier, particularly now that I can create up to 4 lines per label with this baby and having the backlight gives me the ability to create them at any time and any place, even while watching a movie in the evening…us Mums are always multitasking even when we are relaxing!
The Epson LabelWorks LW-400 has a larger built in memory, up to 50 self created designs, plus the ability to create specialty print modes so that I can tag, flag or wrap all of those loose cables in my overflowing 'cable box' and identify the one I need more quickly – or highlight the one that is not to be touched or turned off. What is more, this powerful little machine even allows me to print barcodes should I need them too.
All of the additional extras on the Epson LabelWorks LW-400 makes this handy little device the perfect option for managing and organising both the home, school items and home office, making everything run a little more smoothly with a twist of fun and imagination thrown in.
Thanks to our friends at Epson we have an amazing Back To School Package worth $637 to GIVE AWAY to our readers.
Prize includes:
1 x Epson EcoTank Expression ET-2550 (2 years ink included) worth $499
1 x Epson LabelWorks LW-300 worth $59
1 x Epson LabelWorks LW-400 worth $79
Simply enter below and good luck x
Written by Julie Williams
Disclosure: The author was gifted this product for the purpose of giving an honest review. All thoughts and opinions are her own.
Back to School Giveaway with Epson worth $640