Mum Investigated For "Neglect" Over Images She Shared of Her Sick Child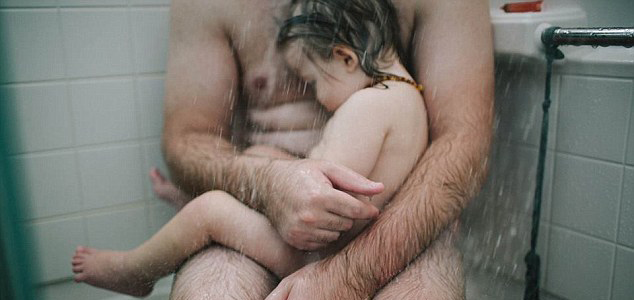 Mum Investigated For "Neglect" Over Images She Shared of Her Sick Child
An Arizona mum faces a court hearing next month, charged with neglect over an image that went viral of her husband comforting their sick son in the shower. Heather Whitten shared the touching image of her husband, Thomas, cradling their son, Fox, then almost one, under the running water when the little boy was struck with food poisoning.
The image went viral, reaching over 9 million people worldwide, but was taken down by Facebook for violating their nudity laws.
"I am a documentary photographer and a mother of four. Through years of infertility, fostering, adoption and medical treatments I have been committed to finding a creative voice that speaks to the celebration of the struggles and triumphs, big and small, of motherhood," Mrs Whitten explains.
"In the last handful of years I have been sharing personal images of my life, raising four young children, the youngest of them being twins and while, during a good chunk of it, my husband was deployed to Africa. I have established myself as an artist that doesn't shy away from vulnerability as a means to change the way mothers experience shame around their families and bodies."
Unfortunately, someone took it upon themselves to report Heather, not only to Facebook, but to her local police department and child protective services agency.
Thomas and Heather were investigated by Arizona's Department of Child Safety and the Sahuarita Police Department for a number of claims that the person made in their letter.
While the Police immediately made it clear that they were not going to take any further action and closed their case, the investigator from DCS spent the next few months trying to make Whitten seem as "an immodest, neglectful and abusive mother based on the single interview she had with [her]."
"The investigator later made it clear that she was basing most of her opinions on me because I breastfed one of my twins throughout the whole interview, without covering myself or my child," Heather wrote on her Go Fund Me page set up to help raise funds for impending civil hearing.
"Of course, she couldn't take action against us for any of these things as they were either complete reaches or in the case of me breastfeeding, normal and protected by law."
The Department of Child Services closed their case in July, but not before one final kick.
"The only claim she was able to suggest be substantiated against me [and me alone] was that I neglected to supervise our children by allowing their images to be online and so put them at an unreasonable risk of harm. This goes against Arizona's very definition of neglect and encroaches on my right as an artist to share my work with the public," Heather explained.
It has been confirmed that the department reviewing the case wasn't even provided with any of the images in question. The claims are moving forward based "solely on one investigator's skewed opinion of me, without any evidence even being provided."
If found guilty of neglecting her children via "over sharing" her images of them, Heather would be added to Arizona's Central Registry for 25 years, no longer be able to foster or adopt children, and no longer able to work with children or vulnerable adults. Not just in Arizona but, throughout the United States.
For sharing a touching image of her husband comforting their sick child on Facebook.
An administrative hearing is being held on February 3rd. "After all these months, the day to stand up with evidence and information is finally here! I have found an attorney with a wealth of experience in this system. Having her defend me against this claim is my best opportunity to finally be able to put this behind me," writes Heather.
Our best wishes are with Heather, Thomas and their children.
Images: Heather Whitten