Win 1 of 2 Awesome Grit Fluxx Scooters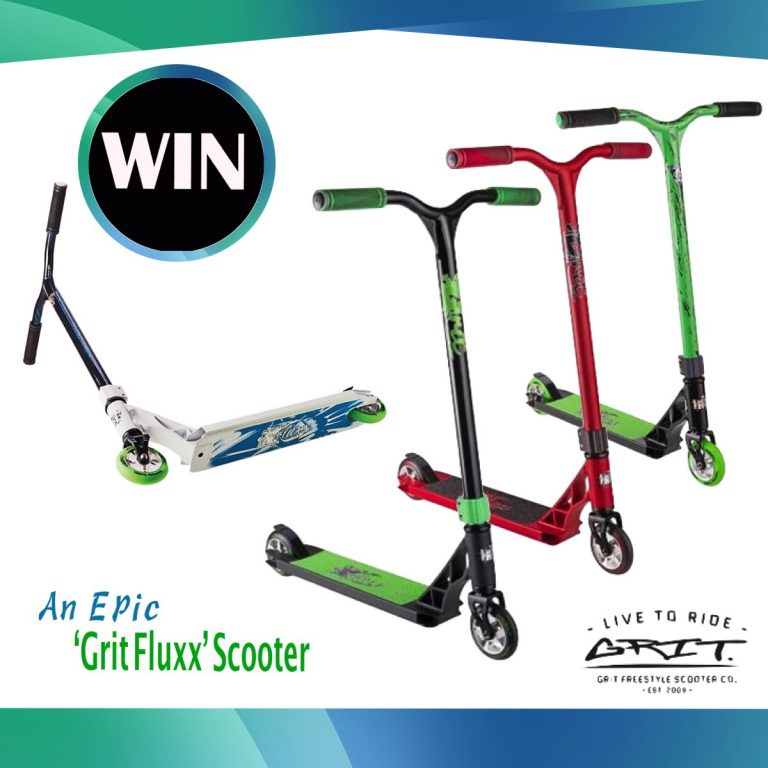 Win 1 of 2 Awesome Grit Fluxx Scooters
When it comes to fun, adventure and a little bit of adrenalin my boys are always racing to get to the front of the line for their share and then straight back for more. Therefore being offered the chance to test out the awesome Grit Fluxx Scooter created a rush of excitement before it had even arrived, along with a little bit of competition between my 7 and 8 year olds over who would be able to do the best tricks.
While the Grit Fluxx was a nice easy and very stable ride around our regular costal walks for the boys, the scooter seemed to be calling out for more and the boys were itching for a day at the skate park to let loose.
On our first visit to a local skate park armed with their new Grit Fluxx Scooter and the question 'who was going to get the first ride?' hanging over them, the anticipation was almost too much. In no time at all the boys had warmed up and were finding the Grit Fluxx surprisingly easy to handle on the ramps as they glided effortlessly up and over some of the smaller runs to start with. As their confidence grew, so did their rides up the ramps and then it quickly became all about the 'drop offs' and the 'jumps'.
The Grit Fluxx is solidly built with its Hi Tensile steel fork, Hi Tensile Gusseted Riser Handlebar, alloy deck, built in grind rails and skeletonized down tube ensuring that it will easily withstand the constant jarring and bumping to the frame that the kids put it through and yet it is still pretty light.
The Grit Fluxx has proved itself to be a great deal of fun, even for those who are just beginning to find their groove. It is so light and easy to handle thanks to the alloy core wheels and premium bearings and really well balanced, which meant that my little beginner tricksters have been having a blast trying to copy some of the spins and tricks that the more advanced riders were doing.
I am not sure if it was the striking electric flashes of colour or the fact that I looked like I had a death wish standing in the middle of the skate park trying to catch a snap of that 'epic trick' that had just whizzed past me that attracted the attention of friends at the skate park but the Grit Fluxx Scooter certainly seemed to be getting the nod of approval by everyone at the park…even those a little more experienced were commenting 'nice wheels' and my sons older friend took it for a test himself and after verifying that it jumped well, the deck could spin pretty fast and he could pick up some speed with ease he confirmed that it was a pretty sweet set of wheels.
The Grit Fluxx is an exciting adventure on 2 wheels just waiting to happen over and over again. It is well balanced, rolls smoothly and has a superior strength handlebar and deck making it a great scooter for both younger beginner riders seeking a little more adventure but is also a little taller than some of the others in its category and therefore would be great for a more experience rider too, making sure that you really get your moneys worth out of it. I am sure that we will have many more days finding new places to test out tricks with this scooter…I love that it is such a great way to get them outdoors for some free fun, adventure and action these holidays!
This cool ride comes in satin black, satin red, satin white/blue laser and black/acid green and retails for $170.
Thanks to our friends at Grit we have 2 of these awesome Grit Fluxx Scooters to GIVE AWAY to our readers. Simply enter below and good luck x
Written by Julie Williams
Disclosure: The author was gifted this product for the purpose of giving an honest review. All thoughts and opinions are her own.