WIN 1 of 3 DVD Prize Packs for Easter!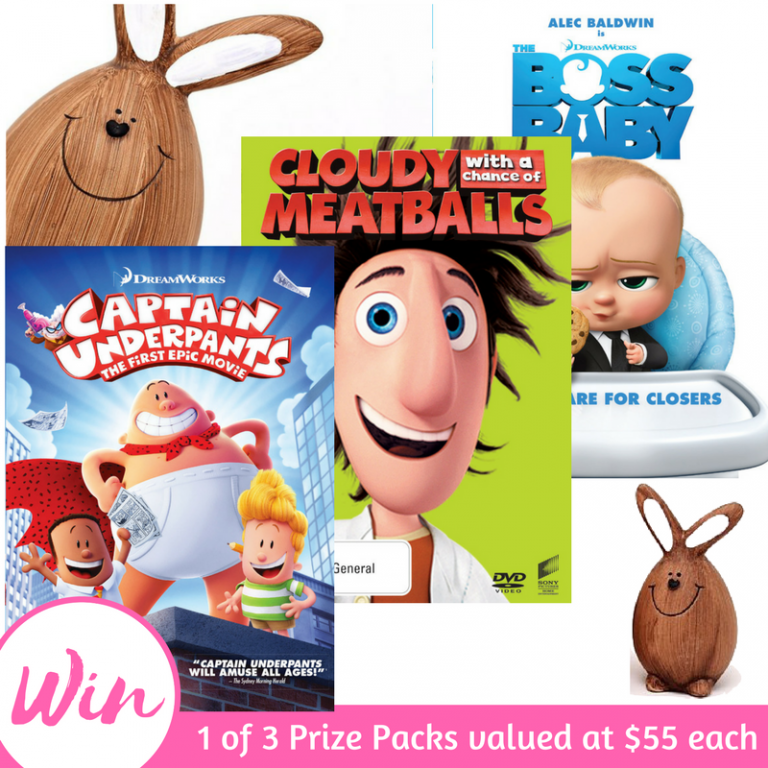 WIN 1 of 3 DVD Prize Packs for Easter!
HAVE A HOPPING GOOD EASTER HOLIDAY WITH SOME GREAT ENTERTAINMENT FOR THE WHOLE FAMILY!
Put your feet up, crack open some Easter eggs and unwind while you enjoy a great movie-fest with the kids these school holidays!
Universal Sony Pictures Home Entertainment are the home of some of the most popular recent kids' movies of the last few years on DVD including Paddington 2 and Paw Patrol: Mission Paw, both out on March 21, Easter themed tales Hop and Paw Patrol: Spring into Action, as well as smash hits Captain Underpants, Boss Baby, Trolls, Smurfs: The Lost Village, The Lorax and Cloudy with a Chance of Meatballs.
Thanks to our friends at Universal Sony Pictures Home Entertainment we have 3 PRIZE PACKS worth $55 each, each containing these great movies to GIVE AWAY to our lucky readers:
Captain Underpants
This 2017 massive hit follows imaginative pranksters George and Harold. When their principal threatens to separate them into different classes, the boys accidentally hypnotise him into thinking that he's an incredibly dimwitted superhero named Captain Underpants!
Boss Baby
Told from the point of view of seven-year-old Tim, the wise-cracking Boss Baby arrives at Tim's home in a taxi, wearing a suit. The instant sibling rivalry must soon be put aside when Tim discovers Boss Baby is actually a spy on a secret mission and they must join forces.
Cloudy with a Chance of Meatballs
When hard times hit Swallow Falls, people can only afford to eat sardines. Inventor Flint Lockwood builds a machine that converts water into food and becomes a hero. But when the machine spins out of control Flint finds he's bitten off more than he can chew!
So what are you waiting for – hop to it! Available from all good retailers.
If you would love the chance to WIN one of these movies packs, simply enter your details below and good luck!