WIN a $400 Prize Pack from Mother Baby Store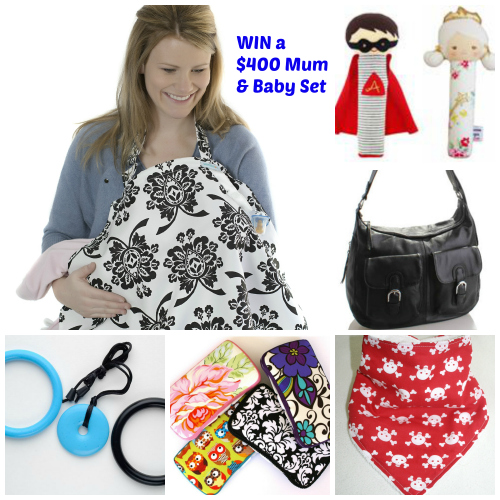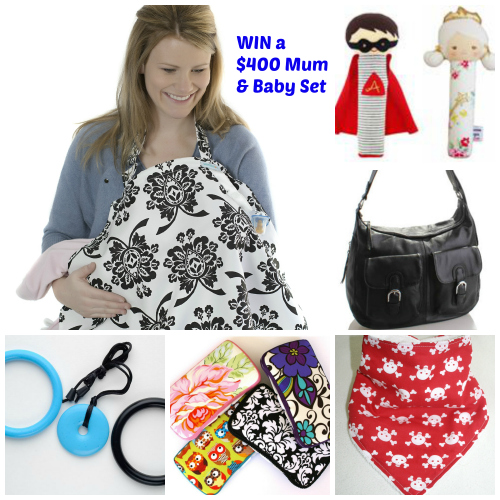 Stand out from the crowd with unique and beautiful products for you and your baby. Mother Baby Store has a range of funky yet practical solutions for every stage of your baby's development. Pop an Inkless Printing Kit in your hospital bag and be ready to capture those precious tiny hand and foot prints completely mess free. Breastfeeding Covers help you to feed your baby anywhere, anytime with confidence. Our Nappy Wallets mean you can make quick trips with all the essentials for nappy changes at your fingertips. Why not jazz it up with one of our Designer Wipes Cases too! The stunning, first class leather, 'Leah' Nappy Bag from Aligra Designs can hold all your goodies in one stylish place.
Once your bub gets to the teething stage you can provide relief with Teething Bling silicone jewellery, worn by Mums and loved by Babies! With teething comes drooling and we can take care of that too with our selection of awesome Dribble Bibs.
For fun yet quiet play, we have Taggie Toys galore for baby to enjoy. Our range of Alimrose Squeakers, Rattles and character toys are a popular choice and nothing is cuter than a Jointed Pony to brighten up your nursery décor.
Our Baby Blankets are also a style favourite, and can be used for the cot, pram or as a play mat. Our super absorbent feeding bibs are the item customers come back for again and again. And now that you are all organised, have fun accessorising baby with our Hair Clippies and Bow Ties. Most of our products are lovingly and professionally handmade right here in Australia, and gathered together at www.motherbabystore.com.au
Prize pack includes: (winner to choose Boy or a Girl)
1x Leah Leather Nappy Bag by www.aligradesigns.com.au RRP $245
1x Breastfeeding Cover RRP $34.95
1x Nappy Wallet RRP $19.95
1x Squeaker Toy RRP $16.95
1x Teething Bling Set: Pendant & Two Bangles RRP $42.85
1x Designer Wipes Case RRP $17.95
1x Bandana Dribble Bib RRP $12.00
1x Hand and Footprint Kit in Pink or Blue RRP $24.95
To enter follow the instructions on the rafflecopter widget below. Good Luck!