Win a Euroflex Floor Steamer Valued at $329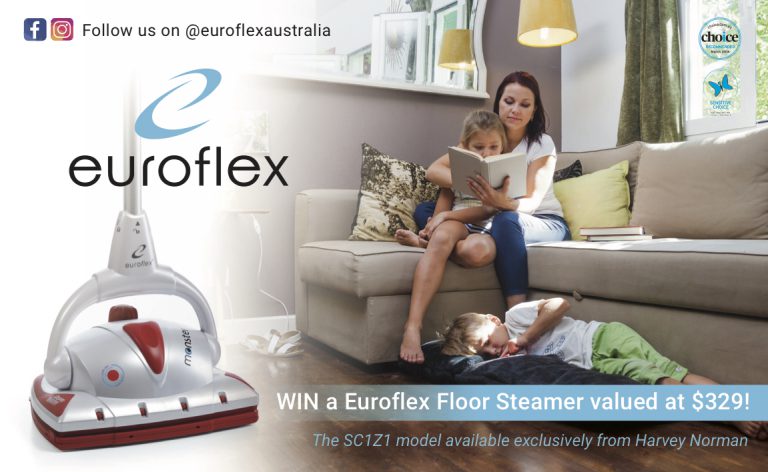 Win a Euroflex Floor Steamer Valued at $329
We know that keeping your floors clean can seem like a full time job if you aren't using the right equipment. That's why we are super excited to give you the opportunity to win a Euroflex Floor Steamer SC1Z1 model (available exclusively from Harvey Norman) valued at $329.
Related article: Could the Euroflex Monster  Floor Steamer Be the Answer to Your Floor Cleaning Woes? 5 Aussie Mums Give Their Verdict  
Whether it's tiles, floorboards, carpets, or marble, The Euroflex Ultra Dry Floor Steam Cleaner will give your floors the deep clean they deserve.
Key Features
Using superheated steam that is drier and hotter, the Euroflex Ultra Dry is able to soften and loosen dirt quickly and effortlessly without damaging water sensitive floors.
With the included microfibre pads and carpet sledges, the Euroflex Steam Cleaner is capable of cleaning harder surfaces like ceramic or laminate, as well as refreshing carpets.
Double steam jets with a steam booster function ensure that floors and floor edges are cleaned without any loss in steam heat.
Ready in just 3 minutes, you can use the Euroflex Floor Cleaner for up to 20 minutes before having to refill.
Convenient features such as an included parking pad for idle time, and automatic on-off functionality sets Euroflex apart from the competition.
Can't wait to see if you've won?  We've got an Exclusive Offer just for you!
Our friends at Harvey Norman are offering an exclusive offer just for Mums Lounge readers!!! Click here to find out what your BONUS GIFT could be and how to claim it!
For your chance to win the Euroflex Ultra Dry Floor Steam Cleaner complete the entry form below. Good luck!