WIN an Awesome Jumpflex™ Classic 100 10ft Trampoline with ProJam basketball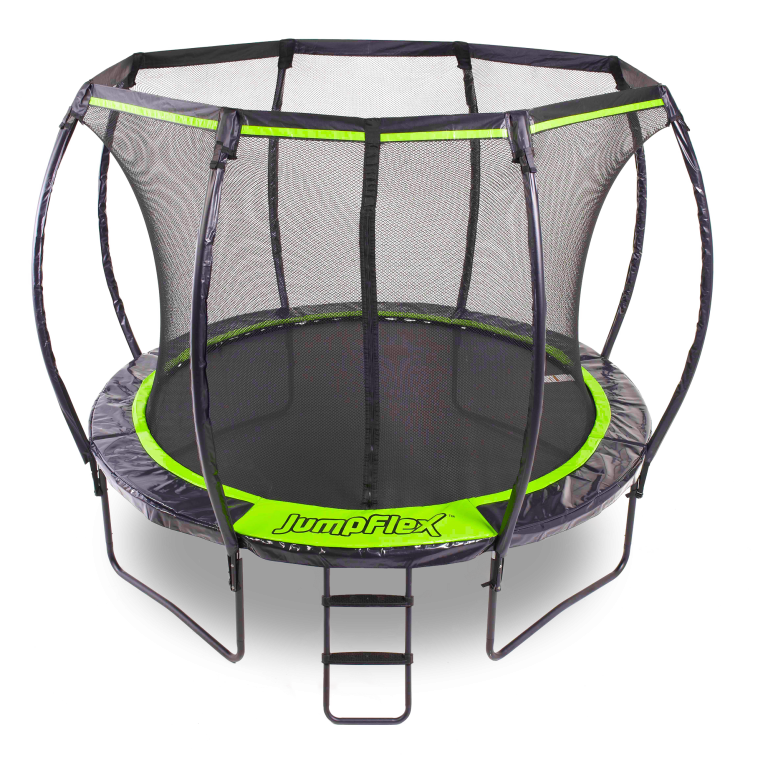 WIN an Awesome Jumpflex™ Classic 100 10ft Trampoline with ProJam basketball
Having a trampoline can bring a whole world of fun to a families home! There is nothing quite like getting outdoors and getting active and the Jumpflex™  trampoline is the perfect way to do get the whole family out in the fresh air having a bouncing good time.
The poles on the Jumpflex™  trampoline are curved away from the bounce mat creating far greater clearance between the net and the pole, claiming 200% more clearance, which is a whole lot safer as my kids never just bounce directly up….they are usually practicing their flips and tricks and often falling into the net, which makes me very pleased that it's there!
The enclosed net around the Jumpflex™ trampoline is made out of a high-strength polyester, which has been carefully woven in an EndlessWeave making it very durable. The Jump Flex net claims to be one of the best nets on the market and is certainly with stands being put through its paces by my 4 kids and, thanks to it's UV protection, it can happily sit in the sun day after day without wearing from UV damage.
The Jumpflex™ mat is cleverly designed remove all of the gaps between the edges and the net, ensuring that our little ones can jump safely and freely without any little legs, arms or fingers getting trapped. My little ones were given the challenge of trying to get their fingers under the edges they couldn't get through anywhere. The mat also boasts the highest weight rating ever of 150 kg, so not only can the kids bounce to their hearts content but us parents can get involved in the fun too!
Jumpflex™ also has a great range of super fun accessories to ensure that the kids really get the most out of their new trampoline. We got to test out the Projam Basketball net, which was the perfect addition for our active family. The projam simply attaches to the top of the trampoline net and endless hours of bouncing and dunking was created! The Projam is soft, flexible and durable, so the kids could practice their shots over and over again without a care in the world.
The Jumpflex™ is a fantastic option for an amazing Christmas Present for the whole family, offering a safe and fun filled option to keep the kids outdoors and active for many years to come!
Thanks to Jumpflex™ we have Jumpflex Classic 100 10ft Trampoline worth $589 with ProJam basketball net worth $129 to GIVE AWAY to one of our lucky readers. If you would love the chance to get one of these for Christmas, simply enter below and good luck. x
ML – WIN a Jumpflex Classic 100 10ft Trampoline with ProJam basketball