Book Review: Between the Lines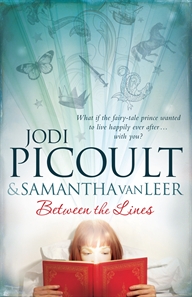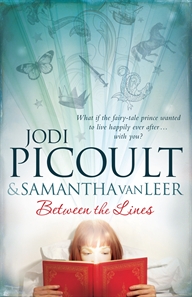 Whilst the vampire/ werewolf genre ambles on Jodie Picoult has struck out in to a genre that many of us hold close to our hearts. Bringing back memories of childhood, wistful romantic notions and an escapist world of make believe Between the Lines is Picoult's latest novel which adds a deliciously modern twist to an old favorite. Look twice and you will spy two authors credited on the cover of Between the Lines.
Happily Ever After?
Jodie has teamed up with her daughter Samantha Van Leer to create a novel with a truly authentic teenage voice combined with the skilled penmanship of an experienced author. Samantha infamously pitched the idea to her mother whilst the later was on a book tour, an idea that occurred amidst a daydream during French. Aren't French classes just made for daydreaming?! Her idea? What happens if the happily ever after doesn't happen? Between the Lines explores this very notion.
"Just so you know, when they say 'once upon a time' … they're lying."
Prince Oliver is bored with his lot; stuck in a repetitive fairy tale, having to rush to the correct page each time the book is opened … surely there is more to life? Fifteen year old Delilah finds herself inexplicably drawn to the fairy tale hidden on the bookshelves of her school library. Pulled in by the unusual parallel between herself and the protagonist – fatherless Prince Oliver – she devours the fairytale repeatedly. Delilah is restless, and by the way, did that book just change?!?
Between the Lines follows Delilah and Oliver as they struggle to create their very own happy ever after.
Picoult Humour
The skillful use of alternating narratives brings pace, novelty and intrigue to this delightful novel. Each character's rhetoric is presented in their unique font adding to the personality behind each voice. Gorgeous illustrations, some in glorious colour, add to the whimsical fairy tale feel of Picoult's first foray in to the 'tween' market. Van Leer's voice can be felt in the character of Delilah – her relationship with her mother is keenly captured. Prince Oliver's observations on the modern world from the confines of "a land far, far away" allow for trademark Picoult humor to grace the pages,
"Happy Meals (apparently not all meals bring joy. Just the ones that come in a paper bag with a small toy)"
Between the Lines explores the notion of fate. Exploring the reality of novels, of the characters and the settings Leer and Picoult give voice to the imaginative conception of what happens when we close the pages of a much loved book … is there another reality bound within the pages?
Emma Perry is a Melbourne dwelling book lover and freelance writer. She is the founder of My Book Corner which uniquely features reviews of the best books for children alongside online price comparisons. Visit My Book Corner to discover more great books for children.