Read to My Child: Top Three Picture Books for this Month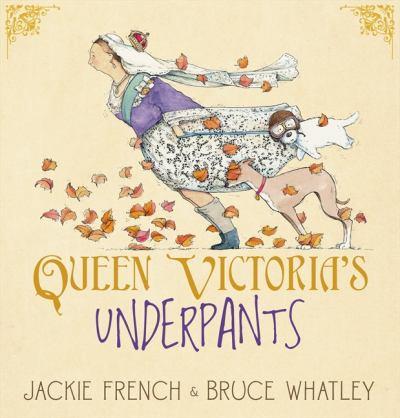 Queen Victoria's Underpants – by Jackie French and Bruce Whatley (© Harper Collins Publishing).
Queen Victoria was Empress of half the world. But even though she owned palaces, commanded armies and was given precious jewels, she didn't have any underpants! Children will adore this hilarious story which explores different types of underpants, and how the Queen finally felt comfortable because she knew no-one would ever see anything they shouldn't! A cheeky lift the flap on the final page will evoke a giggle or two to finish.http://www.readtomychild.com.au/stories-detail/queen-victorias-underpants

The Iddly Widdly Piddly Pop-off! – by Daniel Corcoran (© Characteristix)
As the animals enjoy a pleasant slumber, an uninvited guest is released into the barn. So begins the hilarious story of 'The Iddly Widdly Piddly Pop-off!'. Join these barnyard animals as they try to figure out who is responsible. A rollicking, rhyming tale, this book has plenty of opportunities for children to practice their animals noises. Winner of the 'Smelliest Book in the Galaxy Award' this story contains toilet humour, so consider yourselves warned! A firm favourite with my children.
http://www.readtomychild.com.au/stories-detail/iddly-widdly-piddly-pop-off

3. Claudia the Caterpillar – by Andrew McDonough (© Lost Sheep Resources)
She was born to fly, she longs to fly, but will Claudia ever fly? With bright, colourful illustrations, this is a gorgeous tale of a little caterpillar and her epic saga of courage, faith and aerodynamics to finally fly like the butterflies. This story has some valuable life lesson themes including character building perseverance and the development of patience. And of course, which child doesn't love seeing a caterpillar turn into a butterfly!
http://www.readtomychild.com.au/stories-detail/claudia-the-caterpillar
Jasmine Berry is the creator of Read To My Child www.readtomychild.com.au a free website where she reads stories for children in a simple and natural video format. A lovely alternative to television at those busy moments in the day, Jasmine created the site for her own children and has now made it available to other busy mums and dads, with full permission to do so from the authors, illustrators and publishers of the books featured on her site. Enjoy!