Review: In Falling Snow by Mary-Rose MacColl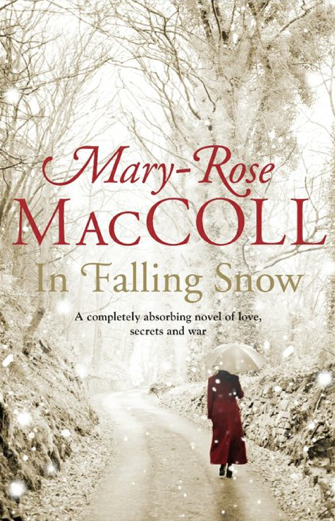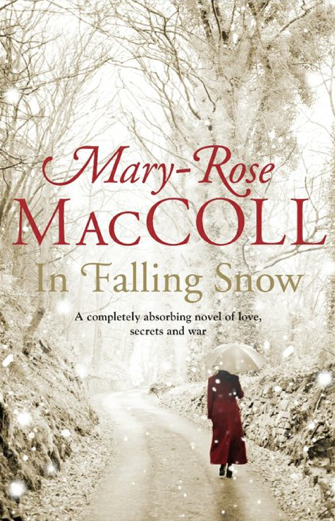 I'm a touch conflicted during Summer. I love the sun, but I don't handle the extreme heat very well (but then, does anyone?) For that reason, I have a bit of a crazy love/hate relationship with this time of year. On the last day of 38 plus degrees, I decided to hide in my house and escape the fearful heat by reading a wintery book…
For a cool change, I picked up In Falling Snow by Mary Rose-MacColl (Allen and Unwin) and took a moment to enjoy the chilly winterscape on the cover. I prepared myself for what promised to be "a completely absorbing novel of love, secrets and war"…
Iris is getting old. A widow, her days are spent living quietly and worrying about her granddaughter, Grace, a headstrong young doctor. It's a small sort of life. But one day an invitation comes for Iris through the post to a reunion in France, where she served in a hospital during WWI.
Determined to go, Iris is overcome by the memories of the past, when as a shy, naive young woman she followed her fifteen-year-old brother, Tom, to France in 1914 intending to bring him home.
On her way to find Tom, Iris comes across the charismatic Miss Ivens, who is setting up a field hospital in the old abbey of Royaumont, north of Paris. Putting her fears aside, Iris decides to stay at Royaumont, and it is there that she truly comes of age, finding her capability and her strength, discovering her passion for medicine, making friends with the vivacious Violet and falling in love.
But war is a brutal thing, and when the ultimate tragedy happens, there is a terrible price that Iris has to pay, a price that will echo down the generations.
This novel is beautifully nostalgic and is, as promised, incredibly absorbing – it had me up until 4am one night, not able put it down. It's a gentle recount of adventure tainted by deep trauma, a story of a war that tore young men limb from limb and the dedicated young woman who worked tirelessly as nurses, surgeons and doctors, putting them back together again.
The story itself has been written skillfully, working together three distinct narrative threads. We're first introduced to Iris… aged, frail but entirely aware of the condescension with which she is often treated…
"The envelope was at the bottom of the small pile of mail, as if it planned the surprise. I'd already been to the shop for the newspaper and the girl, the new one, had counted my change incorrectly and I'd said so and she'd said aren't you the sharp one, which she'd never had said to a twenty-year-old. I'd felt like saying and aren't you the stupid one but didn't."
Early in the novel, a letter from Fondation Royaumont has Iris vividly reminiscing, introducing the second thread of In Falling Snow. Iris' war-time memories take up the vast majority of the story and are a blend of pride and horror. They're scenic and aromatic…
"At first it was the summers I remember, long warm days under the palest blue skies, the cornflowers and iris and forget-me-nots lining the road through the Lys forest, the buzz of insects going about their work, Violet telling me lies. He loves you, he loves you not, she'd recite, skipping along the road until all the petals were gone. She'd finish with 'he loves you' no matter what the flowers told her."
and twice as terrifying…
"He was dying, I knew, as soon as I saw him, shrapnel filling his belly on the xray, his fingers blue from lack of oxygen. If he'd been moved from the field sooner perhaps he'd have had a chance but the wounds were septic to a large degree. We didn't need laboratory results to know that. The smell that came from them told you immediately. I though of how he'd spent his last days, lying somewhere in the mud by the look of him, cold and alone."
It's hard to tell which is stronger, the romance of the era, the heartbreak of a lost brother, or the intrigue of a well-disguised mystery.
The third string to this novel is the story of Grace, Iris' grand-daughter. Headstrong, determined but torn between her work as an obstetrician and her young family, Grace brings In Falling Snow sharply into the now. Although Grace's stubbornness frustrated me to some degree, I couldn't help but identify with her worry at trying to balance the seemingly unbalanceable.
A constant theme throughout this novel is that of the craving for respect – Iris, her Royaumont colleagues and Grace work tirelessly to hold their own in largely male-dominated spheres. The author has framed her character's commitment to their profession and to equal respect in terms of 'pushing against tradition', more so than in terms of gender politics. I found it wonderfully illustrative, and quietly inspiring.
I would strongly recommend this novel, especially if you have an interest in historical fiction or a connection with medicine. It paints a picture of World War I that will stay with you for a long time, and investigates the idiosyncrasies of the medical profession in a really fascinating way. A wholly satisfying read.
If you'd like to find out more about In Falling Snow by Mary Rose-MacColl you can do so here…
This book was reviewed by Mandi Johnston, for her blog That Book You Like… You may also enjoy a visit to the TBYL website for lots of bookish fun!