Rudie Nudie…Book Giveaway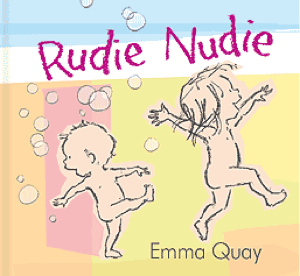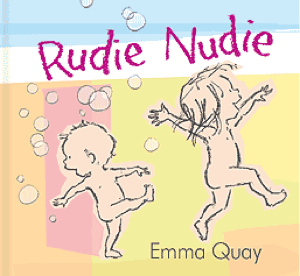 The best remedy for defusing the arsenic hour blues in my house is bathtime.
I love it.
Bath time is laugh time.
The bubbles and the giggles are exactly what are needed to wash away those soul-sapping dinner time tantrums and settle little ones ready for bed.
In this stunning new picture book, 'Nudie Rudie,' award winning author and illustrator Emma Quay captures those magical moments between bathtime and bedtime.
Through a combination of charming illustrations and simple but evocative rhyming text, the joy and innocence of childhood 'rudie nudie' moments are celebrated.
I particularly love how Quay is able to explore, through images and words, the different tactile surfaces the children explore, from the wet mat beside the bath, to the bristly doormat, and the tickle of leaves on bare skin.
The beautiful pastel colours and charcoal drawings are a wonderful accompaniment for bedtime reading. They suit the theme perfectly, and are not too stimulating whilst still managing to be engaging.
This book is a winner is my house! My children love it, and soon-to-be-too Bubble is convinced that the little girl in the book is her.
Here is a little peek preview…