Play with Food: Fennel & Leek Soup with Roast Capsicum Yoghurt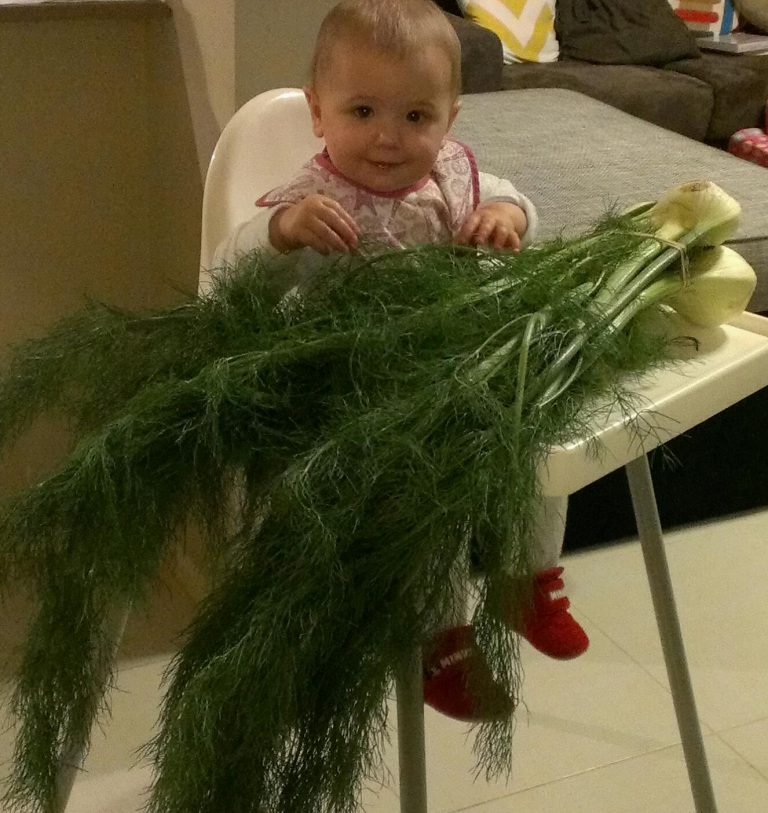 As mums we are constantly juggling! When it comes to meal planning, preparation and keeping the kids amused at the same time, it gets difficult to keep all those balls in the air, especially if you have a fussy eater on your hands. My aim with this column is to give you relatively simple recipes with step by step instructions for involving the children safely in the preparation. This hopes to give them meaningful activities for their development (eg. hand eye coordination) and engage them in the meal making process which in turn encourages them to eat the final product. For July, I've focused on one of my favourite winter vegetables – Fennel. Fennel is great to play with! Have a look at the fennel at the fruit and veg shop & I bet it's already had a pretty good "haircut" – as opposed to the fennel pictured with my little helper. At the shop, have the kids choose 2 fennel bulbs that are firm and have some feathery "hair" on top.
Ingredients:
Fennel and Leek Soup
2 tbsp extra virgin olive oil

2 Fennel Bulbs (2 tbsp finely chopped fennel tops and 4 cups chopped bulb)

2 Medium Leeks Chopped

1 tbsp chopped fresh Thyme

2 cups chicken stock
1 cup water
1 bay leaf
100g Gai Lum leaves (Chinese Broccoli) or Spinach
¼ tsp black pepper
Roasted Capsicum Yoghurt
2 Red Capsicums (roasted, skin removed & chopped)
½ cup non-fat greek yoghurt
1tsp lemon juice
Method: (Where you see an M – it is a mum step and K – is a kids step)
Step One:
M – Cut the capsicums in half and deseed.
K – Squash the halves of capsicum with your hands until they are flat
M – Put the capsicum under a hot grill for about 10mins, until the skin has blackened and put into a brown paper bag for about 10min to sweat & cool down.
Step Two:
M – Chop up the leeks into rounds
K – Pick the feathery hair off of the fennel bulbs and it put it on a little plate (we use it again at the end of the recipe)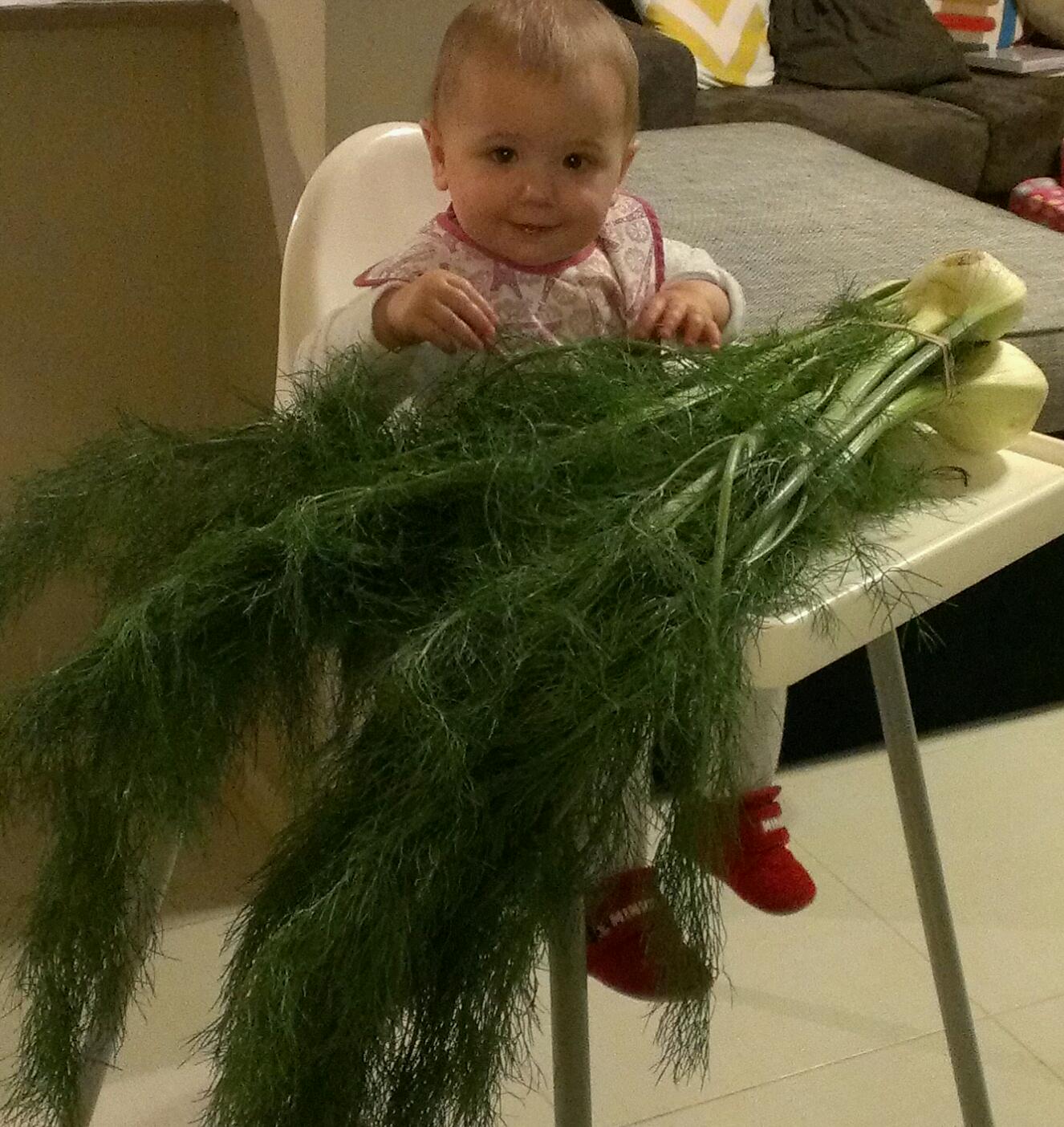 Step Three:
M – Chop up the fennel bulbs
K – Pick the fresh thyme leaves off of the woody stems and put the leaves in one pile
Step Four:
M – In a large pot, sautee the fennel bulb, leek and thyme in the oil. Once they are getting a bit of colour, cover and stir regularly for 10mins over a medium heat.
Step Five:
K – Take the capsicum out of the brown paper bag and peel all the blackened skin off. The insides are quite soft now.
M – Add the chicken stock, water and bay leaf to the fennel & leek and bring to the boil. Simmer whilst covered for a further 12 minutes.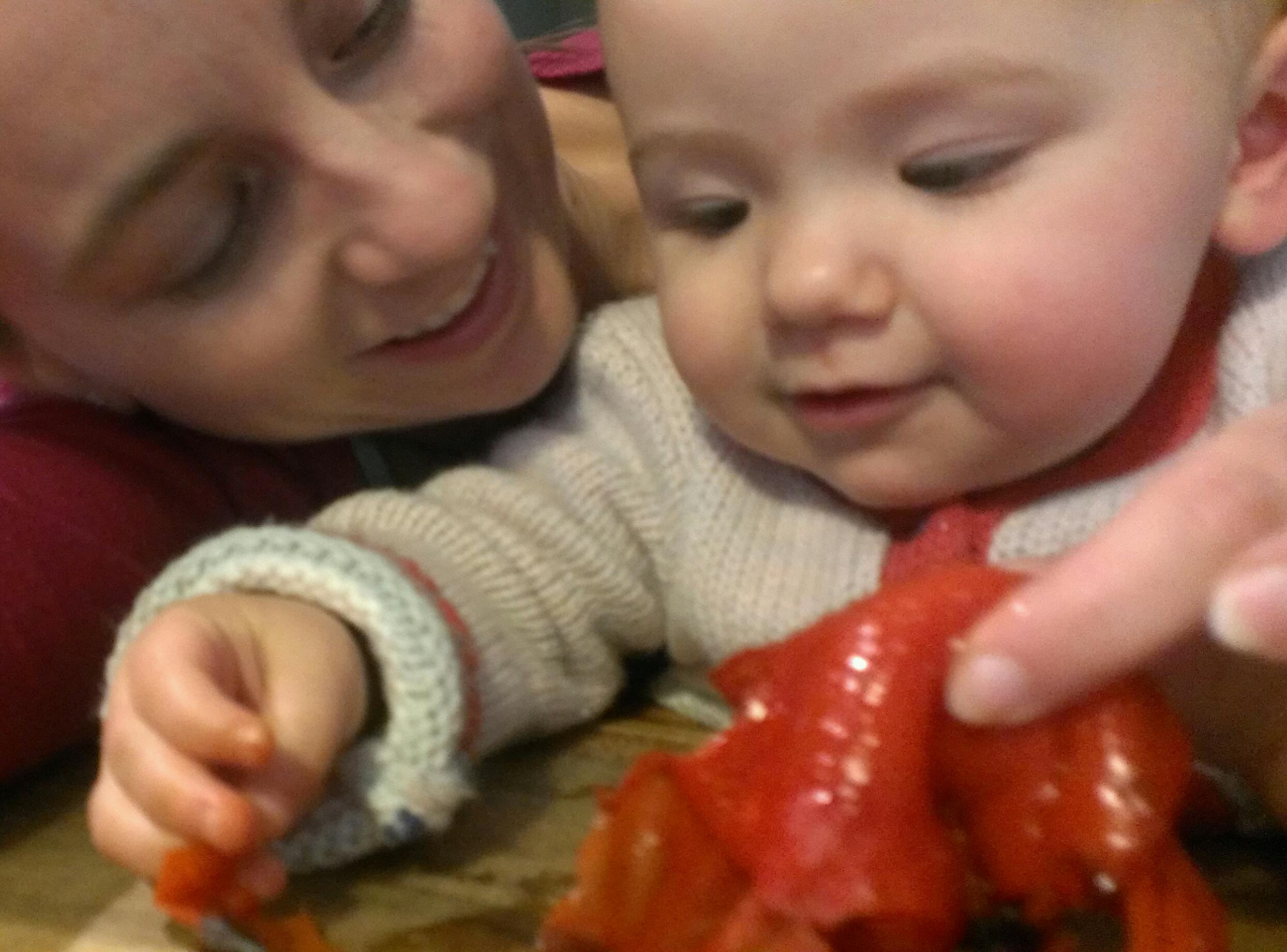 Step Six:

M – Discard the bay leaf. Add the gai lum leaves and black pepper. Remove from the heat and let stand for 5 minutes at room temperature. Use a stick mixer to blend the soup (or in smaller batches use a blender). 
K – Get out some bowls for the soup to go in and some spoons to eat it with.
Step Seven:

M – In a separate bowl, combine the roasted capsicum, yoghurt and lemon juice and blend with the stick mixer (or in a food processor).
Step Eight:

M – Ladel ¾ cup of soup into a bowl and top with 2 heaped tablespoons of the yoghurt mixture.

K – Garnish with the feathery fennel tops & take to the table to eat.
Happy Eating!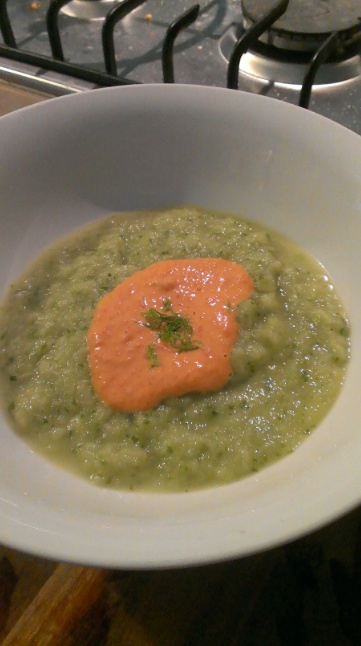 Simone Emery is a mum and owner of Sydney based, Play with Food. Play with Food run fun-filled classes and workshops about fruit and vegetables. We use seasonal produce and give parents lots of ideas for encouraging happy and healthy eating in the home environment. Check out our website for more information on singing, playing and laughing your way to happier family eating experiences www.playwithfood.com.au