Review: Relaxing Lunch at Brioche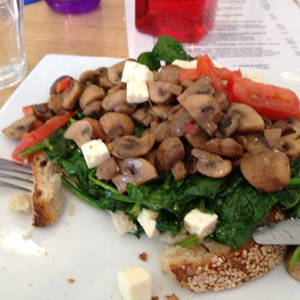 I had the opportunity to have a lovely meal at Brioche Organic Bakery. I was going to go on my own but as they are in Balmain I wanted to make a day of it so I brought the twins with me, plus I used to live across the road and wanted to show the girls around the area.
So who is Brioche Organic Bakery?
Well as the name says it, they are a bakery but they also make their own pies, sauces, stocks, soups, and so much more. According to the bakeries website, Fiona the founder has worked with the best in London and returned home to Sydney. Due to being a coeliac and pre-diabetic she was forced to create foods that are low in gluten and low in GI, also the bakery creates food that is also low in sugar, dairy, and preservatives. So if your diet demands you stay away from a particular thing I am sure that this bakery can accommodate you.
As listed on their site, they state:
Bakeries normally use white flours and refined sugars to produce their breads. Brioche chooses grains that are minimally processed, much kinder to diabetics or those watching their weight. (This is good as I am trying to lose weight, so thanks Brioche ☺ )
Where possible we use less sugar, or unrefined sugars/sweetening agents like honey.
We endeavour to use organic, fair-trade produce wherever possible.
We believe highly nutritious, low allergenic foods are key when selecting ingredients.
We do the research and make the most nutritious choices so that you can spend your time free of worrying about what you eat.
There was so much to choose from that I found it hard to place my order, all such great choices. I ended up deciding on a dish that had tomatoes, feta, spinach, and mushrooms that were infused with lemon. This was with some of the bakeries wonderful crusty bread that had seeds on the crust, just divine bread! The meal was tasty, filling and hit the spot.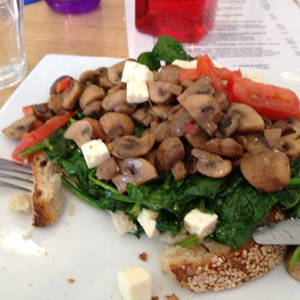 My girls were focused on the babycino's and had one each. The bakery accommodated my fussy kids and made them bread with cheese for one child and the other had bread with honey. The girls are fussy and as it was a very hot day, they did not eat well that day. I was impressed that the bakery was welcoming of children, and was happy to have them and nothing seemed an issue. The girls loved the bread and the drinks, and thought the place was fun.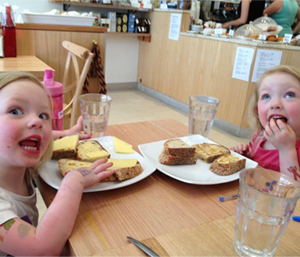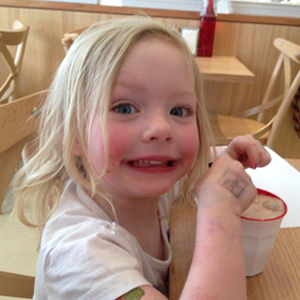 The atmosphere is relaxed and even though it was Thursday when we went to lunch it felt like it was the weekend, and we were lounging around waiting to read the weekend papers. Fiona who runs the bakery is friendly and a lovely lady. My girls once they found out her name was Fiona, likened her to Princess Fiona from Shrek, this is a great honour from the twins.
I was so taken with the bread in the meal that I wanted to share the experience with my husband. Fiona gave me a loaf of their signature spelt barley and five different seeds. I must say this was such a great bread to eat; I could not get enough of it. Tasty, moreish and just yum! This bread is to die for, I suggest you get some and you will not be upset and your guests will love you for it.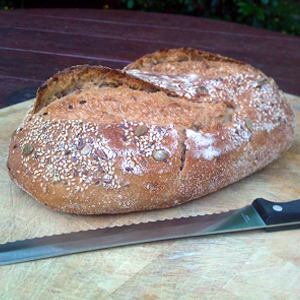 I would recommend if you are in the area drop in for a bite to eat, maybe pick up a meal for dinner if you cannot be bothered cooking or just get a tasty loaf of bread for lunch.
Who: Brioche Organic Bakery
Where: 349 Darling Street, Balmain (opposite the Town Hall Hotel)
What type of food: Organic Sourdough, Bread, Pastry, Deserts, Low GI, Low Dairy, Dairy Free, Low Sugar, Low Preservatives, Soups, and Pies. Check out the menu for more of what this bakery dishes up – Brioche Organic Bakery Menu
Do they cater for kids: Yes
Suzanne Robinson is an ex career girl (well still a career girl, but not in the office and getting paid). She has worked for the ABC (Australian Broadcasting Corporation), News Ltd.'s, CareerOne.com.au as a producer and lots more.
She is a mother to three year old identical twin girls, who keep her very busy. On top of looking after the girls, she is studying for a master's degree in project management, blogging on her blog "Mummy to Twins", attempting to keep the house clean and tidy, and trying to fit in some me time as well.