10 Clever Craft Ideas to Do With Odd Socks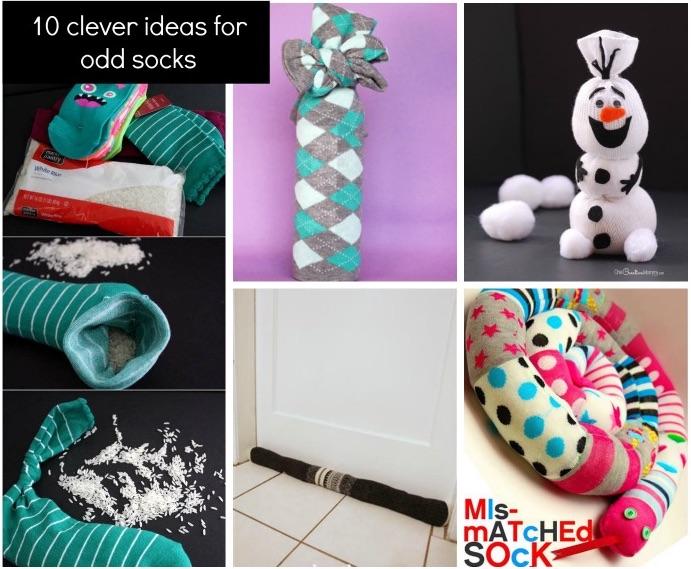 10 Clever Craft Ideas to Do With Odd Socks
Do you have a growing pile of odd socks? It seems every time I wash, I have one new odd sock appear and it's pair disappear. Don't get frustrated, we have found 10 clever ideas for odd socks. You will be wanting an odd sock to turn up in the washing basket so you can give one of these ideas a crack.
Why not cut the toe end off the sock and cover a mason jar or glass to create a Cozy Cup? These can look great as a vase or to hold pens and pencils on your desk.
With winter around the corner, why not make a rice hot pack. The full instructions can be found here.
Stop cold air coming from underneath doors by making a draft stopper. One long football sock would be best for this project. Garden Therapy has the full tutorial here on how to make it.
If your sock is in great condition, why not use it to wrap a bottle of wine for a gift?
If you have a few too many odd white socks, you can make the kids an Olaf toy. This would make a great school holiday craft.
This caterpillar looks like an easy project for small children to make. Why buy stuffed animals when you can make your own?
A sock bunny would make a lovely Easter Gift.
If you have a few odd socks in various colours, you could sew them together to make this Mismatched Sock Snake.
Cover your terracotta pots with your odd socks to add colour to your home. These sock planters look gorgeous lined together on a table.
Cut holes into the sock to create tunic dresses for dolls.
Which project will you make with your odd socks?