5 Awesomely Fun Science Experiments for Kids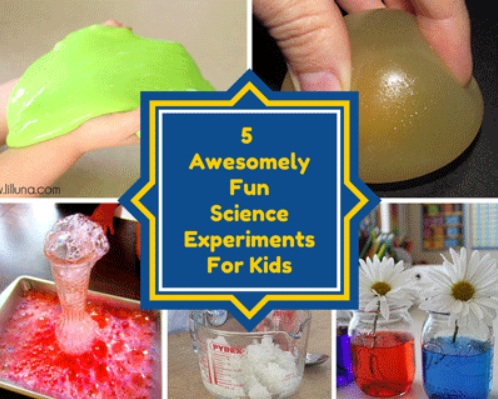 5 Awesomely Fun Science Experiments for Kids
Bring out your child's inner scientist with these fun and simple science experiments you can do at home!
Make your own artificial snow… using a nappy!
Ever wanted to make your own white, soft, fluffy snow? Well now you can! And all you need is an unused nappy and some water. Cut the nappy open and take out the absorbent filling. Add a little water and mix with your hands. It's as simple as that! This artificial snow is super easy and perfect for dioramas, projects or sensory play activities.
Homemade Slime
To make your own ooey, gooey slime you will need cornflour, water and food colouring. Add ½ cup of cornflour to a bowl. Mix in small amounts of water until you have a smooth, thick paste. Add drops of food colouring until you reach the colour you would like. And now you have your own homemade slime!
Make your own exploding volcano
This science experiment is super fun! But a word of warning… it can get messy, so it's best done outside. Place an empty soft drink bottle on the ground. Place a funnel in the top opening and add 1 cup of baking soda. In a measuring cup, mix 1 cup of vinegar, 1tsp of dishwashing liquid, 2-3 drops of food colouring and some glitter (optional). Slowly pour the mixture through the funnel and into the soft drink bottle. Watch your volcano as it erupts!
Flowers that change colour!
This is a great experiment that you can use to explain to children how plants absorb water and nutrients. Start off with 4 glass jars and four white flowers. Fill each glass halfway with water and add 5-6 drops of food colouring to each jar. Place one flower into each jar and watch them change colour! The changes will occur over a few hours so make sure you set the experiment up somewhere that you can easily go back and see what's happening (a kitchen windowsill or bench is perfect!).
How to make a rubber egg
Who needs a store-bought bouncy ball when you can make your very own cool rubber egg! Simple place a hard boiled egg in a small glass jar or container and cover completely with vinegar. Leave for 3-5 days or until the shell has completely dissolved. Rinse the egg under running water and pat dry. You now have your very own bouncy rubber egg!
Hey, im Lauren Matheson.
I am a Writer, Blogger, Mum and Wife. Check out me Google+ for more info.