Christmas Gifts Every Teacher Really, Really Wants!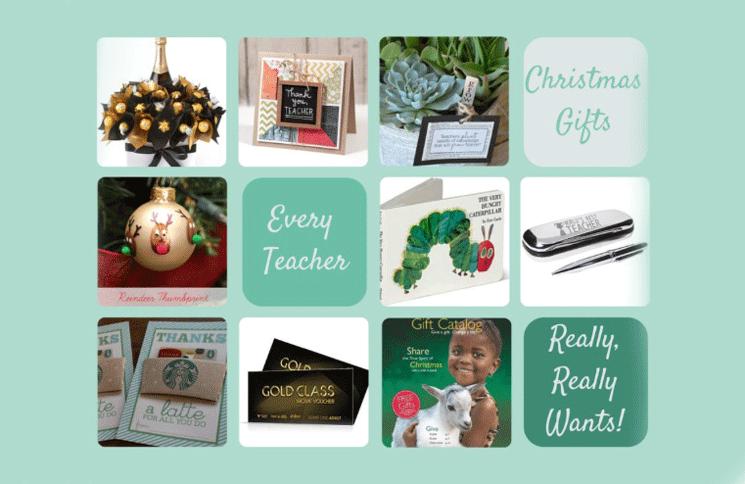 Christmas Gifts Every Teacher Really, Really Wants!
Buying a Christmas present for your child's teacher is often really difficult! Here's some great Christmas present ideas that don't cost a fortune and will really show your appreciation. And if all else fails… buy a box of chocolates!!!
A Handwritten Card
This is by far the most special gift you can give a teacher! After a year of hard work, there is nothing better than knowing you're appreciated by your students and their families and that you have made a little difference to their lives. I've kept all of my cards from parents and they really are just the most beautiful gift.
Image credit: Kwernerdesign
Charity Donation
A charity donation is an absolutely fantastic teacher gift. Charities like World Vision and Oxfam often have great gift ideas like paying for education costs or buying school books for a community – and usually they only start from around $5.00. Or, you could of course make a small donation to a charity that you know is close to the teachers heart. This is a gift that every teacher will definitely appreciate.
Image credit: Worldvision 
Plant
One of the most beautiful Christmas presents I've ever been given was a children's rose. It's absolutely gorgeous and always reminds me how special it is to be a teacher.
Image credit: Kwernerdesign 
Massage Voucher
This is a gift that any teacher will love! Trust me, the last few weeks of the year are so busy at school, that once it's over you are definitely ready for a bit of rest and relaxation. This is a great present to have a few families put in and buy together.
Image credit: Pinterest 
Homemade Gift
Teachers love homemade gifts from kids. My Christmas tree is filled with decorations that my students have made for me over the years. It's so wonderful to be reminded of all the great little people you've taught.
Image credit: Mom vs the Boys 
Coffee Card
For a quick and easy present, grab a coffee voucher from your local cafe. Everyone loves a free coffee… especially teachers!
Image credit: Love Bugs and Postcards 
Holiday Survival Hamper
For a really clever (and much appreciated!) gift, why not make a holiday survival hamper for your child's teacher. Pop in some chocolates, a bottle of champas and a magazine – trust me, they'll love it!
Image credit: Pinterest
A Book for the Classroom
Most teachers love nothing more than buying gorgeous picture story books for their classroom. So why not buy them a book and have your child write a message in the front cover. This is such a useful and practical gift.
Image credit: Pinterest 
Movie Voucher
Now that it's time for the holidays, why not buy your child's teacher a movie voucher. This is the perfect option for when you have absolutely no idea of what to buy!
Image source
Stationery Supplies
Teachers have a total and utter obsession with stationary. Make a little hamper with new pens, highlighters and notepads… perhaps even a personalised pen (because we're always losing them!!).
Image credit: Personalised Gift Shop 
When it comes to buying teachers a Christmas present, remember that it really is the thought that counts. You don't need to spend a cent – just let them know that you've appreciated all their hard work throughout the year… that's the best present you could ever give a teacher. Mind you, that massage and champagne does sound pretty tempting!
What have your bought for your child's teacher this year?