5 Fun Christmas Craft Activities for Kids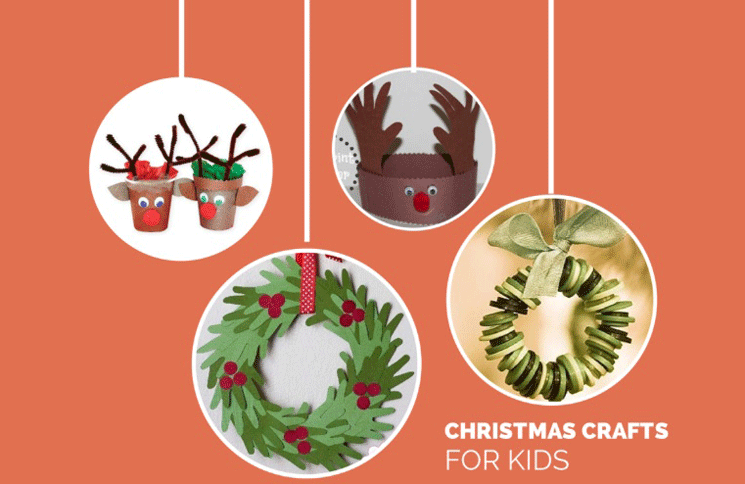 5 Fun Christmas Craft Activities for Kids
After years of being a primary school teacher, I can tell you that I've taught LOTS of Christmas craft activities! Some have been brilliant and others, well… they've left a little to be desired. The biggest mistake I've made has been choosing activities that looked amazing in the book, but were actually far too complicated! So after many years, I've finally learnt that the best Christmas craft activities are those that are simple and don't involve lots of complicated steps or resources! Now all the hard work has been done for you… here are my five favourite Christmas craft activities for kids that are quick, easy and totally foolproof!
Handprint Reindeer Hat
Not only do kids love to make these reindeer hats, but they love it even more when they're able to prance around the house in them when they're finished! All you need to make these cute-as-a-button hats is some brown craft paper, a red pom pom, two googly eyes, a texta and some scissors. Tracing and cutting the band and antlers are also great for fine motor skill development.
Image credit: Bear and lion mama
Button Christmas Tree Decorations
If you're anything like me then you probably have a whole heap of odd buttons lying around the house! This activity is the perfect way to use up those buttons and have a gorgeous homemade Christmas tree decoration that your child can be proud of. It's also a really lovely idea to make a few of these and give them to special family members and friends.
Image credit: Indulgy
Reindeer Cups
This Christmas craft activity was always a favourite in my classroom. Kids absolutely love being able to decorate their reindeers using whatever coloured crepe paper and googly eyes they like. Again, all of the resources you need for this activity are basics that you might have lying around the house, or can pick up super cheap from your local $2 shop.
Image credit: Cleverpatch
Christmas Tree Paint Chip Decorations
Most hardware and paint shops have a huge number of old paint chip cards that they don't need anymore. Before Christmas I would always pick up a big box of these from our local hardware store to make Christmas tree decorations with the children in my class. This is such an inexpensive Christmas craft idea and yet the final result looks absolutely fantastic. Sequins, textas, pom poms, ribbon and stickers are great for adding the final finishing touches.
Image credit: Electric Consumer
Hand Wreath
There's no need to buy a Christmas wreath for your home when your kids will have hours of fun making a special wreath for the family. For a lovely touch, trace each member of your family's hand when making the wreath. Cutting out the handprints are also a fantastic way to improve scissor skills in young children.
Image credit: Top Inspired 
Getting kids involved in fun Christmas craft activities is a great way to build excitement during the Christmas season while also improving their fine motor skill development and coordination.
Love Christmas?  I bet these quotes make you smile – keep reading….
Do you love Christmas crafts too? What are your favourite Christmas craft activities for kids?