Seven Ways to Get More Play at the Park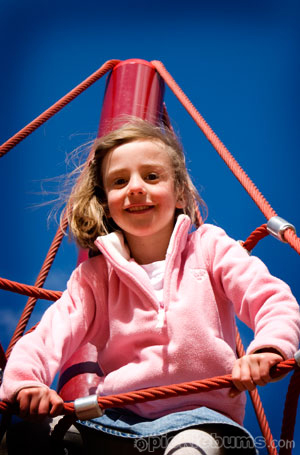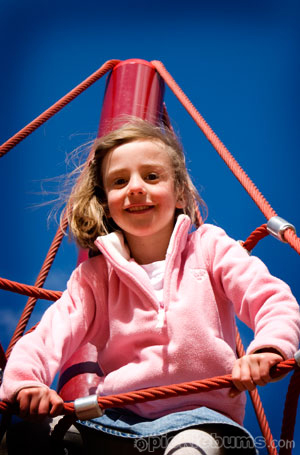 Are you a park goer?
Are you searching for the perfect park?
Somewhere that is close enough to visit often, but that has interesting equipment at a variety of levels to keep everyone happy. Somewhere that has shade, a toilet, somewhere for you to sit while the kids play…
Sometimes your local park doesn't quite live up to all of these expectations. Our favourite park has fabulous equipment but no toilet, and the one with the toilet hasn't got much to play on. But sometimes you have to look beyond the brightly coloured equipment to see the real potential of a park.
There's more to a park than trying to make sure your child doesn't climb up the slide at the same time someone else is coming down. Exploring new parks and trying some new activities is a great way to put some life back into park outings.
Here are some ideas to help you get more out of a play at the park.
Challenge them to get physical.
Can you run to the tree and back? Can you jump to the end of the path?
How fast can you run to that pole? Get out your smart phone and time them, see if they can beat their personal best!
Roll down a hill.
Find a nice grassy hill, lie down and rooolll! And I'm not just talking about the kids! Go on, you know you want to join in too!
Collect natural materials
Take a bag each and look for autumn leaves, gum nuts, acorns, feathers and more!
These can be used in art activities, for sorting, as part of imaginative play or just as a collection of treasures.
Take some sports equipment with you.
Teach the kids to throw and catch a Frisbee, practice ball skills, play a game of cricket or find a safe path to ride your scooter or bike. Having a bit of extra space to do all these activities can make the world of difference!
Search for Animals, birds or bugs.
Even in the suburbs you will be able to spot a surprising number of different birds. You may also find evidence of other animals – possums' nests, foot prints, or even poo!  Many local parks have ponds, lakes or streams; maybe you can spot some tadpoles?
Take along a magnifying glass, a butterfly net or a bug catcher and see what insects you can find.
Become a photographer
Take a digital camera or two and let the kids take some photos of what they find at the park. Or perhaps a clipboard and set of pencils for some drawing is more your style?
Send Them on a Treasure Hunt.
Write a list of items you might find in the park, give each child a list and a bag to put their treasures in and send them off.
And to help you find the perfect park for you, try out the Playground Finder site or iphone app (hot tip Little Eco Footprints). It lets you search for parks in a certain area, and even narrow your search to only those that have toilets!
Happy park playing!
Kate is an early childhood educator and mum of four, living on a small property in rural Victoria, Australia. Kate's blog, Picklebums, covers topics such as; gentle parenting, gardening, activities for kids, a recipe here and the occasional free printable, as well as anything else that pops up in her crazy life
Blog – Picklebums    Facebook    Twitter – katepickle         Pinterest