Meet our New House Guest: Frère Jacques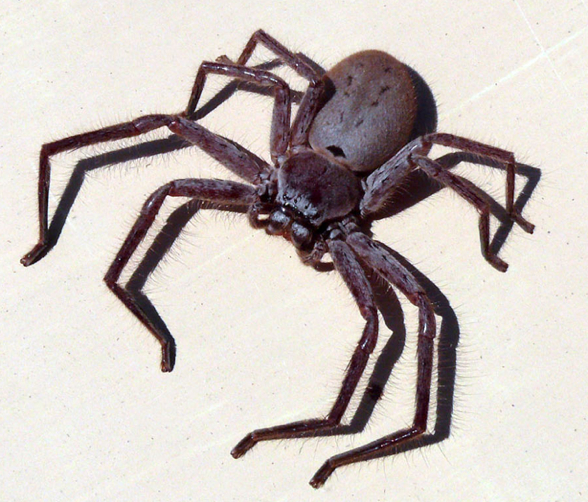 As some of you may know, I grew up in the UK – so fortunately no deadly reptiles, insects or spiders to have to be wary of. But still, I suppose our little family was in the minority when it came to actually welcoming spiders into our home.
Now, I don't mean that we hung up a sign outside our door saying "flies, eat all all you like," or anything but my mother has never harboured a fear of spiders and her everyday approach to them has rubbed off on my sister and I.
I have very fond memories of sitting down on the carpet trying to make a very milky sugary cup of weak tea last as long as possible (as when it was finished it was time to go 'up the wooden hill to bed') when Mum would exclaim, "Oh look there is Harry."
Harry is the spider that lived behind the V skirting board and used to come out to take his nocturnal wander in search of food nightly. Now I'm not sure whether Harry was an excetion to the rule, and due to our non-squashing nature, managed to live for 12 years or more, or whether other spiders moved in post Harry and cunningly assumed his identity, but consequently evry spider I have met since I have had the uncontrollable urge to refer to as Harry.
Even after moving to Australia, I still managed to maintain my blasé attitude towards spiders…that is until I had children – four years later. I'd never been able to take the life of an insect, to stomp on an ant or squash a spider until my first son, the Woo was born.
Spotting a rather meaty looking arachnid crawling up the wall besides my sons cot one day I called my husband, and gave him a quick description.
"That's a white tail," he told me seriously. "We don't want that thing to bite Woo."
The maternal instinct kicked in, and before I had time to register what I had done, that white tail was a a mere mess on my wall. I'm sorry. I am not scared of spiders or creepy crawlies in general, but if you pose a threat to my kith and kin…baby…you outta here!
Having said that, I do try to insill in my children a love of nature and all that it entails. I teach them not to touch any animals that they don't know (outside of our family of 2 dogs, 1 cat, 3 chickens, and 6 goldfish) unless an adult is presemt to tell them that that it is okay. For me, the "no owner, no touch" policy applies. I teach my children that animals have feelings too. They too can be happy or sad, excited or angry etc. If the animals owner is not there to let us know how their pet feels we do not touch, no matter how cute and cuddly they may appear.
For the last 3 weeks, we have had a big hairy harmless mother of a huntsman living in our home. (Yes they are the ones that they used in the movie Arachnophobia on account of their size and appearance).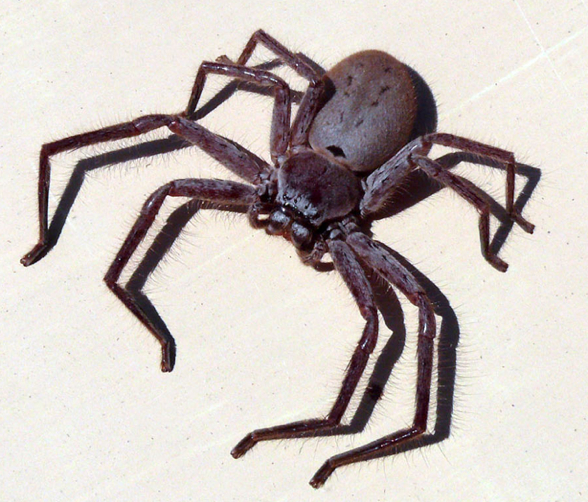 I first noticed him sitting above the wedding canvas of Hubbster and I, and a week later he had taken up residence in the hall outside the boys' room.
Of course, my first instinct was to call him Harry. It's cute because it has ties to my childhood, but let's face it, it won't win any awards for originality. So I was slightly, alright very amused, and happy to overhear (yes, earwig) a conversation earlier last week between 5 year old Woo and his 3 year old brother Foghorn.
"Is Steve still outside, Woo," asked Foghorn in his usual 6am dulcet tones…otherwise known as yelling.
"I told you!" Woo chided. "He doesn't like Steve."
"YES HE DOES," yelled Foghorn louder. "He told me!"
"NO he didn't."
Absolutely confuddled as to who This Steve character was they were talking about, I burst into the room.
"Who is Steve?" I asked gently.
"I told him, I told him Mum. HE IS WRONG" Woo declared passionately pointing an accusing finger at his younger brother. "His name is Frère Jacques."
"Frère Jacques?" I asked with my eyes far more open than I had ever expected them to get at 6am.
"Yes! The spider – his name is Frère Jacques," Woo answered earnestly.
Um…random!
Oh dear, I thought hugging him to me and smiling, you might be more like your mother than you think!
Update: Frère Jacques was last spotted in my bedroom above the plasma.
Do you have any pets with unusual names?