Review: The Sapphires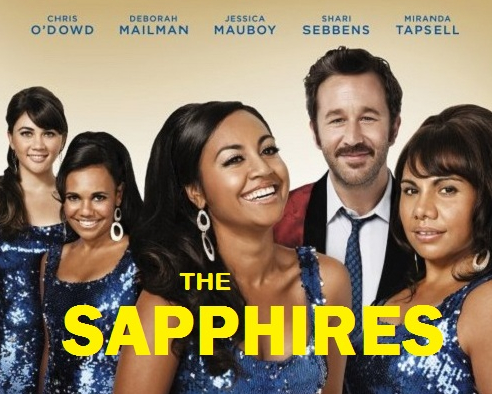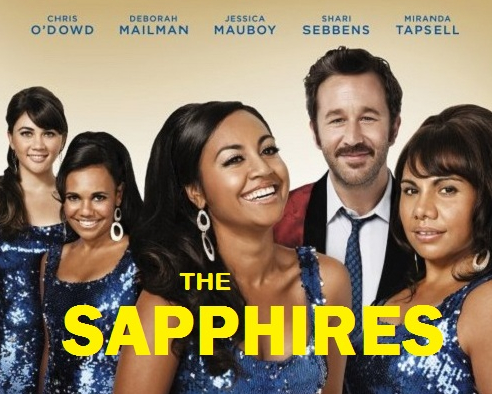 Last week, I finally managed to get a babysitter so my husband and I could go along to see the movie everyone is raving about at the moment, The Sapphires.
The Sapphires actually holds a special place in my heart, having worked on the marketing for the original stage production which premiered at Melbourne Theatre Company in 2004 and continued at Sydney's Company B Belvoir St Theatre, where I was working at the time, in 2005.
Tony Briggs, the original playwright of The Sapphires, joined forces with Keith Thompson on the screenplay and the film version was directed by Wayne Blair.
From the original stage play, only Deborah Mailman has remained in the cast (stunning in the role of Gail), but is joined on screen by truly sparkling sidekicks, Jessica Mauboy (Julie), Shari Sebbens (Kay) and Miranda Tapsell (Cynthia). The fantastic foursome is completed by their dipsomaniac, but entirely lovable, manager Dave, played by Irish actor Chris O'Dowd.
The film, set in the 1960s, is about four indigenous women, who are discovered in a talent competition held in a remote country pub, by a talent scout (Chris O'Dowd), and form a music group called The Sapphires – Australia's answer to The Supremes – travelling to Vietnam in 1968 to sing for troops during the war.
The film has no shortage of fantastic musical numbers, and the backdrop of the Vietnam War is gripping and authentic.
I've often felt that Australia has been slow off the mark to celebrate its unique indigenous culture, and showcase it in a way that just makes you literally say "wow!" but thankfully, this stunning film made it to the big screen.
When The Sapphires was premiered at the Cannes Film Festival in France earlier this year, it got a 10-minute ovation and word through the grapevine (where else?) has been building on it, ever since The Weinstein Company picked it up for North American release.
Watch out for a particularly touching moment in the film right at the end, when photos of the real women who inspired the film are shown.
Here's an extract from an interview I did with writer Tony Briggs back in 2005.
Q: Tell me about The Sapphires. How did the idea for the original stage play come about? Is it true that it is based on a family story?
A: The Sapphires came about from growing up listening to the stories my mother and aunties told. I have a large extended family. My grandmother had 13 children. Some died in childhood sadly, but 8 survived – 7 girls and 1 boy. My mother was the youngest female. The story of The Sapphires actually is a blend of two separate stories I heard as a child growing up. In the late 1960's my mother and her sister, Lois had both been selected to sing as back-up singers for a band that was playing in the Far East during the Vietnam War. They both traveled to Vietnam, Thailand and the Philippines to entertain the troops.
A couple of years before that, two cousins of my mum's were singing in a successful Supremes cover band, called The Sapphires in Melbourne. It's funny, because since I started working on the play, I have had indigenous people of my mother's age tell me that they remember The Sapphires and when they used to play at the Tiki Club in Melbourne.
Basically, what I did was blend these two amazing stories together. They were both so inspirational, and I wanted to be able to tell both stories, but it made so much sense to put them together.
Q: So what sort of stories did your mother and aunt tell you?
A: Mum was actually really blasé about her story. I think the way they see it is that they just loved doing what they did for the fun of it. I don't think they ever saw their goal as becoming world class performers. The Sapphires, as a band sort of just naturally fizzled out after a few years because the band members started to settle down, get married and have children. Mum did say though, that the trip with her sister to Vietnam was so quick it almost seemed a blur, it was so quick. She did recall a few hair-raising moments though – like the time they were in a military helicopter flying from a gig and they were being shot at constantly.
Q: With so much talent in one family, I suppose it is not unexpected that you followed in the traditional footsteps and ended up with a career in the performing arts. Was your family supportive of your decision?
A: My family has always supported everything I have done. I was actually an athlete prior to working in the arts. I was very involved with sport when I was at school, and then went on to train at the Institute of Sport in Melbourne. But whatever I have done, my family have always been there for me.
Q: Tell me about your writing process. How did you go about capturing the amazing stories of your family within the framework of the play?
A: I've always been fascinated with history. When I discovered that my own mother was part of such an amazing part if it, I was just so drawn in and felt utterly compelled to write it all down. Being a first time playwright, I was amazed at how incredibly quickly it all happened, but I felt really driven, it was just something I had to do. As daunting as it seemed, I just had to be brave about it and believe in myself. When it came to actually gathering material for the play, I spoke to my mum, my aunt and I also did some research. I already had some writing experience, having written some film scripts and I've been working on a documentary project which has required me to write some dialogue for some re-enactment scenes. So, by the time I came to write The Sapphires, I had managed to gain a little bit of experience. Also, being an actor, I have a very good instinct for how dialogue needs to sound, so that also helped me.
Q: How long did the project take all together?
A: About one and a half to two years. But that wasn't working on it full time. I've had to juggle my acting in between that.
Q: Were you ever worried about how your mum and aunt would react to your portrayal of them in your play?
A: No, not really. People need to know that the stories my mother and aunt told me really only served as the catalyst for the inspiration of the play. There's definitely a lot of artistic license in The Sapphires! It's more that I have used the essence of their personalities and their stories to create my play, rather than take their stories and directly transfer them into the script. I don't think they have anything to worry about!
Q: Indigenous performers seem to be finally making significant strides in having their stories heard within mainstream Australian culture. How do you feel about this, and is this something you relate to?
A: At times, I still feel like I am put in a box a little. It's one thing to be known as a writer – it's another thing to be known as an "indigenous writer". I think there is a danger of creating an elitist sub-culture, but saying that, I feel it is also important to be part of something that enables work like mine to be seen by a mainstream audience. The Sapphires was never intended to be a political piece. I just felt it was a really strong story, with really amazing characters – and that is the important thing, not the fact that they are aboriginal.
I think the reason people are finally embracing indigenous art though is because we are finally getting a voice. The other important thing is that attitudes on both sides are finally beginning to change for the better. Whatever is happening though, I feel it is a positive thing.
Q: Is writing a direction you see yourself heading more towards in the future, or is acting still your main passion?
A: Acting is definitely my passion, but certainly, I have a new found respect for it now that I have been writing. There are so many things I want to do, but with each new thing I attempt, I find my confidence growing. It's all about having faith in yourself.
The Sapphires currently showing in cinemas Australia-wide.
Tanya Strusberg is a Lamaze Certified Childbirth Educator (LCCE) and teaches prenatal education to pregnant women and their partners in Melbourne.
She and her husband Doron have two beautiful children, Liev and Amalia.
To learn more visit www.birthwellbirthright.com
Facebook: https://www.facebook.com/birthwellbirthright