Whats on November – NSW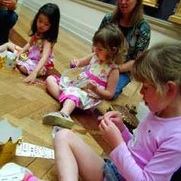 EVENT/ACTIVITY/DATE/TIME
URL / FACEBOOK PAGE

Art Gallery of NSW Tours for Tots, Let's look at all things big and small – 27th November – Join us for a fun adventure tour through the contemporary art collection and our new contemporary galleries, including the John Kaldor Family Galler. Hear stories, play games and make your own art. For ages 3–5, with an adult.

Chitty Chitty Bang Bang – From 16th November – CHITTY CHITTY BANG BANG, the most fantasmagorical stage musical in the history of everything, flies into Sydney's Capitol Theatre from 16 November. You'll believe a car can fly in this stage adaptation of CHITTY CHITTY BANG BANG that features sensational sets, stunning special effects, an irresistible story and memorable classics such as "Truly Scrumptious," "Toot Sweets," "Hushabye Mountain" and, of course, its Oscar- nominated title song "Chitty Chitty Bang Bang"

The Train Shed – Open every saturday and Sunday 10am – 4pm – Ride behind Thomas, Toby, James and Percy, with beautiful rural views
– Be the Train Driver of the Model Trains on the "Self-Drive" layout
– Choose from the great selection of toys and other goods in the Shop
– Relax with a Devonshire Tea or snack from the Kiosk

Martin Place Children's Concert and Tree Lighting Celebration. 29th NOvember Martin Place Sydney 6.00 – 8.30pm Join us at Martin Place to see the City of Sydney's beautiful Christmas tree lit for the first time this year. Before we flick the switch, an amazing line-up of music and entertainment, hosted by the X Factor's Luke Jacobz, will have you and the kids jumping, dancing and singing.

JUMP FOR KIDS Charity Fun Day Sunday, November 4thLocation: 723 Victoria Road Ryde Springfree™ Trampoline is hosting the first ever JUMP FOR Kids Charity Fun Day. Help us in our mission to raise $20000 for Children's Hospital Foundations Australia and you could win a springfree trampoline.

Kids Book Swap – come along for a party, swap a book and meet the authors of New Frontiers Children's books. Friday November 9th. Meet Peter Carnavas discussing The Children Who Loved Books. Forrestville Library 4.30-5.30 pm RSVP Foreestville Library 9452 5706

Parramatta City Kids Christmas Concert 2012 29th Nov 3.00pm Hosted by Hugh Munro, the concert will feature the Bananas in Pyjamas,
the Loop de Loop Christmas Show, The Pop Tops, the Parramatta City Band
and even a special visit from Santa! Concert commences at 5:30pm Concert Concludes at 8:30pm with the lighting of the Town Hall
Christmas Lights and City Christmas Tree by the Lord Mayor of Parramatta Event start:

29th Nov 2012 3:00pm

Event end:

29th Nov 2012 8:45pm

Venue:
Parramatta Town Hall

Cost:
FREE

Contact name:
Parramatta City Council Events

Contact phone:
9806 5050

Marayong Heights Public School Fete 3 Nov 12 @ 10:00 am Marayong Heights Public School Guerie St or Shield St, Marayong, NSW, 2148 Marayong Heights Public School Fete will be held on Saturday 3rd
November 2012 from 10am to 3pm. There will be Amusement Rides, Animal
Farm, Pony Rides, Food, Plaster Painting, Sand Art, over 25 Market
Stalls, an auction at 2:30pm, entertainment and lots more. A great day
for family and friends.