Whats On October – NSW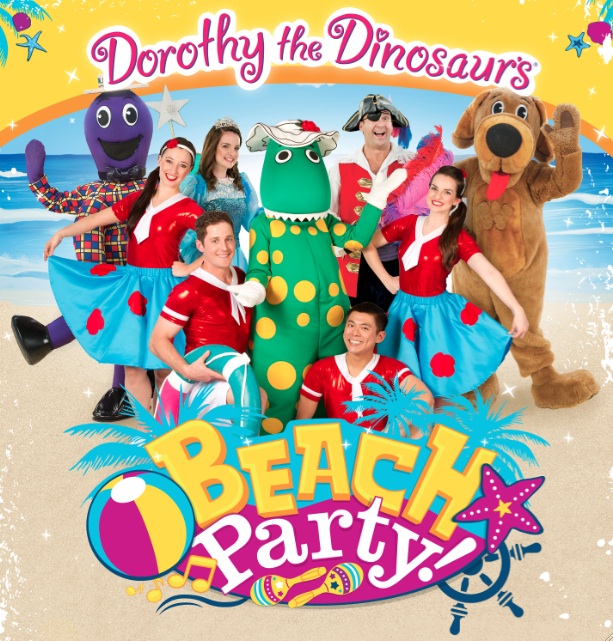 Dorothy the Dinosaur's Beach Party – Touring through NSW from the 16th – 25th of October 2012. – Dorothy the Dinosaur's Beach Party is the stompy-wompy show full of super sandy songs that will fill your day with sunshine! Dorothy and her friends, Captain Feathersword, Wags the Dog, Fairy Clare and Henry the Octopus, are joined by sensational singers and dancers, Clare Dee and The Dance-A-Lots, in their dazzling beach party outfits!

Potted Potter – Sydney – Tuesday 9 to Sunday 14 October – Playing to sold-out houses all over the world, POTTED POTTER takes on the ultimate challenge of condensing all seven Harry Potter books (and a real life game of Quidditch) into seventy hilarious minutes. This fantastically funny show features all your favourite characters, a special appearance from a fire-breathing dragon, endless costumes, brilliant songs, ridiculous props and a generous helping of Hogwarts magic!

Kids In The Park is massive fun for kids of all ages, whatever their passion. Why not check out our huge range of school holidays activities. Sydney Olympic Park Spring school holidays program starts on 22 September and runs until the 7 October, providing boredom-busting solutions for parents and carers.
With over 50 activities to choose from, Kids in the Park offers an exciting range of things to do including entertainment, arts, recreation and sporting school holiday activities.

Lah Lah's Big Live Band – Tuesday 2nd Oct The Juniors, Kingsford Wednesday 3rd Panthers Penrith Thursday 4th Dee Why RSL Friday 5th Canterbury Hurlstone Park RSL – n a magical world of music, the loveable character Buzz the Bandleader has lost something special. Tom Tom on the drums, Mister Saxophone, Squeezy Sneezy the accordion and Lola the dancing double bass join the effervescent Lah-Lah to help Buzz on his hunt to find his lost possession. It's a spectacularly fun show that will have the kids grinning and shimmying from go to whoa. Children can slip on their dancing shoes and bop away to the fun-filled sounds of Lah-Lah and the band that jams all over the land.

Hit the road this summer with Mickey Mouse and Minnie Mouse and your favourite Disney friends Tigger, Cinderella and Disney/Pixar's Buzz LightyearandWoody fora thrill seekingjourney. FromFeld Entertainment, the producers of Disney On Ice, Disney Live! Mickey's Rockin' Road Show will whisk you and your whole family on a talent search adventure filled with unexpected twists and turns and exciting encounters along the way. Tickets on sale now. Touring in SYDNEY Jan 11-13 and WOLLONGONG Jan 19.