3 Ingredients: Cheerio Marshmallow Bars Recipe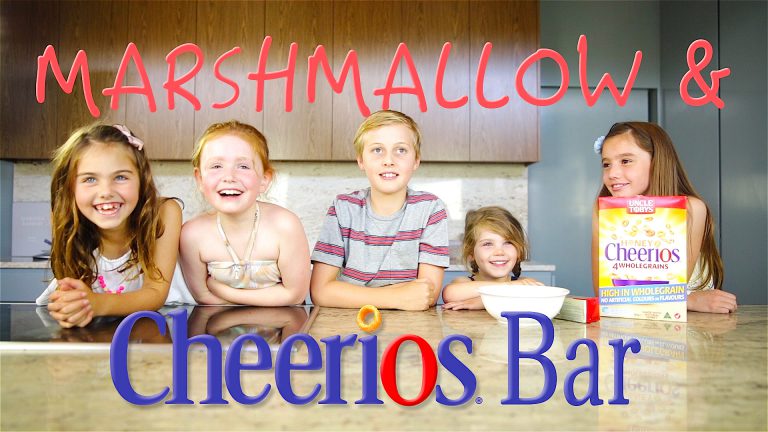 Cheerio Marshmallow Bars Recipe
When it comes to teaching children their way around the kitchen, it's best to start off with some simple fool-proof recipes. As their confidence and skills improve you can then move onto more complicated recipes.
This Cheerios Marshmallow bars recipe is a quick and easy activity you can do with your child that doesn't involve any baking.  The hardest part is waiting an hour for it to set in the fridge before you can start eating it!  The butter and marshmallows do need to be heated in a microwave though, so parent supervision and help is needed.
Check out the fun the Kids Lounge Taste Tasters have making these Cheerios Marshmallows bars…and judging by the way they all disappear off the plate at the end, it's safe to say that they get the Kids Thumbs up!
Ingredients
3 tbs butter
4 1/2 cups of mini marshmallows
5 cups of plain cheerios

Method
Grease a pan and put wax paper on the bottom
Get a parent to melt the butter and marshmallows together in the microwave. We recommend cooking for 30 second intervals until smooth to avoid accidentally overcooking.
Fold the cheerios into the the butter and marshmallow mixture, and spoon into the prepared pan.
Press into place with another piece of wax paper for an even layer
Allow to cool and then cut into bars.
Cheerios Marshmallow bars are great for birthday parties, picnic, afternoon tea play-dates or as a treat in your child's lunchbox.
Looking for more fun activities to do with your kids? Check out this easy, budget-friendly recipe for homemade kinetic sand.
This science-based activity is both fun and educational, helping your child to develop a whole range of skills without even realising it!
Kids learn best when they are having fun!
For more fun activities, recipes and toy reviews subscribe to Mum Media Group TV on Youtube.  We'll see you there!