10 Awesome Minecraft Party Ideas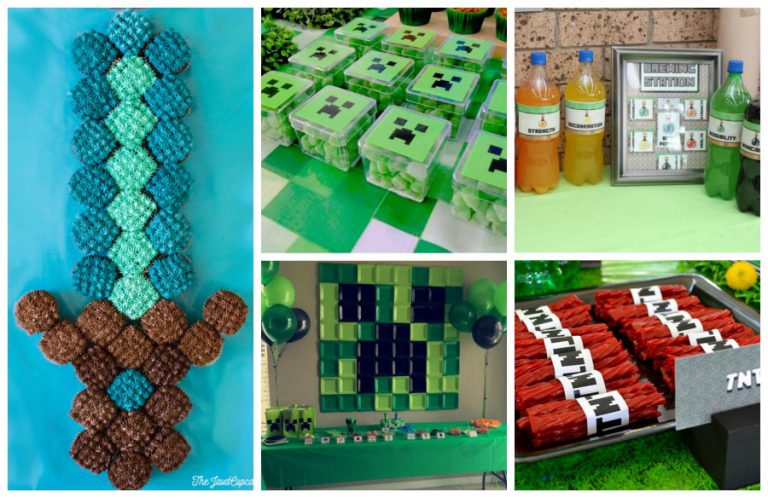 10 Awesome Minecraft Party Ideas
If you're looking for a party theme everyone will enjoy, Minecraft is sure to please.
The Minecraft obsession doesn't seem to be waning anytime soon. After doing a bit of research online, parents have been really creative in pulling off a Minecraft themed party, simply by being savvy with the food displays and using simple products like plates and black duct tape, for decorations. We've put together 10 awesome Minecraft party ideas should you choose to put on this type of party for your child.
Most of the Minecraft party ideas relate to the main character of the computer game and app called Creeper. The green character with black pixel eyes and mouth can be easily imitated in the food and on the party stationery.
Customising your party around Creeper requires purchasing a lot of green table party supplies which should be easily acquired at your local party or discount shop.
Why not create a Creeper background behind the party table using square plates?
If the above design is too detailed, this idea works just as well. Add some personalized bunting and green and black balloons for a fun touch to the party.
Create a brewing station for drinks. Attach labels to soda bottles to reflect rewards collected during the game.
How clever is this idea to create TNT? Just purchase red licorice, place it in bundles and print TNT labels to wrap around each bundle. Super simple and easy!
Make Creeper food containers by using black tape to make Creeper's face on green cartons. These can hold chips or popcorn as shown below.
This simple and sweet food idea can be used as a party favour. Make Life Force bags using red foil heart chocolates.
These marshmallow pops require little effort to make. The biggest effort will be in acquiring green marshmallows. Use an edible pen to draw on Creeper's face.
In America, these are known as Rice Crispies, in Australia, it's more known as a Rice Bubble Slice or LCM. The Chic Site shares how to make these delights.
How clever is this pull apart sword cake? It ensures everyone gets a piece of cake at the end of the party.
Pin the tail on the pig using a Creeper head cover is an easy game to create and gives the kids something fun to do at the party.
For a simple party favour to thank guests for celebrating the Birthday, green jube lollies can be placed in clear containers and decorated with Creeper labels. You could use a post-it-note and black sharpie pen if the labels can't be sourced.
Would you have a Minecraft party for your child? Have you had one and want to share what you did at your party?
Read How to Throw the Most Awesome Kids Party Without Even Trying