Review: Tigi Bed Head Candy Fixation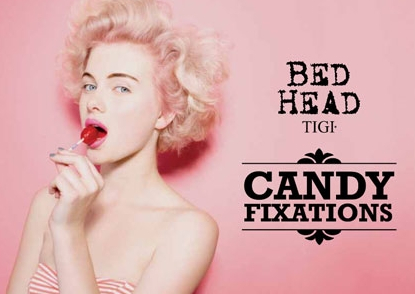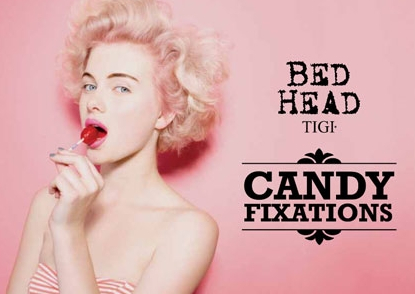 Tigi Bed Head – Candy for you hair.
I am a big fan of all things that smell like baked goods, slight obsession maybe. So when I heard that TIGI Bed Head had released a line of "candy" scented products, I was in heaven! This new range is called Candy Fixations and I recently smelt all of the products and can I just say, if they work as good as they smell, we are in for a treat – pun intended.
These products are unisex so they would even be great as a gift for your partner.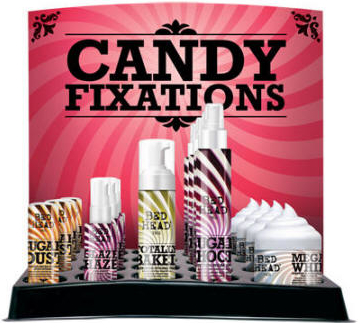 Tigi Bed Head Review

First up is the Candy Fixation Mega Whip – This hair texturiser smells like marshmallows, it is great for creating a soft, piecey look but is also great if you just want to smooth out your hair also. It won't make your hair go all crunchy and hard like hair gel does. It also gives you "up tp 90% humidity defense" – so ladies with frizzy hair like myself, this could very well be your new staple hair product.
Candy Fixation Sugar Shock – Surely you have all heard of salt sprays for creating those "just stepped out of the ocean" beach waves right?
Well TIGI Bed Head have created a SUGAR spray instead to create perfect beach hair. It will add volume to your hair also and smells like Cotton Candy (anyone else drooling?)
Candy Fixation Sugar Dust – A yummy Tutti Frutti scented dry shampoo that is great to those in between washing your hair days and is perfect to add to clean hair to help add some oomph when you are teasing your hair.
Candy Fixation Totally Baked – Lemon Meringue scented, this lightweight mousse is great to put in your hair before you blow dry it to add volume and shape to your hair, perfect for days you want to quickly get your hair done.
Candy Fixation Glaze Haze – A Creme Brulee scented serum which is perfect for smoothing down fly ways once you have styled your hair, helps speed up blow drying time by up to 25% and helps fight humidity also! It will also add shine to your hair, and who can complain about that?
I am so excited that there is finally hair products out there to give me a sugar hit but without the added calories hehe. TIGI Bed Head is available from Price Attack, Hairhouse Warehouse and selected hair dressing salons.