Your Ultimate Guide to Flawless Foundation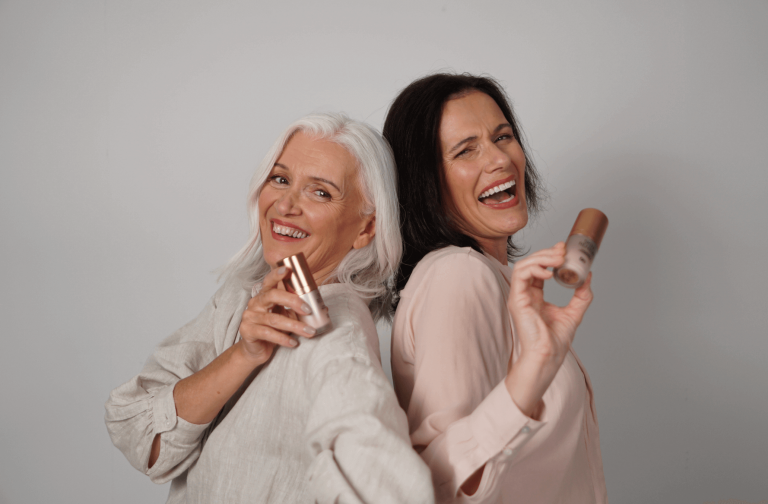 Your Ultimate Guide to Flawless Foundation
When it comes to makeup essentials, foundation is almost always at the top of our list. Foundation can help you build the perfect base and flawless canvas for any makeup look. Whether you're creating a natural, "barely there" makeup look or a glam statement look, picking the right foundation and knowing how to apply it is essential.
To help you out, we asked the makeup experts at DB Cosmetics to share their ultimate guide to flawless foundation. With tips on how to choose the best foundation for your skin as well as how to get the perfect finish, here are your foundation essentials.
How to choose a foundation?
Unlike a lipstick that's designed to stand out or a shimmering eye shadow that's meant to shine, the perfect foundation should be virtually invisible. The best foundation should be your perfect match that actually lets your skin look like skin!
Step 1: Know your skin type
Knowing your skin type will help you figure out which foundation will work best with your skin. Consider whether your skin tends to be dry, oily or a combination before selecting your foundation.
Step 2: Know your skin tone
The next step is to make sure you're choosing the best foundation for your skin tone. Undertones are the colours beneath your skin's surface, and they affect how foundation appears when it's applied to your skin.
Cool undertones: This is you if your skin has a slight pink tint and your veins are purple-ish in colour. You're more likely to wear silver jewellery.
Warm undertones: This is you if your skin has a golden undertone and your veins are green in colour. You may also be drawn to wearing gold jewellery.
Neutral undertones: This is you if your veins are blue in colour and your skin has more of a neutral tone. The good news is you can wear both cool and warm foundations, and they'll suit you equally.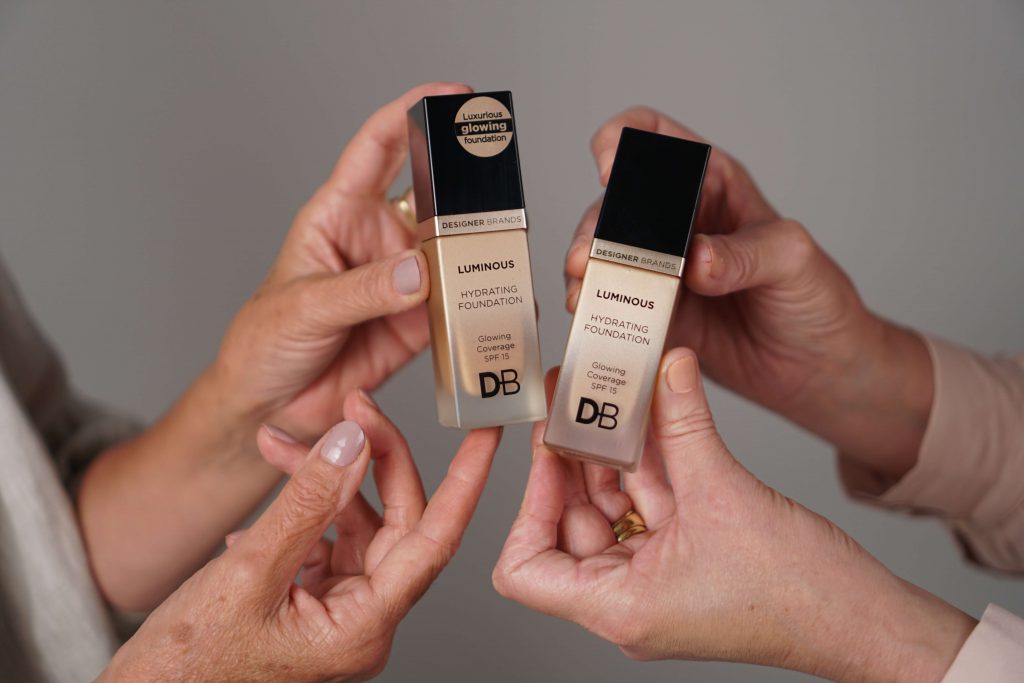 What's the best foundation for you?
Powder foundation
Perfect to use for touch-ups throughout the day, powder foundation works wonders to minimize shine and create a soft finish. Select a lightweight formula like DB's Skin Renew Pressed Powder to wear alone or over your liquid foundation for a picture-perfect makeup look.
Stick foundation
Super portable and convenient, a stick foundation easily doubles up as a concealer and its solid consistency gives it better staying power than other foundations. Try DB's Flawless All In One Foundation Stick for a super hydrating and even finish.
Liquid foundation
Offering a silky finish and flawless complexion, liquid foundations work best on mature or dry skin – providing added hydration and sitting on the skin's surface without highlighting fine lines or wrinkles. DB's Skin Renew Ceramide Foundation is packed full of skin-loving ingredients like Vitamin C and Vitamin A to give you a long-lasting healthy complexion.
Choose your foundation finish
Your final decision to make is what sort of finish you want for your final foundation look:
If you love a dewy, radiant finish, a liquid foundation with a hydrating formula will be perfect for you. Try DB's Luminous Hydrating Foundation. Designed to give you a radiant complexion and subtly illuminate the skin, this will have you ready to take your look from day to night.
If you want to dial down the shine, a lightweight matte foundation like DB's  Matte Velvet Foundation is what you need. Enriched with skin-loving ingredients including Shea Butter and Aloe Vera, this foundation gives medium coverage with not a powdery finish in sight!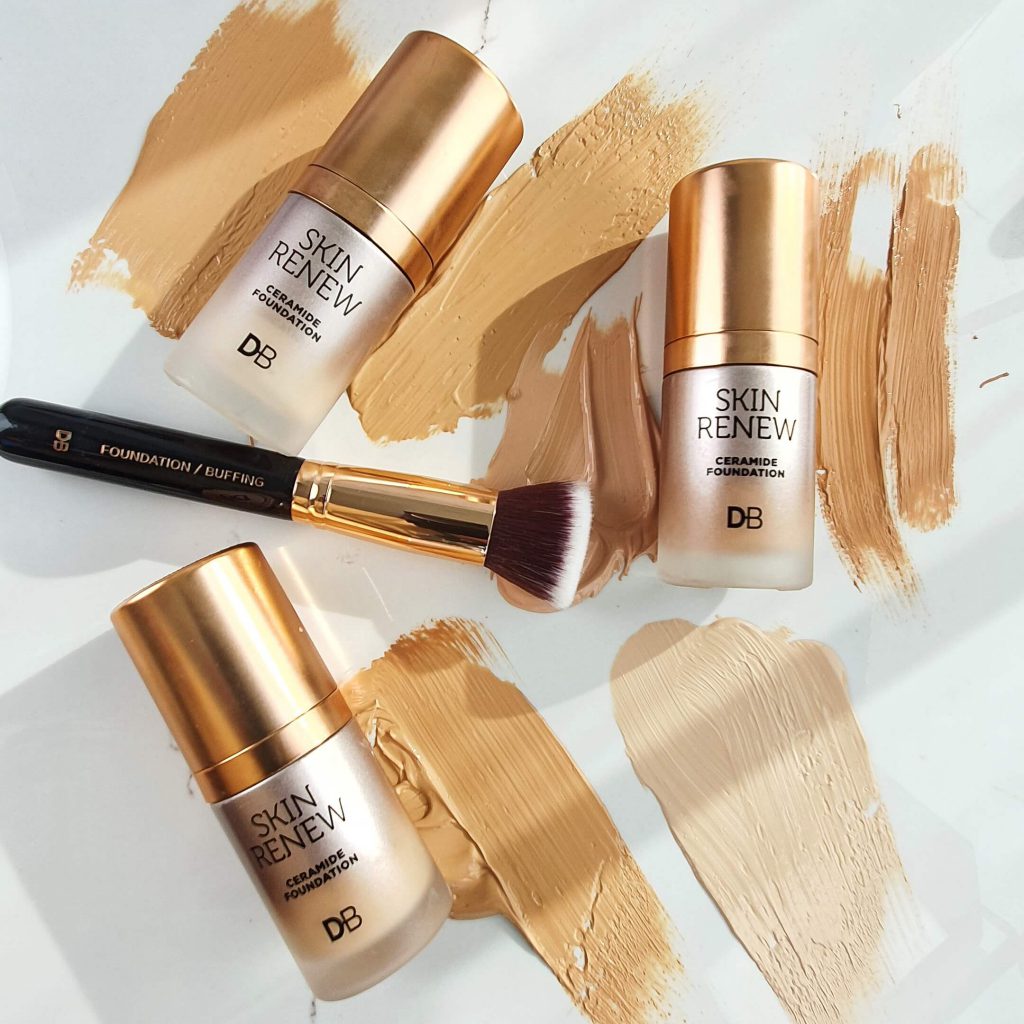 How to apply foundation flawlessly
Now that you know how to find the perfect formula, let's dive into how to apply your foundation. Here's a quick step-by-step guide of the best tools and techniques for application that can take your look to the next level:
A makeup brush
Powder and mineral foundations work best with a kabuki brush or powder brush. Sweep the brush in your foundation to pick up the powder, tap off any excess and buff it over your skin to get even coverage.
A flat foundation brush also works to blend liquid foundation, giving the appearance of a fresh, smooth complexion.
A foundation sponge
For an airbrushed finish, the light and flexible touch of a sponge is a popular tool for applying liquid foundation. The sponge's soft texture and egg shape contribute to creating a natural finish as you apply your foundation – a damp blending sponge works best. Make sure to blend into the hairline, edge of ears and down the neck for a seamless finish.
Your fingers
For a natural finish, use your fingers to easily blend both liquid and stick foundations. The natural warmth of your hands helps to melt the product into your skin for a natural makeup look – no tools needed!
Top tip: Whether it be labelled matte, radiant, glowing or natural, before applying any type of foundation, a makeup primer is an essential tool for creating the perfect flawless base to build on.
Now that you have the insider tips, it's time to find your foundation. Finding the right foundation and perfecting your application skills is a game-changer when it comes to creating your favourite makeup look. Discover your match with DB Cosm