How to Bullet Journal – The Ultimate Guide to Getting Organised!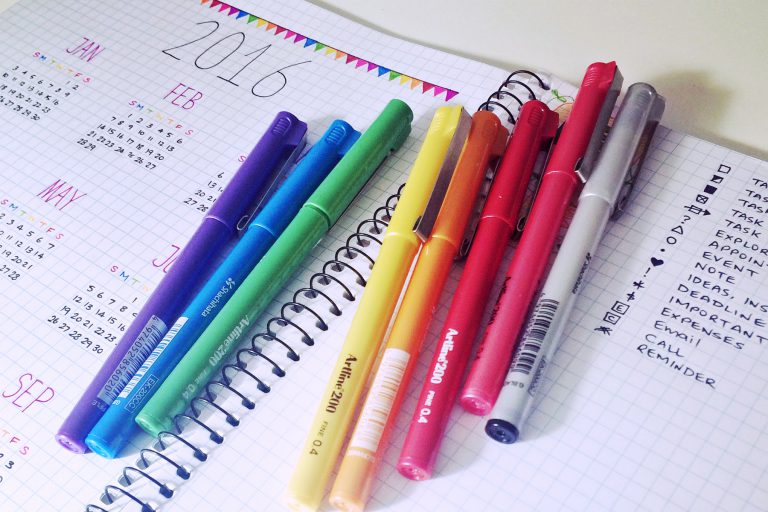 How to Bullet Journal – The Ultimate Guide to Getting Organised!
You may have heard a little bit about bullet journals this year and wondered what on earth it was all about. It's the latest trend in keeping yourself and your family organised and some have likened it to scrapbooking as a way to screenshot and record your daily life.
It's a way to disconnect from smartphone apps and online calendars and go back to analogue organisation. There's something really satisfying and fulfilling about putting pen to paper and ticking off things you've achieved and journaling about your life.
What is a Bullet Journal?
Bullet Journalling is more than just a diary or a planner or a to do list – it's all of them! And you can make it as pretty or as simple as you like.
It's a notebook or bound journal full of all your ideas, plans and to do lists. It holds all the information to keep your life on track, from a monthly planner to collections of recipes to try, daily to do lists and long term goal trackers. You can put whatever you want into your bullet journal – it is as unique as the individual it belongs to.
Some of the things you can track in your bullet journal are:
meal planning
funny things the kids say
daily gratitude log
Christmas card list
books you've read/want to read
travel log
holiday packing list and/or itinerary
recipes you want to try
a list of family birthdays and anniversaries (perhaps with gift suggestions too?)
It is also a daily diary so you can write in your to do lists, appointments, reminders and what not. Log your water intake or calorie count, add a spot to record what the weather was like or what you're planning to make for dinner. It is literally whatever you want it to be.
Who is a bullet journal for?
Are you the type of person that has lists in about eight different notebooks, plus a planner or calendar to try and keep track of things?
Do you love stationery to the point of obsessively wandering through Officeworks just to look at all the pretty pens and blank notebooks with crisp pages ready to be filled up with ideas and thoughts?
Do you love being creative and enjoy colouring in?
Is being organised one of the top priorities for you?
If you answered yes to any of these, you might want to give bullet journalling a try.
What do I need to get started?
You don't need much – just a notebook and a pen. Some people buy expensive gridded or dotted journals but when I started, I wanted to try it out without spending a lot of money so I opted for an A4 spiral bound gridded notebook for less than $4. I like that it sits flat on my desk when opened, and I like that the size is perfect for a one-week to a page layout.
You can use a plain black or blue pen and embellish your layouts with coloured pencils, or you can use gel or ink pens like these Artline ones I bought.
I also have little To Do list post it notes I found on eBay, correction tape, a lead pencil, eraser and a ruler.
You'll want a gridded or dotted journal so you can easily draw up your layouts.
How does it work?
First, you need an index page. This is where you write down where all your collections/lists are so you can find them again easily. You'll need to number your pages too.
Once you've got an index page, you need a yearly calendar so you can see at a glance when holidays and important events are.
When you've finished it, add it to your Index page so you know where to find it later. Then a leave a page black for your Key, I'll explain that shortly.
Next you'll need a monthly planner. You can draw it up with boxes like mine, or you can just number the days going down the page and add events to it that way.
Now add that to your Index page too.
Next is the weekly layout! You'll need to do this for every week. Again, it can be as fancy or as simple as you want it to be. I started out fairly basic and worked up to more elaborate decorations as I felt like it. You can buy all sorts of stickers and embellishments for bullet journals these days, and a quick google of "bullet journal layout inspiration" will bring up loads of different ways to do headers and fonts and layouts and things. This is kind of a big deal to loads of people out there, but you do you. Whatever works best for you.
Now we come to the actual bullet journaling part…
The Bullet Points
The whole idea of bullet journaling is to get the thoughts, ideas and to-dos out of your head and onto the paper as quickly as possible. Like a brain dump. At it's core, none of that fancy stuff matters. All that is important is that lists are made and checked off when completed.
Bullet journaling uses a system of points. They look complicated but are really easy to understand and even easier to use.
Every time you add an entry on your daily layout, you use one of these bullets. This way you'll know at a glance exactly where you're up to. You can easily see which entries are completed, which entries are not needing to be actioned, and which are yet to be done.
At the end of every day or week, you go through your entries and see which items are incomplete and migrate them to a future date. Just re-write the task on the new day and put an arrow through the current entry to show that it's been migrated. Or, if the entry is no longer relevant, you cancel it with a cross through the bullet.
It seems complicated but it really isn't. It would be more complicated having a list of random things with no way of seeing at a glance what needs to be done!
There are many different ways of organising your Key, and you can include or exclude whatever is relevant to you. There are all sorts of different kinds of key icons to note the weather, what movie or tv show you saw that day, which book you read, how many coffees you had – you can personalise it how ever you want.
Then, once you've settled on what key icons you want to use, go ahead and create a Key page layout near your yearly calendar at the front of your journal.
Collections
Random pages here and there are referred to as Collections. This is where you put your Christmas card list or your Episodes Of Game of Thrones That I've Yet To Binge Watch list. These pages will be scattered through out your bullet journal among your weekly layout pages and that's completely fine – they are meant to be. You will easily find them by referring back to your Index page where you've logged the page number!
That's pretty much all you need to know to get started on your bullet journal. I hope it has inspired you to give it a go. You don't need to wait until a new year or a new month, just pick up a gridded notebook and get started. Tomorrow is a new day!